2012 Trails and Vistas Art Hikes
by Nicole Cheslock
(Tahoe Vista, CA)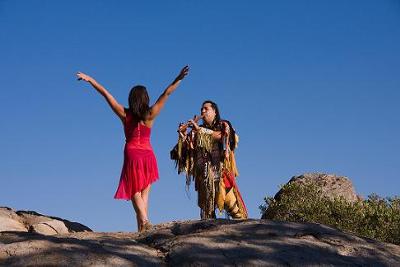 Credit: Bill Stevenson
TRAILS AND VISTAS ANNOUNCES DATES, LOCATION AND THEME FOR 2012 ART HIKES


"The Dreaming Tree" September 8 and 9, 2012 Donner Ski Ranch
What:
Trails and Vistas 2012 art hikes
Where:
Donner Ski Ranch, on Donner Summit, 9 miles west from Truckee (19320 Donner Pass Road Norden, CA 96162)
When:
Saturday, September 8 and Sunday, September 9, 2012
Theme:
The Dreaming Tree
Tickets:
On sale July 1 at
trailsandvistas.org
.
$30 general admission, $10 ages 5 to 12 years old (Day of, if available: $40 adult, $15 child)
Truckee, CA - Trails and Vistas, a non-profit organization based in Truckee, CA, announces the ninth annual series of Truckee-Tahoe art hikes based on "The Dreaming Tree." Attendees will experience live performances and installation art along a guided two-hour long hike that creatively blends art and nature at Donner Ski Ranch on September 8 and 9, 2012.
We will be overlooking Donner Lake and taking in the brilliant blue skies with "The Dreaming Tree" theme. "Dreams are rich in visual imagery and symbols, lending a vast diversity of inspiration for the Trails and Vistas artists," shares Artistic Director and founder Nancy Tieken Lopez who began designing art hikes as a graduate student at San Jose State University in 1992. The Dreaming Tree will evoke our connection of person and place, reaching back to our childhood memories while exploring the depth and expansiveness of our
imagination today. Expect a unique blend of natural beauty and original art including sculpture, dance, music and poetry. "Trails and Vistas will inspire you through your eyes, ears, hearts and minds,"
adds Lopez.
More than thirty talented artists will collaborate to present Trails and Vistas signature art hikes. The complete line up of returning and new artists and performers will be announced late this spring. Host
sponsor Donner Ski Ranch, located atop Donner Summit off historic route 40, offers sweeping views of Donner Lake and the Sierra. Plan to kick back after the hike with friends at the Grill and Bar at Donner Ski Ranch.
Tickets go on sale online at
trailsandvistas.org
on July 1. The cost is $30 general admission, $10 for children ages 5 to 12 years old. If
available on the day of the hikes, the cost is $40 per adult and $15 per child. Trails and Vistas have traditionally sold out. Organizers recommend advance purchase. For more information about the 2012 art
hikes, tickets and volunteer opportunities, visit
trailsandvistas.org
and
Facebook/trailsandvistas
.
About Trails and Vistas:
Trails and Vistas' mission is to create art experiences in nature that inspire environmental awareness. Trails and Vistas' distinctive annual art hikes are a collaborative effort led by Founder / Artistic Director Nancy Tieken Lopez and Co-Director Elizabeth Archer with
vital support from volunteers and regional environment and arts organizations including the Truckee Donner Land Trust, InnerRhythms Dance Theatre and the KidZone Museum. For more information, visit
trailsandvistas.org
.
Several businesses use Trails and Vistas art hikes as a way to value their best customers and thank their employees for a job well done. Corporate and individual sponsors can reserve a entire or partial art hike for up to thirty people. Sponsorship offers companies a unique way to promote their brand as well as reward their employees, friends and clients. Creative sponsorship opportunities including team-building activities are available for Trails and Vistas 2012. For
more information contact Nancy Lopez at info@trailsandvistas.org or call (530) 563-6557.
Images:
1. Chief Red Hawk plays a love song on the Lakota flute to an InnerRhythms dancer on Donner Summit during a Trails and Vistas art hike. Credit: Bill Stevenson
2. Poet Kira Yannetta performs a playful and powerful tribute to the clouds in the sky. Photo by Scott Thompson
3. Taiko Tsurunokai Drummers from Reno, Nevada perform for Trails and Vistas. Credit Jeff Engerbretson
# # #
--
NICOLE CHESLOCK
NC Communications
Outreach + Writing + Media Relations
(530) 548-5010 | P.O. Box 416 Tahoe Vista, CA 96148
Let's connect!
http://twitter.com/#!/NicoleCheslock
http://www.linkedin.com/in/nicolecheslock
www.facebook.com/NCCommunications