Explore Cities Near Truckee - Never a Dull Day!

Explore Cities near Truckee for a change of scenery!!
Truckee is such a fantastic location, there are so many fun Cities near Truckee to explore! Smack dab in the middle of the Sierra Nevada, it is within 30 miles of Reno, and Lake Tahoe and all it has to offer, is within 20 miles of Truckee. You can either cruise down Hwy 267, past Northstar on your way to Lake Tahoe and end up in Kings Beach, or from Central Truckee, you can cruise Hwy 89, past Olympic Valley (Squaw Valley), and wind up in Tahoe City! This highway parallels the Truckee River, and is a gorgeous drive!
North Lake Tahoe Cities
Heading over to Lake Tahoe, the first views of the Lake literally, take your breath away! Tahoe City and Kings Beach were always favorites of ours, and we always had to head south from Tahoe City to dine at Sunnyside Inn, right on the Lake.
Tahoe City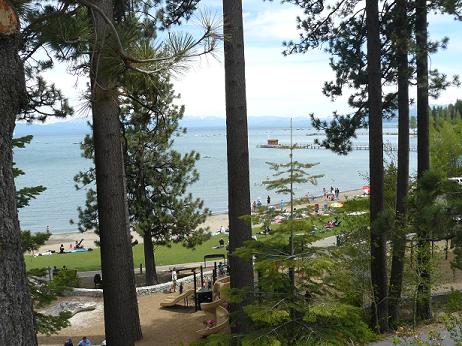 Photo Above: Tahoe City Commons Beach
---
Olympic Valley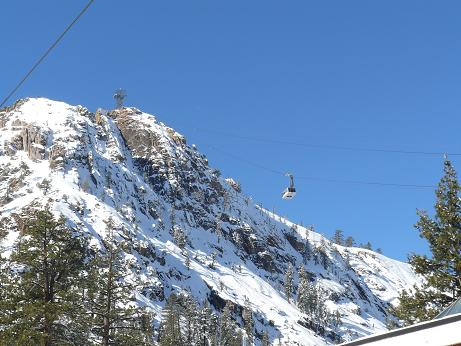 Squaw Valley's Cable Car on it's way to High Camp
A MUST DO in Olympic Valley!!
Photo Credit: Leigh, Owner of Truckee-Travel-Guide.com




Olympic Valley, where Squaw Valley and the Resort at Squaw Creek is located, is fantastic! The views are absolutely breathtaking! Golfing, Hiking, Biking, Mountain Biking, and Horseback riding to the list of summer activities. Cross Country Skiing, Downhill Skiing, Snowmobiling, Snowtubing and Sledding, and Ice Skating, top the list of the winter activities. If you love to Ski, Squaw Valley, USA, is the largest ski resort in the area, and is a locals favorite! With Squaw Valley purchasing neighboring Alpine Meadows in the summer of 2011, things just got better with a combined Ski Lift Pass. See my Discounted Lift Tickets page for the best Deals in the area!
No Truckee Vacation would be complete without cruising through the Village at Squaw Valley, loaded with awesome shops and restaurants! Check out the Headwall Climbing Wall in the Squaw Valley Cable Car building lobby! (30' Wall inside and 45' Wall outside in Summertime) My kids never missed an opportunity to try to climb to the top...Ryan, more than Brie!
An absolute must, is riding the 2,000 vertical feet Aerial Cable Car to High Camp at an elevation of 8,200 feet. Unlike most ski resorts, most of the beginning skiing at Squaw Valley is accessed from High Camp. Whether it is summer or winter, a trip to High Camp is an all day affair!!
As mentioned in my ski section, I am deathly afraid of heights. Initially, I would not ride the Cable Car in the summer, but in the winter, after stopping off for a cocktail (or two), for courage, the trip was well worth it!
I won't mention much about the time that the Cable Car stopped while we were on it - we had to ride back up to the top, and try again! (another cocktail when we landed at the bottom...whew!) But seriously, suck up your fear of heights, and get up to High Camp - it is a fantastic experience with breathtaking views of Olympic Valley and Lake Tahoe!!
At High Camp, there are numerous restaurants with the stunning view of the Olympic Valley and Lake Tahoe. You can Ice Skate at the Olympic Ice Pavilion, or check out the Olympic Museum. In the summertime, you can relax at the Swimming Lagoon & Spa which opens in March. Hiking in summer at High Camp is fantastic as well!
---
Reno
The biggest of the Cities near Truckee is Reno, and we went to Reno often for major shopping. One of my son, Ryan's best friends from 5th grade, Josh and his Mom Diane, and brother Dana, moved to Reno, so we got together with them quite a bit in Reno. We always had to stop at Verdi along the way, to let the kids play in the Arcade area of Boomtown. This is a must if you have children!
If you want food variety and reasonable costs, cruising through the Reno casino's and hitting up their all you can eat buffets is a must, especially on Friday's when it is Seafood Heaven!!
One of my fondest memories of Reno, was taking my two kids to an outdoor Huey Lewis concert at the Hilton Hotel. What I hadn't planned for, was that this was the weekend that the Harley Davidson Convention was happening at the Hotel, and I think we were the only three, not wearing black leather at the concert!
It was a fantastic concert though, and my Ryan, who has never met a stranger, chatted up all the bikers in our vicinity. For the music lovers, there is always someone great to see in Reno!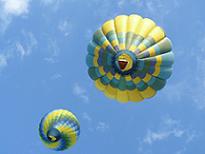 ---
South Lake Tahoe Cities
---
Additional Cities Near Truckee (and Towns) that will be covered more in detail in this Truckee Travel Guide section include: (info and lots of pictures coming soon!)
Alpine Meadows - technically not a City near Truckee, or even a Town, but Alpine is a Ski Resort area. But...it is my website, so I am going to touch on it here! I always enjoyed skiing at Alpine. Our next door neighbors in Truckee built a house and moved to Alpine Meadows soon after we moved. They were the best neighbors that I've ever had, and I just located their son, Sean Jordan on Facebook recently, and my daughter Brie got their phone number from him, so I'll have to get back in touch with them. Sean is a Ski Coach at Alpine Meadows during the winter.


Verdi - Home of Boomtown! You arrive in Verdi, soon after you cross the California border to the State of Nevada, which if you miss the sign that you are in Nevada, you will be aware of by the the fact that the roads get a whole lot better in Nevada (Gambling money put to good use!!)
Personally, I always preferred North Lake Tahoe to South Lake Tahoe, since I'm not a gambler, although taking a drive around the lake in summertime is fantastic. I drove the lake twice in Summer 2010 in my sports car with the top down, taking pictures along the way, (slide show is on the Truckee Travel Guide Facebook page) contemplating cycling around Lake Tahoe.
After cruising the hills around the Emerald Bay area, that idea was put on the back burner for now! I'm waiting until there is a bike trail, ALL the way around the Lake, and I am surprised that it hasn't happened so far. However, there is probably over 50% of the Lake that has bike trails around it, and Tahoe City in particular has some great trails in different directions around the lake, and also out to Squaw Valley along the Truckee River.
The more, I write on this website about our time in Truckee, the more determined I am to move back ASAP! Once you live in the beauty of the Truckee and Tahoe area, there just is no way to successfully move back to the concrete suburbs! Plus, if you want a change of scenery, there are lots of Cities near Truckee to explore like Reno, that will give you more of a Big City Feel.