Non Profit Organizations in Truckee
There are many great Non Profit Organizations in Truckee that could use your assistance...either financially, or your time! I'm a firm believer in giving back! No matter what your circumstances are, there is always someone in worse shape than you are. We are so blessed living in America! This was never clearer to me, than when I spent a week as a Cook on a Spring Break House Building Trip to Mexico, when my daughter Brie was in High School. The poverty, the lack of housing, clean water, and bathroom facilities was just heartbreaking.

If you run a Non Profit Organization in Truckee or the local Lake Tahoe area, please see my Truckee Advertising Options page - I am offering FREE Directory Listing Advertising and FREE Featured Page Advertising for ALL Local Non Profits! I would love to get a page set up on my website, for each Non Profit that features YOUR cause and help you promote it! This includes local Truckee Churches!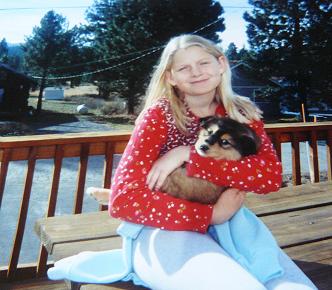 One of the things that I would love to do when I move back to Truckee (hopefully soon!), is get another dog and train it, and get it certified as a "therapy dog", and take him to all the charity events in town and to visit kids in the hospital. I had the perfect dog for that once, a half Golden Retriever / Husky mix, named Dakota, that I had bought in Truckee. Everyone who met Dakota, fell in love with him, but due to his fear of "umbrellas", I was unable to get him certified as a "therapy dog". I am sure that my son, Ryan had something to do with that situation! (Pictured: My daughter, Brie, holding Dakoka as a Puppy!)


---

Non Profit Organization Map


---

I would encourage everyone to find something that touches their heart, and donate their time, and money where possible towards helping! Here is a list of the major Non-Profit Organizations in Truckee, along with their Mission Statement & links to their website/or facebook page: (If you are a non-profit, and not listed yet, just let me know!)


Alta California Regional Center

- creates partnerships to support all eligible individuals with intellectual and developmental disabilities, children at risk, and their families in choosing services and supports through individual lifelong planning as a means to achieve healthy and productive lives in their own communities.

Art-Health Alliance

- New non-profit! Their mission is to use its resources to bring innovative art programming to the Truckee-Tahoe community to facilitate personal growth, learning, and healing. They intend to bring forward critical knowledge about the relationship between arts and healing and to encourage other local organizations, through administrative support and strategic partnerships, to offer art programming designed to enhance individual and community health.

Arts for the Schools

- enhances our children's education and fosters a lifelong appreciation of the creative arts for students and communities in the Incline Village, North Lake Tahoe, and Truckee Region.

Big Brothers Big Sisters of Nevada County & North Lake Tahoe

- makes a positive difference in the lives of children and youth in our region through a professionally-supported, one-to-one relationship with a caring and responsible individual. These adults offer support to children's growth and development through nurturing relationships, leading to improved self-confidence, school performance, behaviors, and relationships with family, peers, and other adults.

Custom Learning Academy

- To achieve academic success for each student by providing standards based, self paced, customized learning opportunities utilizing a blend of state of the art researched based curriculum, small student teacher ratios and support from teachers with excellent content knowledge and effective communication skills, all in a culture of respect.
Disabled Sports USA Far West

- Our mission is to provide affordable inclusive physical and recreational activities that build health and confidence.

Family Resource Center of Truckee

- We promote social and economic success in our community by providing education, mobilizing resources and advocating for change.

For Goodness Sake

Our Mission is to nurture the spiritual health of the community by providing a welcoming, inclusive environment for exploring the spiritual nature of God, man and the universe; thereby bringing a higher sense of peace, hope, health and dominion to all.

High Fives Foundation

- is dedicated to raising money and awareness for athletes who have suffered a life-altering injury while pursuing their dream in the winter action sports community. (The Truckee-Donner Chamber of Commerce voted them the 2011 Non-Profit of the Year!)

Humane Society of Truckee-Tahoe

- is dedicated to saving and improving the lives of pets through adoptions, community spay/neuter services, and humane education programs.

Keep Truckee Meadows Beautiful

- Incorporated in 1989, Keep Truckee Meadows Beautiful is a private 501(c)3 nonprofit dedicated to creating a cleaner, more beautiful region through education and active community involvement. KTMB is supported by individual and community donations.

Kid Zone Museum

is a children's museum with a mission to inspire learning through creative play and discovery.

Lake Tahoe Music Festival

- The mission of the Lake Tahoe Music Festival is to present diverse and quality musical experiences in the classic tradition from Bach to Blues and Beyond, and to create educational and performance opportunities for aspiring young musicians.

Mountain High BNI

- BNI's mission is to help members increase their business through a structured, positive and professional word-of-mouth program that enables them to develop long-term, meaningful relationships with quality business professionals.

Nevada County Library Literacy Service

- The program's mission is to help adults build their reading and writing skills through the FREE, CONFIDENTIAL, ONE-ON-ONE efforts of volunteer tutors. All instructional materials are provided by Read Up!
Project Mana

- Project MANA (Making Adequate Nutrition Accessible) is the hunger relief organization serving the North and West Shores of Lake Tahoe and Truckee. Mission is to dramatically reduce the incidence of hunger and its detrimental effects upon individuals, families, the community, and the region. In addition to providing hunger relief, we have developed programs designed to alleviate the causes of hunger and promote nutrition through education and awareness.

Sierra Agape Center

is committed to creating accessible, donations-based therapeutic services in a way that considers each person holistically.

Sierra Avalanche Center

- The mission of the Sierra Avalanche Center includes disseminating current snow pack stability information to the general public; providing educational information, knowledge, and understanding of avalanches to recreational users and groups; and facilitating communication in the region to reduce the impact of avalanches on recreation, industry, and transportation through a partnership with the United States Forest Service.

Sierra Green Building Association

- Mission: To educate and promote environmental building and business practices for a sustainable lifestyle in the Sierra Nevada communities.

Tahoe Mountain Resorts Foundation

- The mission of Tahoe Mountain Resorts Foundation is to serve as a catalyst for community enhancement by providing leadership and funding which will enrich the quality of life in the Truckee/North Lake Tahoe region through cultural, environmental, educational and charitable pursuits.

Tahoe Truckee Community Foundation

- Tahoe Truckee Community Foundation connects people and opportunities, generating resources to build a more caring, creative, and effective community.

Tahoe Truckee Excellence in Education Foundation

enhances public education within the Tahoe Truckee Unified School District to strengthen the learning experience for students.

Tahoe Truckee Lacrosse Association, Inc.

Our Mission: To promote and develop the game of lacrosse as an integral part of the educational process and as a means of making equally available to girls and boys the beneficial attributes of the game. To honor players, coaches and officials whose skill and conduct on the field and in their business and professional lives inspire in the youth of the Tahoe, Truckee and Northern Nevada areas a high regard for the discipline of the game of lacrosse.

Trails & Vista's

- an organization that combines hiking with artistic expression in the majestic Sierra Nevada. The organization's mission is to create art experiences in nature that inspire environmental awareness.

Truckee Community Christmas, Inc.

(link goes to their Facebook Page) - The Truckee Community Christmas, an all volunteer Truckee Non-Profit Organization, coordinates a lot of the Christmas efforts for the community which start the week before Thanksgiving. See my

Christmas in Truckee

page for more details!

Truckee Donner Land Trust

- Mission: To preserve and protect scenic, historic and recreational lands with high natural resource values in the Truckee Donner region.

Truckee High School Athletic Booster Club

- The Truckee High School Booster club is comprised of parents and students and is the equivalent of the high school PTO. We support clubs and athletics at Truckee High through fundraising and volunteer support.

Truckee Downtown Merchants Association

(TDMA) is a nonprofit association of local businesses in Truckee working for the economic, social, cultural and environmental vitality of Historic Downtown Truckee. The goals of the organization are to create a beautiful and vibrant downtown that sustains business and the community. Also, to enhance the community's perception of downtown, and to increase annual revenue by 10%.
Truckee Renaissance Faire - (still active?)

Truckee River Watershed Council

- Mission: We bring the community "Together for the Truckee" to restore, protect and enhance the Truckee River watershed.

Truckee WyldLife Club

- Associated with YoungLife, the WyldLife Club is strictly for 6th - 8th graders.

Truckee YoungLife Club

- YoungLife is for 9th-12th graders. The mission of Young Life: to introduce adolescents to Jesus Christ and to help them grow in their faith.

USA Snowboard Association (USASA)

- Mission: To facilitate fun and fair events for all ages across the country, to attract snowboarders and freeskiers, promote their development, provide member education, and influence the future of our sports.
---

Here is a list of the major Non-Profit Organizations in the surrounding area: (additional info coming soon!)
Alpine Meadows Ski Foundation

Auburn Ski Club Associates

Nevada Econet

Squaw Valley Institute

United Way of Nevada County
See my Lake Tahoe Non Profit Organizations page for a list of the Non-Profits around the Lake Tahoe area!