Truckee Grocery Stores
Dining In
The Truckee Grocery Stores provide a cheaper option for your Truckee Vacation. If you have a large family or a large group, it can be cheaper to check out the Truckee Vacation Rentals, rather than stay at a Truckee Hotel, or Truckee Resort, and cook some of your meals at home.
There are two big Grocery Stores in Truckee, Safeway and Save Mart, as well as various small grocery and convenience stores in the various Truckee Neighborhoods. We shopped at Safeway, located on Donner Pass Road for the majority of our groceries. We did periodic stock up trips to the Costco in Reno, especially before winter.
Since we lived in Glenshire, the Glenshire General Store was great for small purchases, and great for in the winter time, when we didn't want to drive into town during a snow storm. I always felt like Glenshire was a pretty safe area, and I had no problem letting my kids ride their bikes down to the Glenshire General Store. It was great exercise for them, as there was some pretty big hills on the way home. They often stopped at the Local Video store next to the General Store for a movie to bring home. It was the perfect place to raise kids!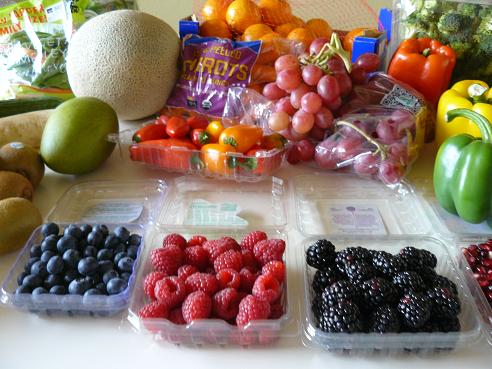 Vegetarian or Vegan?
If you are Vegetarian, or Vegan, or just trying to eat healthier, the New Moon Natural Food Store is a great place to check out. I didn't shop there when we lived in Truckee, but since I started following more or less a Vegan diet a few years back, this store is where I primarily shop now. They have a great selection of foods, as well as a great Juice Bar, and offer discounts to locals during a full moon!!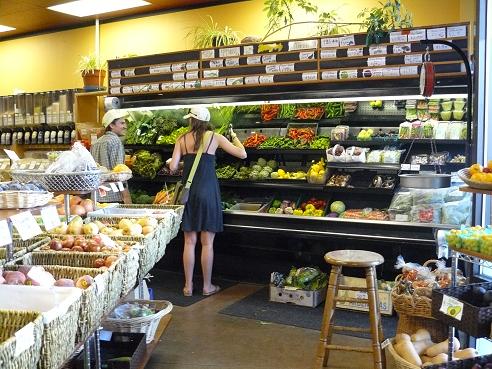 New Moon Natural Food Store
---

Truckee Grocery Store Map
View Larger Map
---
Here is a list of the Grocery Stores and Markets in Truckee, that the Truckee Travel Guide will cover: (If you click on the red dots in the map above, you can find addresses, phone numbers, website links, and reviews for the different grocery stores, as well as get directions!)
(Picture coming soon!)

7-Eleven

11400 Donner Pass Rd, #5



Avec Wine & Food

11209 Brockway Road #101c

While primarily a cafe and wine store, they bake their own delectables and stock their shelves and coolers with a wide range of artisan gourmet products and cheeses.



Earthly Delights

Truckee



Earthly Delights

3001 N. Village Dr, Suite 2057

Village at Northstar



Jerky Junction

11401 Donner Pass Road






Glenshire General Store

10095 Dorchester Drive

This is a neighborhood store for the Glenshire neighborhood. It is especially helpful in the winter months, when you run out of the necessities, and don't want to drive all of the way to Truckee.



New Moon Natural Foods 

11357 Donner Pass Rd 

This is a great place to shop if you are a Vegetarian, Vegan, or just looking for lots of great Healthy Foods.  They also have a Juice Bar!






Safeway

11290 Donner Pass Road






(Picture coming soon!)

SaveMart

11399 Deerfield Drive






Sticks Market (Formerly Donner Pines Market)

13710 Donner Pass Road

This is a neighborhood store for the Donner Lake Neighborhood area.






Z Marketplace

This is a neighborhood store for the Tahoe Donner Neighborhood. 
---

Truckee Farmers Market
A great place to get local organic produce from June to October, is the Truckee Farmers Market, which is usually held at the Truckee River Regional Park.
The goal of the Foothill Farmers Market in Truckee, is to provide healthy & tasty local foods & artisan treasures, and includes family activities as well as music.

2016 Schedule: 


Tuesday mornings from 8:00am - 1:00pm from June 2nd to October 20, 2015 at the 

Truckee River Regional Park

 at 10500 Brockway Road off Hwy 27 in Truckee, California. (2016 Dates TBA but will be similar to 2015)




Thursday evenings during 

Truckee Thursdays

 from 5:00pm - 8:00pm from June 9, 2016 through August 18, 2016 in Downtown Truckee on Donner Pass Road near the train station.
For additional information: Foothill Farmer's Market Website - their Farmers Markets in Auburn, and Roseville stay open year round!
See Truckee Farmers Market - for details on the benefits of Farmers Markets and the location of the North Lake Tahoe Farmers Markets!