Truckee Wine - Gotta Love It!!!
The Truckee Travel Guide will cover everything Truckee Wine!
I have to admit that I love Wine! My preference is White's, along the Riesling lines. But, I'm open to other options!
My first experience with "Wine", was in Junior High, when our family lived at the Presidio in San Francisco when it was still an Army Base. My Dad, was the 2nd in Command of the West Coast's, U.S. Army C.I.D. (Criminal Investigation Command).
I went to the Roosevelt Junior High School, right off the base. My two best friends and I, for some reason, decided to drink Two Bottles of Lancers Wine for lunch one day. That's right...we didn't start with Boone's Farm!
My first class after lunch that day, was Algebra. The class was a blur, while I sat at my desk and watched the room spin. Fortunately, no tests that day! Things improved through the rest of the day, and I walked home. My Dad was home when I got there which was pretty unusual. As it turns out, one of my "Partners in Wine" had felt sick and gone to the office to call her Mom. While waiting for her Mom, she literally got sick all over the Principal's office.
The Principal talked with my friend's Mom, and asked who she hung out with. My other friend and I, were thrown under the Bus! Thus, the reason that my Dad was at home early...he had received a phone call from the Principal about MY drinking at school.
My Love Affair with Wine was Launched!!
From the Truckee Wine Bars, to the Truckee River Winery, to the Downtown Truckee Wine Walk & Shop Annual Event, to Northstar's Food & Wine Festival this website, will cover it all!.
---

Truckee Wine Bars

Here is a list of the Wine Bars in the Truckee area:


Avec Wine + Food


Baccus and Venus


Earthly Delights


The Pour House - (I have to admit this is a fantastic business name!)
Additional details will follow on each Wine Bar, and I personally vow to try each place and report back with a review!


---

Northstar Wine Bars

Here is a list of the Wine Bars at Northstar-At-Tahoe:


Earthly Delights


Grapes and Grounds
---

The Village at Squaw Valley Wine Bars

Here is a list of the Wine Bars at The Village of Squaw Valley:


Uncorked Wine Bar & Shop - I'm excited, I won two Wine Tastings for Uncorked that they donated to the Humane Society of Truckee-Tahoe's, Truckee Duckee Derby Fundraider!
---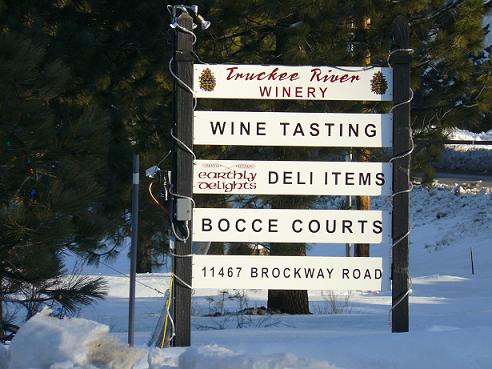 Truckee River Winery Sign - Truckee, CA
Photo Credit: Leigh Storz, Owner of truckee-travel-guide.com


---

Truckee Wineries

Truckee River Winery (more info to come)


---

Truckee Wine Events


To find out the details about the Annual Truckee area Wine Events, please check out my Truckee Wine Events page!


---
Go to Truckee Bars and Breweries

Go to Truckee Event Calendar

Go to Truckee Farmers Market

Go to Truckee Music

Return from Truckee Wine to Truckee Travel Guide


---