My Story - How the Town of Truckee Became My "Home Town" of Choice!

I Love Truckee!
My name is Leigh Storz, and this is My Story of how I came to live in Truckee for four years with my two kids, why I had to leave, why I go back every chance that I get, and why I would love to move back to Truckee as soon as I can for the rest of my life!
To start my story, we have to go back to my birth, in Augsburg, Germany. I was the daughter of a U.S. Army Pilot and his wife, who were stationed in Germany. We moved every 3-4 years of my life, including 4 years that were spent in Canberra, Australia which was fantastic. I loved the traveling and opportunities to see new things.
However, one of the most frequent social questions that people get asked was, "Where are you from?", or "What is your Hometown?". I realized that I didn't really have one. After living in Truckee, which is my absolute favorite place, I've made Truckee, my Home Town of Choice!
Living in Truckee!

When I divorced in June 1995, I accepted a job as the Controller of the Truckee Donner Recreation & Park District, (TDRPD), and moved to Truckee with my two children, Ryan, and Brianne (Brie). Ryan was just starting Fifth grade, and Brie was just starting First grade. This is where my story of Truckee begins!
I was encouraged to check out the Truckee neighborhood of Glenshire, which was known as the "Banana Belt" of Truckee. (ie. the least amount of snowfall). We fell in love with the area. Since I had not yet sold my existing house, I started looking for a rental, but they were scarce to find at the time. We stumbled on a new house that was just about completed on Archery View Drive. My Mom & Dad bought it as a 2nd home, and rented it to me until my house sold. Glenshire school had just been completed, and my kids were enrolled.
We all fell in love with Truckee from the start. We had been so tired of the 100+ degree weather in the Sacramento / Roseville area. Truckee summers are perfect, and you can actually get out during day time hours and explore the area. There was just so much to do and I loved having the four distinct seasons of the year.
We biked, we hiked, we swam, we paddle boated, we kayaked, we jet skied, we got familiar the Cities near Truckee, such as Reno and attended many great music concerts and worked our way through the all you could eat buffets at the Reno Casino's!
We loved the beauty of Olympic Valley, where Squaw Valley is located, and rode horses, and went to High Camp to eat, swim, and ice skate every chance we got. We loved Tahoe City and Kings Beach, at Lake Tahoe. The entire area is just so incredible and we were never bored!

We often went to Tahoe City to roller blade along the bike trail that parallels the Truckee River. We would turn around at Alpine Meadows and head back and would never pass up a chance for lunch on the deck at Sunnyside Inn, just south of Tahoe City. The constant outdoor active lifestyle agreed with all of us!
I loved my job, my co-workers, and the charming Truckee downtown commercial row area, with its quaint shops and restaurants. The people in Truckee are so friendly, that I soon ended up with more friends than I had ever had in my life. I preferred the small town charm of Truckee where you can walk down the street, and always run into someone that you know, as opposed to a big city where you get lost in the crowd!

My kids were constantly enrolled in Kids programs through the TDRPD, the convenient before/after school programs, the summer camps, the Learn to Ski programs etc. My kids have both said that Living in Truckee was "The Perfect Place to Grow Up".
---

Truckee Winters


Our first winter was a challenge! Truckee Driving in the Winter was tough! I quickly learned that there was such a thing as "Winter Windshield Wipers", and they were absolutely needed in Winter to keep up with the snow. My first drive home from town to Glenshire, I had my window rolled down and was madly trying to clear the snow off so I could see to drive!

Fortunately, we signed up for Snowplow Service which in my opinion is the only way to go. We did have to keep our decks and stairs cleaned off, as well as make sure that our driveway was "berm free". There was nothing worse than being "bermed out" of your driveway every time the Snow Plow drivers cleared the streets! Brie got a pass on snow removal, but Ryan always stepped up and helped me clear the deck after each snowfall.
Truckee has over 300 days of sunshine a year, and it was magical after a fresh snowfall. Snow play soon followed, and our kind Snowplow drivers, always built a sledding snow ramp of our excess snow according to Ryan's specifications,and our house soon became the house that the neighborhood kids came to, to sled. We learned to ski, or at least the kids did, and every Sunday in winter, we were off somewhere to ski.
Our second winter in Truckee, while heading to work with the kids in the car, in negative 13 degree weather, we hit black ice on Glenshire Drive, and did a 360 off the road, and down the embankment towards the Truckee River, running over gigantic boulders along with way. Whiplash, lots of hassle, and $4,500 worth of frame damage to my SUV later, we were all pretty nervous about driving. This is where my story of living in Truckee went south, and I started getting lots of family pressure to move back to the Roseville area.
It didn't help that shortly after that, we were driving home on Highway I-80 to the Hirshdale exit, and right as we were heading around a turn at the highest point of the road without guardrails, a car a little ahead of us, suddenly did a 90 degree turn to the left, hit the guardrail, spun around and shot across the road and plunged off the cliff. Fortunately, the car hit a tree and we found out later that no one was killed.
I think all of us still have the occasional nightmare about plunging off a cliff.
---

Leaving Truckee


Family really worried about us in Truckee alone after that, Brie was having panic attacks getting into a car during the winter, and eventually, I caved in to all the pressure, and moved back to the City of Roseville, 90 minutes away. This was the biggest regret of my life!

I worked for the City of Roseville for ten years, and missed the view of the Mountains and Northstar from my house everyday. Once you live surrounded by the beauty of the Truckee and Lake Tahoe area, you just can't go back to living in the concrete suburbs, and I dreamed about relocating back to Truckee once my kids were grown.
I retired early at age 50 from the City of Roseville, due to a mold allergy that kept me sick in the building every winter for months on end, and I started an eBay Store, and started doing web design to supplement my retirement earnings. I had always planned on working until I was 65-70, and because my retirement was not what I had hoped, I was hoping that I could find a PERS job in Truckee and move back to where I feel I belong!

---

My son Ryan


My son Ryan, attended Cal Maritime Academy in Vallejo, CA, where he majored in Facilities Engineering. Once he graduated in 2007 he started working as a Power Engineer, and most recently as a Chemical Engineer. Shortly after graduation, Ryan got married on Catalina Island to Marlene, his childhood sweetheart, who is a Dental Hygienist and they added two twin puppies a couple of years ago. They are both currently doing Master's programs and will start a family after they graduate.

Ryan is all for having me move back to Truckee, so that they can have a place to crash at when he comes up to the area to ski!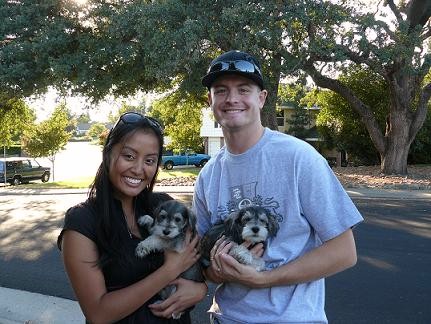 ---

My Daughter Brie


My daughter Brie is a CA Certified Massage Therapist, Certified Prenatal and Labor Massage Therapist, Certified Massage Doula, and a Licensed Esthetician! I started doing her Marketing, Website and Finances when she went independent in March 2010 and started her Massage By Brie business. While networking on Facebook with lots of Massage Therapists around the country, I started seeing the trend that all the Massage Therapists making over $100K a year had one thing in common....they were all using Site Sell's, Site Build It or "SBI" - software for their Massage Websites.
A Massage Therapist can typically just work 20-25 hours a week, because it is hard on the hands, and so lots of therapists seach for other income sources.
Brie will be helping me come up with Truckee Beauty & Spa Recommendations.
I looked into the Site Sell software, and having done web design for the last six years, I knew the software was "Pure Genius". I purchased a 2-1 special deal over Christmas 2010, and started transferring my daughter's existing website to her new SBI software.
---

The start of the Truckee Travel Guide Website


That left a website for me! Originally, I thought to do a Finance related site, as that was my field for 30 years, but then I started looking at everything I loved....Truckee, Photography, and Web Design and realized that a Travel site would be super fun to do. Thus, the beginning of the Truckee-Travel-Guide.com website was started in January 2011, with approximately 500+ pages planned. As of 8/2012, I have about 310 pages, and feel that I haven't even scratched the surface, so I will just keep adding pages.

I am hoping that My Story will continue with my relocating back to the Truckee area, as soon as possible, where I can continue to build my website while becoming a "Truckee Local" once again!
I went on to help my sister do a website. She has a Science Degree in Dietetics, but due to having an autistic son, she was never able to work outside the house. Creating an online E-Business was perfect for her, and she now has close to 400 pages on her Healthy Diet Habits website and is helping me, with the "foodie" and "holiday" information on my Truckee website.
*****
Building an E-Business

If you are a Stay at Home Mom, or want to be a Stay at Home Mom, unemployed, retired but having difficulty making ends meet, or working part time or full time and just need some extra money, to take care of your family or pay down your debts, the Solo Build It, E-Business software from Site Sell can help you! It is slow going, but it builds passive income streams that keep growing over time!

Written and Video instructions guide you step by step through the web site building process, and the software does all the back-end time consuming Search Engine Optimization processes, so that your site will get found by Google and the other search engines. I was impressed by the fact that 65%+ of all SBI websites are in the top 3% of ALL websites!!
Find a topic that you know about, are passionate about, something that you Love, and create a content rich website around that theme like I'm doing with the Truckee Travel Guide website. Once you have a good base of content, the SBI software has a built in monetization module that will help you create some passive streams of income through Google Ads, Affiliate Advertising, Site Sponsorships or Direct Advertising, Referrals etc. Many people create E-Books and E-Courses that can be downloaded from their websites.

To find out more about the Solo Build It software, watch the short video below. I've been looking for a long time for a way to build passive streams of income through working at home on my computer, that I could do on the side in my spare time, and I am so excited that I have found what I was looking for, for myself and my daughter Brie, through using Solo Build It!