Truckee Beauty & Spa Industry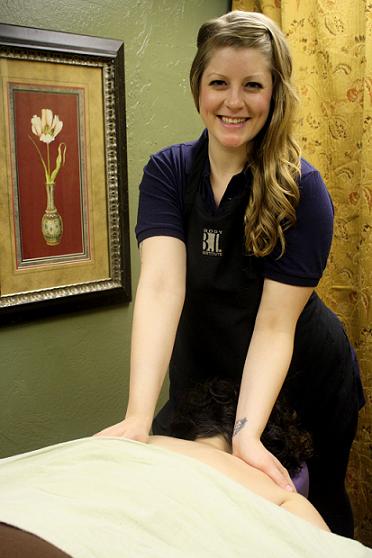 The Truckee Beauty & Spa Industry is booming! The Spa Industry is something that is close to my heart! My daughter Brie, is a California Certified Massage Therapist, Certified Prenatal & Labor Massage Therapist, a Certified Massage Doula, and a Licensed Esthetician. Next up is an Infant Massage Educator Certification Training class.
Brie went independent in March, 2010 and works under the business name of Massage By Brie in Midtown Sacramento, CA. Her top three specialties are Prenatal Massage - including Massage in the Delivery Room, Sports Massage, and Myofascial Release which is a great technique to use for chronic pain problems.
Brie has always been interested in hair and makeup, and even before she went to Massage School, she loved Massage! When she was little, she used to print up massage gift certificates and give to family for Christmas. We have been planning on eventually opening a Day Spa together, and so we have been following the Massage and Spa Industry for years, so we know a lot about it.
Brie and I connect with hundreds of Massage Therapists, Estheticians, and Spa Owners on Facebook. I help her with her Massage Marketing and her website, so this is an industry that we stay up on, on a daily basis! 
With as many Summer Activities and Winter Activities as there are in Truckee, everyone should know who to go to for THE BEST Sports Massage in Town!
---

Most RELAXING Spa's at Lake Tahoe


One of the most critical components of the Tahoe experience is relaxation! It is just a much slower and relaxed pace in Truckee and Lake Tahoe! Here are two of my favorite Spa's in the area:



The Spa at Ritz Carlton, Lake Tahoe (at Northstar) - they were nice enough to give me a tour of their Spa, and it is truly fabulous!
---

2013 Best of Truckee and North Tahoe Contest Winners


Here are the winners of the 2013 Best of Truckee and North Tahoe Contest Winners as pertain to the Beauty Industry:
Best Hair Salon:
Total submissions: 262

1. Urban Angels Salon (Truckee): 80 
2. Bella Vita (Tahoe City): 24
3. Mane Attraction (Truckee): 23
Best Hair Stylist: 
Total submissions: 215
1. Nicola Burns, Nicola B. Hair Studio (Truckee): 10
t-2. Diana Alouise, Shampoo Hair & Makeup Studio (Truckee): 9
t-2. Katy McClure, The Balcony Hair Salon (Tahoe City): 9
t-2. Nina Pivorotto, Urban Angels (Truckee): 9
Best Massage:
Total submissions: 205

1. Truckee Massage (Truckee): 24 
2. Zenergy Massage and Wellness (Truckee): 18
3. Clearwater Day Spa (Tahoe City): 15

Best Massage Therapist:
Total submissions: 167

1. Amber Defazio, Zenergy Wellness Spa (Truckee): 11
2. Richard Leversee, Deep Well Being (Truckee): 10
3. Jamie Gemme, Gem Mountain Massage (Truckee): 9
Best Nail Salon:
Total submissions: 121

1. Sassy Nail Salon and Spa (Truckee): 44
2. T & T Nails (Truckee): 33 
3. Unique Nail Salon (Tahoe City): 9
See Also:
---

Truckee Businesses


Here are the Beauty Salons, Spa's, Massage Businesses, and places to pick up Spa Products in the Truckee area that the Truckee Travel Guide will cover in detail: (additional details & reviews coming soon!)
Balance Holistic Health




Balancing Bodyworks




Body Being Massage Center




Cal Neva Resort Spa and Casino




Glow




Earthspirit Bodywise - Polly McGehee Triplat, C.M.T.




Hair for Today - in the 

Glenshire

 Neighborhood




Images Salon and Beauty Supply




Linda's Nails




Loft Barber Shop




Lotus Sage Massage




Man Style Barbers




Mane Attraction




Nicola B. Hair Studio




Ritz-Carlton Highlands Spa




Salon Cambiare




Sassy Nails




Shag




Shampoo Hair and Make-Up Salon




Sierra Cosmetic Laser




Spa at Squaw Creek

The Resort at Squaw Creek was mentioned in Sherman's Travels (Nov. 18, 2011) as a Top Spot to hit the Slopes and the Spa. 

Read the article here

!




T & T Nails




Tahoe Yoga & Wellness Center




Truckee Massage




Truckee Nails




Unwind Beauty Salon




Urban Angel's Salon




Zenergy Wellness Spa