Truckee Shopping

I never fail to enjoy the Truckee Shopping! I'm not much of a shopper, but I love the Truckee Shops. I can always find something, and it is a fantastic place to find special gifts for Christmas, or other occasions.
This page will be the Truckee Travel Guide's main Shopping page and link out to other pages for additional information. This will be a work in process and eventually over time, I'd love to have a devoted page for each Truckee Store! My site does have a Truckee Advertising program where businesses can purchase directory listings, devoted pages, and sponsor a category (like the Truckee Shopping Section), or sponsor the whole website. (Just ONE Site Sponsor opportunity available in the Truckee Shopping category).


*****

Truckee Shopping by Type of Store


If you are looking for a specific type of shopping, I've broken down all my shopping section into types of stores, so you can find everything together. I've also included some of the places at the Village at Squaw Valley which is so near: These include:


---

Truckee Shopping by Location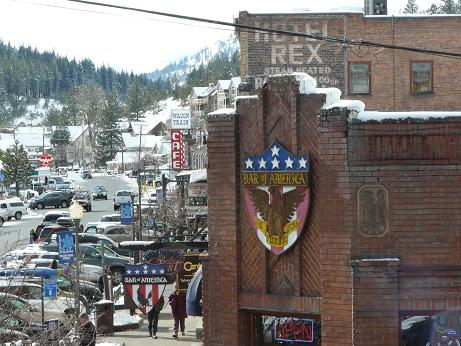 Without a doubt, the historic Truckee Downtown Commercial Row area is the highlight of Truckee! (shown above)
The Truckee Downtown Merchants Association has made a great Historic Downtown Truckee Walking Map. You can click on the link and view the PDF map online or print it out. It is slightly outdated with stores such as Jackass Ridge closing and Mountain Homes moving in and Elijah Bleu's Coffee has closed and been replaced by Trokay Cafe.
This map covers the shopping areas in the Downtown Truckee area where you can park and walk through all the areas such as: (links to more info on each area coming soon!)


Brickelltown
Commerical Row
Jibboom Street
West and East River Street
Other Shopping areas include: (links to more info on each area coming soon!)


Crossroads Shopping Center - located at 11399 Deerfield Drive and anchored by Save Mart
Gateway Shopping Center - Donner Pass Road
Glenshire Shopping - 6 miles north of Truckee in the Glenshire Neighborhood where we used to live, there is a small grocery store, a video store and a few others shops that are handy to have, especially during the winter months. These stores and other neighborhood stores which are primarily used by residents living in Truckee, will be covered in my Truckee Neighborhood pages.
Mountain Home Center and other shops on Brockway Road towards the Truckee-Tahoe Airport
Tahoe Donner Shopping Center
Truckee Outlet Stores
Truckee Safeway Shopping Center - at 11290 Donner Pass Road - anchors include Safeway, Rite Aid, and Wells Fargo Bank
Village at Northstar
Village at Squaw Valley in Olympic Valley, CA

Westgate Center - Donner Pass Road
---

Truckee Shopping Events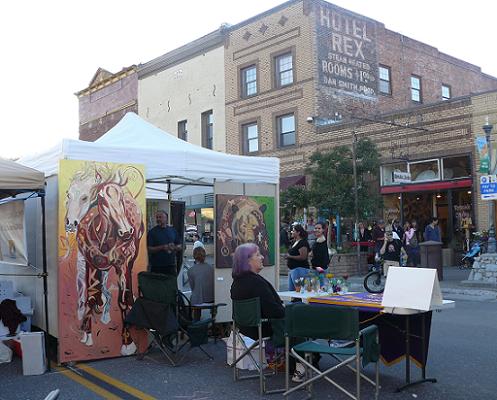 There are some great Truckee Events that focus on "Shopping":


Holiday Friday's - Downtown Truckee - (I haven't found the 2013 info yet, but here is the info. from 2012) The stores stay open later for Christmas Shopping on each of the Friday's before Christmas! In 2012, the Dates are 12/7/12 (Family Night Out - S'Mores Making for the Kids), 12/14/12 (Girls Night Out - Make your Wish Lists!), and 12/21/12 (Guys Night Out - Use the Wish Lists to find the Perfect Gifts!!) Shopping Specials and Refreshments will be available throughout the Downtown area from 5pm - 8pm each Friday! (Look for the First Friday Flags)

Truckee Farmers Market - runs each year from the beginning of June to the middle of October. Held twice a week, once at the Truckee River Regional Park and at during Truckee Thursday's in Downtown. Shop for fresh fruits and veggies and gifts!
Truckee First Friday's - the first Friday of every month, head to downtown Truckee in the evening. There will be lots of participating shops with a different overall theme for each month.
Truckee Thursday's - Truckee's street fair that typically runs in the summer months of June - August each year. The stores remain open and many set up shop with tables down the main Downtown Commercial Row which is blocked off to traffic. (pictured above)
Truckee Annual Ski Swap - hosted by the Truckee Donner Recreation & Park District, typically the first weekend of November, this is a great place to sell and buy new winter sports gear and clothing
Black Friday - Friday, November 29, 2013 - Black Friday is the day following Thanksgiving Day in the United States, traditionally the beginning of the Christmas shopping season. On this day, many retailers open very early, often at 4 a.m., or earlier, and offer promotional sales to kick off the shopping season.
Small Business Saturday - Saturday, November 30, 2013 - A small business is a business that is privately owned and operated, with a small number of employees and relatively low volume of sales. Small Business Saturday, first started in 2010, is the day we celebrate the Shop Small movement to drive shoppers to local merchants across the U.S.
Cyber Monday - Monday, December 2, 2013 - Cyber Monday is a marketing term for the Monday immediately following Black Friday, the Friday following Thanksgiving Day in the United States, created by companies in 2005 to persuade people to shop online It has become one of the biggest Online Shopping Days of the Year.

I love The 3/50 Project concept - Pick 3, Spend $50 and save your local economy! Pick 3 (your favorite local stores that you would hate to see disappear and stop in and say hello), Spend $50 (spend $50 each month in locally owned independent businesses). For every $100 spent locally, $68 comes back to the community.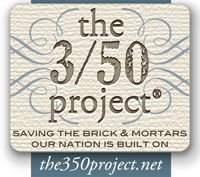 ---

Truckee Shopping Sales and Deals


This section will point you in the right direction to find online and local deals and specials:


Local Truckee Shopping Sales - this page will be a place that local store owners can easily fill out a form and submit information on their own sales events. Visitors to the page can see where to shop! (This is a new page, so will take some time to get the word out to store owners)
Online Shopping Deals - This page will highlight online stores that have "Daily Deals" - the deals for each vendor changes daily and have outrageous savings from 30% - 90% off items.
Online Shopping Sales - This page will highlight online stores that have seasonal specials that last for a longer period of time. This will typically be special holiday sales or end of season clearance, and some great deals will be able to be picked up. Deals will be constantly changing as I find deals online.
---

2013 Best of Awards for Truckee Shopping


Below, you will find the 2013 Best of Truckee and North Tahoe Contest Winners in some of the shopping categories, as reported by Truckee's awesome newspaper, the Sierra Sun:

Best Bike Shop:
1. Paco's Truckee Bike & Ski (Truckee)
2. Olympic Bike Shop (Tahoe City)
3. The BackCountry (Truckee)
Best Clothing Store:
1. Dressed Boutique (Truckee)
2. Mo, Jo and Zoe (Truckee)
3. Nox (Truckee)
Best Gallery:
1. Gallery Keoki (Olympic Valley)
2. Riverside Studios (Truckee)
3. The Carmel Gallery (Truckee)
Best Garden Supply/Nursery:
1. Villager Nursery (Truckee)
2. Tahoe Tree Company (Tahoe City)
3. Perennial Nursery & Landscape (Tahoe Vista)
Best Gift Shop:
1. Bespoke (Truckee)
2. Riverside Studios (Truckee)
3. Panache (Incline Village)
Best Hardware Store:
1. Mountain Ace Hardware (Truckee)
2. Ace Hardware (Incline Village)
3. Swigard's True Value Hardware (Tahoe City)
Best Jewelry:
1. Lorien Powers Studio Jewelry (Truckee)
2. Riverside Studios (Truckee)
3. Bluestone Jewelry (Tahoe City/Truckee)
Best Ski/Board Shop:
1. Tahoe Dave's Skis and Boards (Kings Beach, Tahoe City, Olympic Valley)
2. Porters Sports (Tahoe City, Truckee)
3. Totally Board (Truckee)

Best Sporting Goods:
1. Truckee Sports Exchange (Truckee)
2. Totally Board (Truckee)
3. Porters Sports (Tahoe City, Truckee)
To see all the 2013 winners, check out my 2013 Best of Truckee page!
To see all the 2012 winners, check out my 2012 Best of Truckee page!

To see all the 2011 winners, check out my 2011 Best of Truckee page!