Truckee Skiing in the
Perfect California Ski Vacation Town!
Truckee Skiing in the Perfect Mountain Town is a perfect place to take a California Ski Vacation! There are two Ski Resorts in the town of Truckee, California. These are:


Northstar California Downhill & Cross Country - Open for the Season - Opening Day was November 18, 2011
Tahoe Donner Downhill - Opening Day December 9, 2011. Tahoe Donner is a fantastic place to learn to ski - both of my kids learned to ski here!
To see information on all of the Truckee and
Lake Tahoe
Ski Resorts, please check out my
Ski Resorts
page!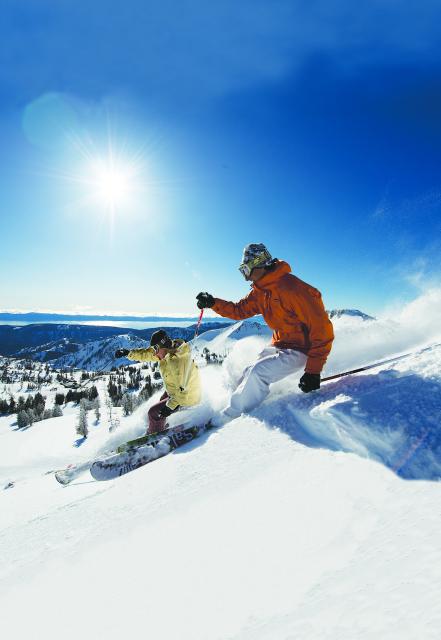 Skiing at Squaw Valley in Olympic Valley
Photo Credit: Hank Devre - used with permission from the Squaw Valley Website


The Truckee Ski News page, will keep you up to date with what's going on in the Truckee Ski Resorts, and the Ski Resorts in the surrounding Lake Tahoe area, per Google and Bing Global News Sources...plus, you will have opportunities to write your own Truckee Ski News Stories.


Please check out my Discounted Lift Tickets page for all the Season Pass and Special Deals!!


---
Vote in our Truckee Ski Poll for your favorite place to Ski in the Truckee or Lake Tahoe area!!
Results will be posted on the Ski Poll page periodically.
---

What is Skiing?
According to Wikipedia, Skiing is defined as: "Skiing is a group of recreational activities using skis as equipment and traveling over snow. Skis are used in conjunction with boots that connect to the ski with use of a binding.
Skiing can be grouped into two general categories. The older of the two disciplines originated in Scandinavia and uses free-heel bindings that attach at the toes of the skier's books, but not at the heels. Types of Nordic skiing include cross-country, ski jumping and Telemark. Alpine skiing (more often called "downhill skiing"), originated in the European Alps, and is characterized by fixed-heel binding that attach at both the toe and the heel of the skier's boot."


---

What Ski Equipment do you need to Ski? (additional information will be provided shortly)
Compass or GPS is helpful, especially if you are in unpopulated areas
Energy Snacks
Sunscreen
Sun Glasses
Water
Please see "Online Shopping Deals" for Daily Deal Specials from many different vendors!




---

Where is the Best Place to Rent Ski's?
This question is best answered by what type of car you have and whether or not you have a ski rack or room in your car for equipment. If you do, then there are several great Truckee Sporting Goods stores to rent equipment at. This often works out best for longer ski vacations.
If your car can't handle the equipment, then each ski resort typically has a rental department, and often you can get Ski Ticket/Ski Rental Combined Pricing. Either way, it is best to price out your options before hand to get the best deal for your Truckee Skiing trip!


---

Where can you Buy cheap Ski Equipment?
Each year, around early November, the Truckee Donner Recreation & Park District, hosts a local Truckee Ski Swap Sale of Ski Equipment.


Where can I learn to Ski?
The Truckee Donner Recreation & Park District offers Teens and Kids Ski Programs. My kids both took their "Learn to Ski" Classes at Tahoe Donner Ski Resort, the first year that we lived in Truckee. My son, Ryan, also took their "Learn to Ski Race" Program at Soda Springs, our 2nd winter in Truckee. It was a little advanced for his ability at the time, but they put him down with the younger kids and he did great! By our fourth year of living, in Truckee, Ryan was blasting down the Double Diamonds like a PRO! Truckee Skiing is the Best!!


Each Ski Resort has a Ski School and offers Ski Lessons which often can be combined in a package with rental equipment and a lift ticket.
Click here for more information about the Truckee Donner Recreation & Park District Ski Swap each year and Teens & Kids Ski Programs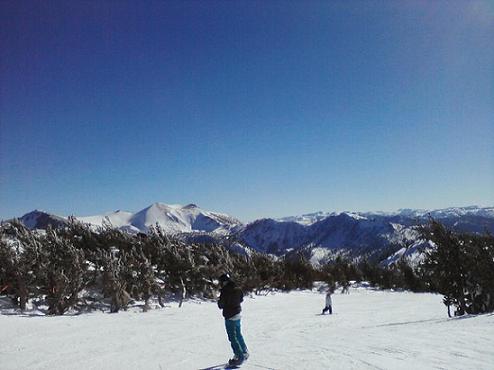 Skiing at Heavenly Valley in South Lake Tahoe
Photo used with permission from my daughter Brie's friend, Tiffany Watts of South Lake Tahoe
Tiffany was the
June 2011 Photo Contest Winner
for a photo she took of
Lake Tahoe
and
Cascade Lake
while in a
Hot Air Balloon
.
---
Here are some tips and instructional videos' for beginner skiers on their California Ski Vacation in Truckee: (links coming soon!)
Exercises for Snow Skiing
Lift Ticket Skiing Tips
Ski Care and Equipment Tips
Parts of a Snow Ski
How to carry Ski Equipment
Getting In and Out of Bindings
Getting In and Out of Ski Bindings
How to Put on Ski's
One Ski Practice Tips
How to use Ski Poles
Using Ski Trail Maps
Snow Ski Run Legend
Tips for Skiing on Level Ground
Proper Snow Ski Stance
How to Slow Down and Stop
How to Control Speed and How to Stop
Snow Ski Stops
Snow Ski Turns
How to Carve Ski Turns
Stem Christi Turns
How to recover from a fall while Skiing
How to recover from losing a ski in a fall
How to get better at Skiing
Tips for Downhill Skiing
Skiing Tips and Snow Conditions
Here are some tips and instructional videos' for intermediate and advanced skiers:
How to Snow Ski Backwards
Hitting Snow Skiing Jumps
Switch 360 Snow Ski Trick
450 Out Snow Ski Trick
Outside 720 Rail Snow Ski Trick
Here are some miscellaneous ski video's:
Extreme Skiing Video's
Heli Skiing Video's
---
Have A Great Story About Skiing in the Truckee Area?
Do YOU have a great story about Skiing in the Truckee Area? Tell us YOUR Favorite Place to Ski in the Truckee area and YOUR Favorite Runs! Share your Best Epic Ski Fail Story! We'd love to see Pictures!
---
Go to Ski Clothing

Go to Ski Equipment

Go to Cross Country Skiing

Go to Discounted Lift Tickets

Go to Ski Resorts

Go to Truckee Event Calendar

Go to Truckee Music

Return from Truckee Skiing to Truckee Winter Activities

Return from Truckee Skiing to Truckee Travel Guide


---