Truckee Neighborhoods
They're all Great!
All of the Truckee Neighborhoods have their own charm and advantages!
We lived in Glenshire for four years, the "Banana Belt" of Truckee, and it was fantastic, except for the day it was Negative 13 degrees, and I hit black ice on my way to work on Glenshire Drive with my two kids in the car and did a 360 off the road and down towards the Truckee River. Minor whiplash and $4,500 in frame damage to my SUV, and I learned the important lesson that Studded Snow Tires were not an option, but Essential to Living in Truckee in the winter!!
I'm plotting to move back up to Truckee in the near future and I've been keeping my eye on the Donner Lake Neighborhood Properties. I think that is where I'd like to live, or in the Armstrong Tract area where I'd have a Donner Lake view which is spectacular! Although, after touring the Martis Camp Neighborhood, I can totally see myself living there!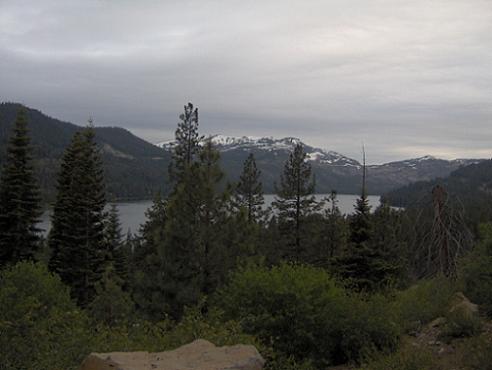 Above, is a view of Donner Lake from a house in the Armstrong Tract Neighborhood.
One of the things that still makes me sick, is that I placed a full priced offer on the house with the above view in 2006, and I got outbid by $2,000. The house was huge, had this killer view, but had been neglected for a few years, so needed some repairs done, and it was priced way below the current market value. I could have definitely woken up to this view!


---


Here are the Neighborhoods in Truckee that the Truckee Travel Guide will cover in detail:


Armstrong Tract




Cambridge Estates




Central Truckee




Donner Crest






Donner Summit




Elkhorn Ridge





Gray's Crossing




Juniper Creek




Juniper Hills




Lahontan





Martis Valley




Martis Woods Estates





Northstar-At-Tahoe




Old Greenwood




Olympic Heights




Pine Forest




Ponderosa Ranchos




Prosser Lake Heights




Prosser Damroad / Pannonia Ranchos




Prosser Woods Estates




Russell Valley




Schaffer's Mill (formerly Timilick)




Sierra Meadows / Ponderosa Palisades




Tahoe Boca Estates




Tahoe Donner




Winter Creek




Wolfe Estates
---

Recommended Realtors in Truckee/Tahoe


Christy Curtis is one of the Truckee Travel Guide's recommended Realtors for all of your Real Estate needs in the Truckee and Lake Tahoe area!!
Christy's experience, accomplishments, and awards are hard to beat. To find out more, and to contact her directly, see my Christy Curtis page!


I also highly recommend Ann Nguyen, of Dickson Realty. She has hired me to help her with her website, and design some additional neighborhood websites, so I've gotten to know her on a personal level. She is a wonderful person, and is extremely knowledgeable, and passionate about the Truckee and Tahoe area, and would provide outstanding personalized real estate services!


---

Additional Information will be coming on each neighborhood. I'm planning on a page for each neighborhood with lots of pictures and a video of the highlights of each neighborhood and pictures from all the different seasons!