Truckee Maps
Truckee Maps and Trail Guides are especially important to have and use in Truckee. Whether you are
hiking
,
backpacking
,
camping
,
mountain biking
,
skiing
, or just trying to get around town, a proper map will help make sure that you end up where you intended to go, and that you find your way back with the least amount of problems.
In the Truckee and Lake Tahoe area, there are many thousand acres of wilderness area's surrounding the towns, and getting lost is a distinct possibility if you are not prepared with a map or trail guide.


Just where exactly is Truckee, California?? Below is a Google Map of the Truckee area. Here are some tips for using the map:


The arrows move you up, down, left, and right (or grab the screen and pull in any direction)
The + and - zoom you in and out.
The "Map" button, (the default view) shows Truckee in map illustration form.
The "Satellite" button shows Truckee in satellite images (zoom in for detail)
The "Terrain" button shows an artistic rendering of the terrain that covers Truckee (zoom out to use this feature).
The "Earth" button switches over to Google Earth which is fantastic! You can explore the area as if you were actually there!
View Larger Map
There are many different types of maps available. This page will be the Truckee Travel Guide's page that you can go to for all types of maps. Some maps include available recreation options on them. In the case of Hiking Trails, some trails can be hiked, biked on, on you can ride your horse on them, so it is important to know what is allowed on the trail that you are on. I've always loved maps myself! When my kids were little, we scored at a garage sale one year and found a year by year National Geographic collection that included about 50 years worth of the magazines. Most of the magazines included maps, and I remember the kids spending hours going through and looking at them all.
Initially, I'll just be listing out a list of possible map options, that I will be adding to as I find items. If I can find PDF copies of maps, I will upload them here, and I'll point you in the right direction where you can purchase all types of maps, books, and guidebooks. And I may create some custom Google Maps along the way!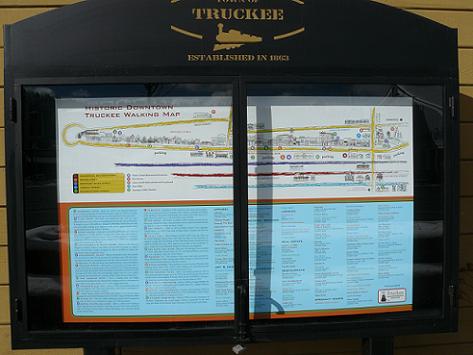 The Truckee Downtown Merchants Association has made a great Historic Downtown Truckee Walking Map. You can click on the link and view the PDF map online or print it out.
The picture above shows the Historic Downtown Truckee Walking Map - on the Outside of the Truckee Hotel
Photo Credit: Leigh Storz, Owner of Truckee-Travel-Guide.com


---

Here is a list of the planned maps that will be added: