Lake Tahoe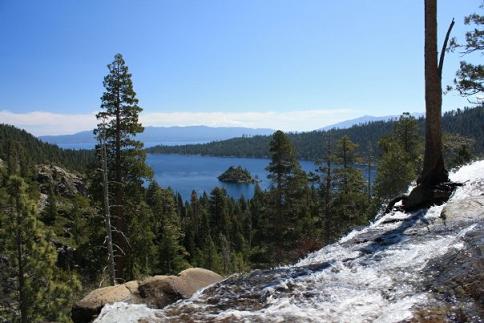 Emerald Bay, Lake Tahoe, California as viewed from
Eagle Falls on the Eagle Falls Trail.



While on your Truckee Vacation, a "Must Do and See" is driving over to nearby Lake Tahoe. From Truckee, there are two ways to get to the Lake.


You can view the routes below on my Lake Tahoe Map where eventually I'll have a link to all of the Lake Tahoe Cities and Towns!
From Central Truckee, take Hwy 89 to Tahoe. This will parallel the Truckee River which originates from Tahoe City on the Lake, and you will also pass by Squaw Valley, in Olympic Valley. You will end up at Tahoe City, where you can go south towards Emerald Bay which is the most photographed spot at the Lake.
From Tahoe City, if you go north, you wind through Tahoe City, then on to Kings Beach, and Incline Village. There are tons of great beaches and restaurants and fun shops, to stop at along the way!



From Downtown Truckee, you can take Hwy 267 past Martis Valley, and Northstar and over to Tahoe. This puts you in Kings Beach, which is a fun town on the Lake.
Below is a fantastic video of Lake Tahoe, shot in November 2011, by Shortt and Epic Productions! (
Fall
is a great time of year to visit!) In order of appearance on the video is the following Locations:
Truckee - scenes of the downtown area
Squaw Valley - at gorgeous Olympic Valley, CA
Emerald Bay
Bonsai Rock
T A H O E from Shortt and Epic Productions on Vimeo.
*****
There is so much to do at Lake Tahoe! Some of my favorites are: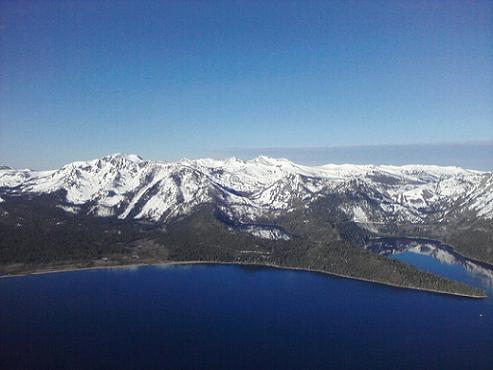 Emerald Bay, Lake Tahoe and Cascade Lake as viewed from a Hot Air Balloon
Photo Credit: Tiffany Watts from South Lake Tahoe


---

The video below, shows Mike Wilson who does some Quadruple Backflips from a rope swing 99 Feet above Lake Tahoe. He also made a video doing Triple backflips into the Truckee River that is awesome!
Mike also does these flips on ski's. I've got some of his ski video's coming soon. I have one video of his where he had a bad crash after doing a ski jump and flips, on my Ski Fail Videos page.


---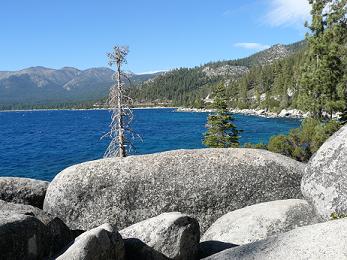 Some Fun Facts about the Lake are:
It is the second deepest lake in the United States at 1,645 feet deep, following after Crater Lake in Oregon.


Two thirds of the shoreline is in California, and the rest is in Nevada


The Lake is 22 miles long and 12 miles wide


The sun shines at the Lake approximately 75% of the time, or 274 days.


There are 63 tributaries draining into Tahoe with only one outlet at the Truckee River in Tahoe City.


At lake level, annual snowfall averages 125 inches. At alpine skiing elevations, the snowfall averages 600 inches per year.


At the surface, the water temperature varies from 41 to 68 degrees F. Below a depth of 600 to 700 ft, the water remains a constant 39 degrees.
---

For Additional Information about the Tahoe area:
My site will be primarily about the Truckee area, and I will be just briefly touching on the Tahoe area. I'll mostly be covering some of the North Tahoe lakes, beaches and some of the hiking trails. For additional information on Tahoe activities, restaurants, and places to stay, I would recommend following: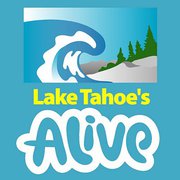 On Facebook - Jane from Lake Tahoe's Alive. She travels around the lake on a regular basis, and posts frequently every day. She has some great photo's and information about different Tahoe events, activities, and restaurants etc. I've been following a lot of different Tahoe Facebook sites, and I enjoy hers the best!



---

Go to Lake Tahoe Beaches

Go to Lake Tahoe Map

Go to Truckee Event Calendar

Go to Truckee River

Go to Truckee Summer Activities

Go to Truckee Winter Activities

Return to Truckee Lakes

Return from Lake Tahoe to Truckee Travel Guide Home Page


---