Truckee Hiking -
A Hiker's Paradise!
Truckee Hiking is outstanding!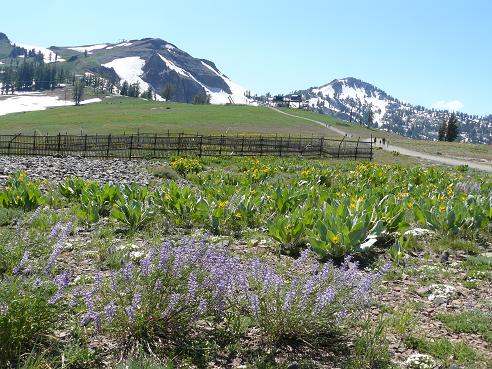 There are so many Truckee Hiking trails to explore in Truckee, and the surrounding Lake Tahoe area, that offer trails for the beginning hikers to the advanced hikers.
A list of the most common trails can be found below. Information will be coming shortly on the specifics of each hike.
---

Truckee Hiking Trails

Here is a list of the Best known trails in the Truckee area that the Truckee Travel Guide will cover in detail:


Castle Peak

Coldstream Canyon

Donner Lake Rim Trail

Donner Memorial State Park

Donner Summit Petroglyphs

Emigrant Trail

Five Lakes

Glacier Meadow Loop Trail

Glenshire Lake Trail

Heath Falls

Hole in the Ground

Kyburz Flat

Lakeshore Interpretive Trail

Loch Leven Lakes

Lower Lola Montez Lake Trail

Martis Creek Wildlife Area Trail

Martis Peak Hike

Mt. Juddah Loop

Northstar Mountain Bike Park

Pacific Crest Trail

Pacific Crest Trail (S of I-80 to Mt. Judah)

Pacific Crest Trail (Summit to S Valley)

Sagehen Meadows

Sawtooth Trail

Shirley Canyon (Squaw Creek)

Tahoe Donner Trails

Truckee River Legacy Trail

Waddue Ranch Trail System

Watson Lake

Webber Falls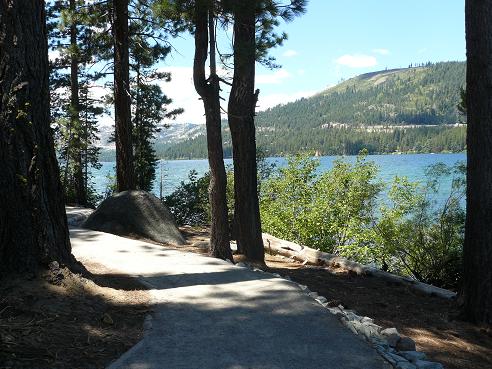 Above is the 1 mile Lakeshore Interpretive Trail which parallels Donner Lake in the Donner Memorial State Park.
---

Lake Tahoe Hiking Trails

Here are some great hikes at Lake Tahoe: (video's are provided on each of these hikes with amazing scenery and views!)
---

Hiking Supplies

Preparing for your Truckee Hike - What Supplies to Bring?
This list will give the basics for a "Day Hike". (Additional details will be provided) Longer Hikes will need additional equipment which will be detailed in the Truckee Backpacking section of this website.
Here are the Essentials for a Day Hike:
Backpack

Batteries

Bug Spray

Camera

Cell Phone

Compass or GPS (or both!)

First Aid Kit

Flashlight

Food

Hat or Visor

Hiking Boots

Identification

Matches

Pocket Knife

Proper Clothing

Sunscreen

Sunglasses

Toilet Paper

Water & Water Purification Device

Whistle
---

Hiking Safety Precautions

Hiking Safety Precautions:
Don't go alone! The rule "There is safety in numbers" applies!

Always let someone know where you are going, and when you will be expected back.

Fire Safety is important - be careful if you smoke, or have to build a Fire! Make sure that you check to see if fires are allowed in the area that you are hiking or

camping

in.

Remember that this is the wilderness - know what to do in case you run into a Bear or Mountain Lion! (details coming soon, on what to do and what not to do)
---

General Hiking Rules

General Hiking Rules:
Be Prepared!

Leave the environment the way you found it - Do not leave trash behind!

If you take a dog with you, pick up after it!
---

Pet Friendly Hiking
Northstar Hiking During the summer, dogs are welcome to ride the Northstar Gondola and hike with guests while on leash in the

Mountain Biking

& Hiking Park. The Village at Northstar is very dog friendly, as I recently found out at the

Amgen Tour of California

Wine Walk at Northstar. (I highly recommend any Truckee Activity that has the word "

Wine

" in it!)



Squaw Valley Hiking Here is Squaw Valley's current dog policy (as of 6/5/11): You are welcome to bring your dog with you on your hike at Squaw Valley. Please be sure to bring a leash as all dogs must be leashed while riding in the Cable Car and inside any buildings or facilities. There is no charge for dogs on the Cable Car. Once at High Camp, your dog is welcome on the hiking trails, however, dogs are not permitted at the roller skating rink and pool, nor in any restaurants. We ask that you use your best judgment in leashing them on the trails.
Additional Information


For additional information see: