Cascade Creek Falls Trail
Cascade Creek Falls Trail is a one mile easy to moderate hike (each way). The Trailhead can be accessed off of Hwy 89 at Emerald Bay, Lake Tahoe from the Bayview Campground across from Inspiration Point at Emerald Bay. Parking is at the far end of the campgrounds. Look for the trailhead sign at the far end of the parking lot.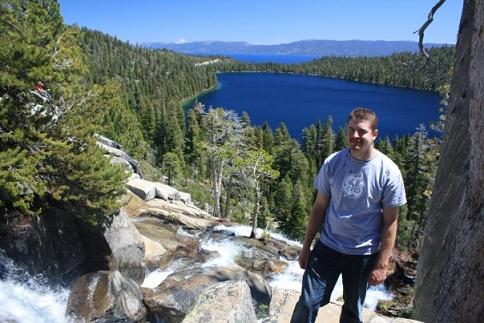 My Son, Ryan 
At the top of the Cascade Creek Falls Trail, overlooking Cascade Lake and Lake Tahoe.
Photo Credit: Troy Leverton


---

The video below is a slide show collection of pictures taken in Summer of 2010, when my son Ryan, and his friends Troy, and Katie, hiked to the top of Cascade Creek Falls Trail. Troy posted the pictures taken to his Facebook account, and gave Truckee Travel Guide permission to use their photo's from the hike.

---
The elevation for this hike is 6,800 - 6,910 feet. The trip up is steep. and there are lots of rocks and steps to go up and down. Even though the trip is two miles round trip, it will take longer than normal due to the rocky terrain.


See also, the Eagle Falls Trail page, which also has a video slideshow of the photo's that Ryan, Troy, & Katie took, while hiking from Emerald Bay, Lake Tahoe to Eagle Falls above Vikingsholm Castle, and up to Eagle Lake.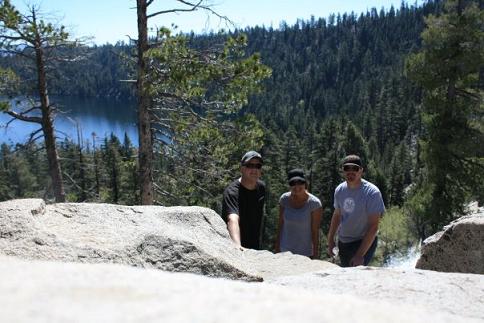 (left to right)Troy, Katie, and Ryan
At Cascade Falls at the top of the Cascade Creek Falls Trail overlooking Cascade Lake, at Lake Tahoe.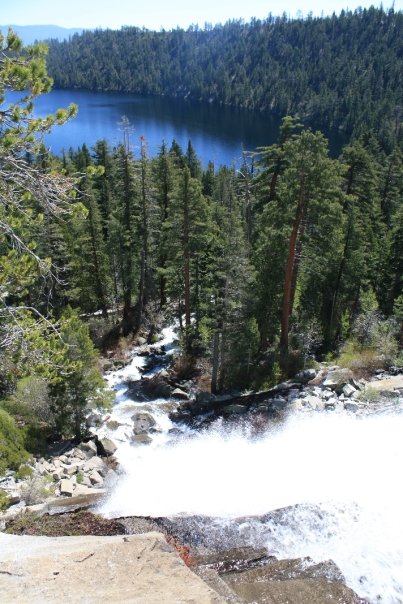 Cascade Falls, Lake Tahoe, California


---

The best time to view the Cascade Falls is in the springtime when the runoff from the snow melt is high.

In the late spring and summer, flowers such as purple lupine, pink monkeyflowers, and purple-yellow camas lilies can be viewed.
This hike is a highly recommended hike for the spectacular views and photo opportunities!!