Climbing Walls
Truckee has some great Climbing Walls in the area.  Some are open just in the Summer, and some are open year round. In 2011, Reno's CommRow facility opened with the World's tallest competition wall.
A climbing wall is an artificially constructed wall with grips for hands and feet, usually used for indoor climbing, but sometimes located outdoors as well. Some people use them just for a fun sport, while others use them as a training ground to then move onto outdoor Rock Climbing, which is a popular Truckee Summer Activity.
My kids used to love to climb the Squaw Valley's Headwall Climbing Wall, located inside the Cable Car Building. They also used to go climbing at The Sports Exchange Climbing Gym in Truckee, which has been sold and renamed Tahoe Sports Hub.
With the opening of the Truckee Donner Recreation & Park Districts new Recreation Center, there is now a 29 foot tall climbing wall in Truckee, and lessons are also offered.


*****
Why Climb?


Climbing is an amazing developmental tool, helping with problem solving, motor skills, and more.

Inexpensive Family Fun

It increases physical endurance, flexibility, and balance

Great for groups or parties!

Some Locations are Open Year Round, so it's a great option when the

weather

is too bad to be outside.

Climbing requires communication and teamwork with your belay partner at the bottom.

Climbing requires decision making

It is a great full body workout
---


Here are the details of the Climbing Walls that the Truckee Travel Guide will cover:


CommRow in Reno
CommRow, a new non-gaming property in Downtown Reno, Nevada that opened in 2011 has several climbing wall options - the brief video below shows some climbers in action:


The world's tallest competition climbing wall, built to international competition specifications constructed on the east face of the building, overlooking the Reno arch: 164' tall, 190' at the top, accessed from the second floor Wall is designed and built by EntrePrises Climbing Walls out of Bend, OR; industry leaders since 1985, they've built more than 4000 walls around the globe. Beginner, intermediate & advanced climbs are available.

A state-of-the-art bouldering facility is on the second floor. These world-class indoor boulders are engineered by Vertical Solutions from Salt Lake City, an industry leader. The facility features boulders 15' in height, with 2,900 sq. ft. of bouldering surface in the 7,000 sq foot facility complete with a separate, fun, and safe kids' area.
---

Squaw Valley Climbing Walls



Squaw Valley's indoor Headwall Climbing Wall is located within the Cable Car Building, and is 30 feet high. Comprising 8 to 10 different ropes and many routes, Headwall is suitable for kids, first timers of all ages, and expert climbers.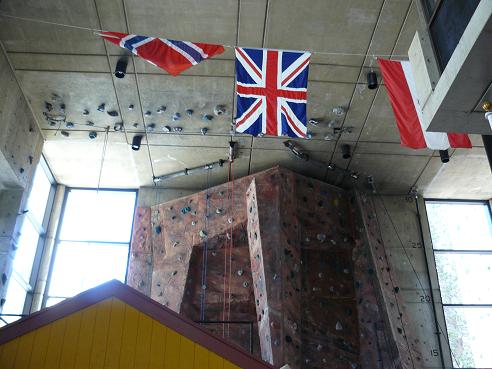 Summer Hours: 11am – 5pm daily (Memorial Day Weekend to Labor Day Weekend)
Winter Hours: Winter 12 pm - 5 pm Weekends and Holiday periods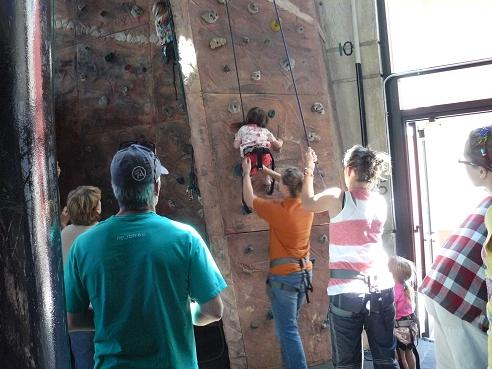 Additional Information: Call (530) 581-7563 to verify hours and cost.
Cost: $12 for 2 climbs (per person)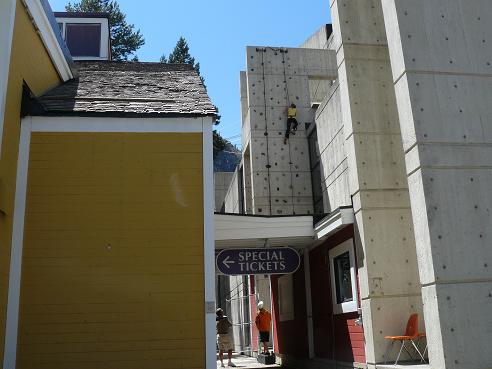 The outdoor climbing wall at Squaw Valley is located on the outside of the Cable Car Building Wall and is open only during the summertime. The wall is 45 feet tall.


---

TDRPD Recreation Center - Truckee


Located in the new Recreation Center in Truckee, is a 29 foot tall climbing wall that has four top rope setups, and a 12 x 18 foot bouldering wall with routes ranging from beginner to advanced.
The TDRPD offers climbing lessons, open climbing, and Birthday Parties that include two hours of supervised climbing for groups up to 18. Contact climbing@tdrpd.com or call (530) 582-7720 for additional information and to register.
---

High Altitude Fitness - Incline Village


High Altitude Fitness in Incline Village has a climbing wall that includes bouldering, auto-belays, and over 3,800 vertical feet and 13,000 total square feet with over 80+ unique routes! 
They also offer group and birthday events and summer camps.
For more information, check out their website:
http://www.highaltitudefit.net/