Donner Lake Boat Ramp
The Donner Lake Boat Ramp is a public boat launch at Donner Lake in Truckee, California that is owned and operated by the Truckee Donner Recreation and Park District.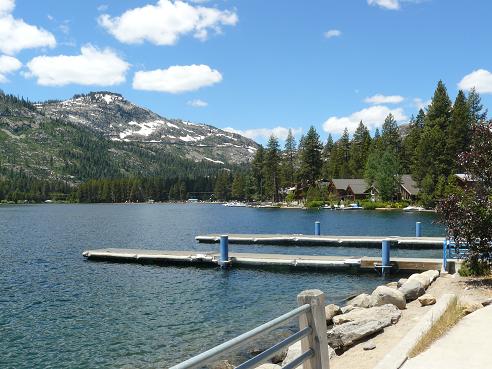 ---

Location


15511 Donner Pass Road, Truckee, CA 96161 - located on the northwest corner of Donner Lake.


---

Amenities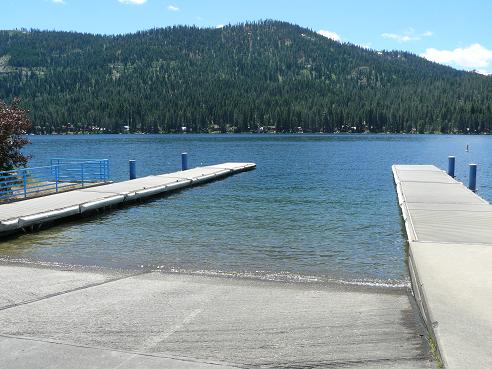 Amenities include:


2 Lane Boat Ramp (pictured above)


Car and Boat Trailer Parking (pictured below)


Fish Cleaning Station


Floating Docks


Restrooms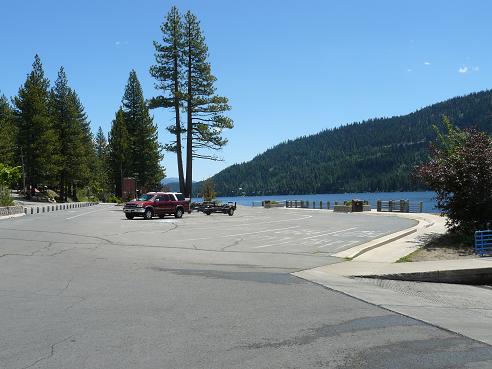 ---

Boating Rules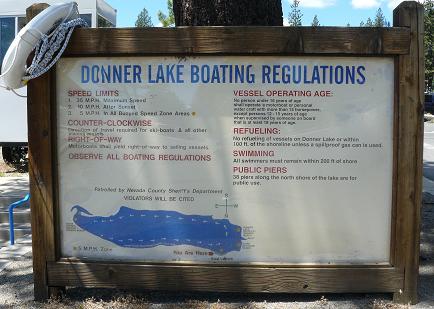 The Donner Lake Boating Rules are posted on a sign (pictured above) at the boat ramp facility. They are:


Speed Limits:



35 Miles Per Hour - Maximum Speed
10 Miles Per Hour - After Sunset
5 Miles Per Hour - in all Buoyed Speed Zone Areas

Counter Clockwise Direction of travel required for ski boats and all other vessels
No Smoking within 100 yards of the facility
Right-Of-Way - motorboats shall yiel right of way to sailing vessels.
Refueling - No refueling of vessels on Donner Lake or within 100 feet of the shoreline, unless a spill proof gas can is used.
Swimming - All Swimmers must remain within 200 feet of shore
Vessel Operating Age - No person under 16 years of age shall operate a motorboat or personal water craft with more than 15 horesepower, except persons 12-15 years of age when supervised by someone on board that is at least 18 years of age.
---

Cost - 2012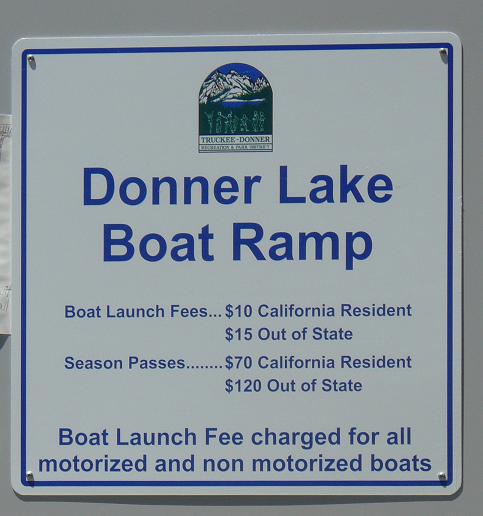 Season Launch passes are available for purchase starting on May 6th, at the Truckee Donner Recreation & Park District office or at the boat ramp. You will need to bring in your Vessel Registration certificates for all boats that you want passes for. You can have up to 3 boats registered in the same name under the same pass.


You must pay to park if you do not have a Launch Pass. Parking cost = $3.00.


---

Hours & Operating Schedule


Open 24 hours a day. I believe in the summertime that a staff person is available on site from 7:00am - 3:00pm. (I will double check this info to see if it is still current)


---

Contact Info.


For additional information, please contact the Truckee Donner Recreation & Park District:


Office Hours:

8924 Donner Pass Road, Truckee, CA 96161
Monday-Thursday - 8:00am - 5:30pm
Friday - 8:00am - 5:00pm
Closed Weekends and Legal Holidays


Website: http://www.tdrpd.com


---

See Also....


See Also: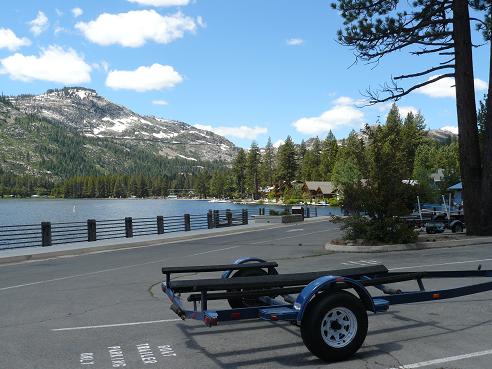 ---
Return to Donner Lake

Return from Donner Lake Boat Launch to Truckee Travel Guide Home Page


---