Fall Weight Loss Tips
Fall weight loss tips may take a little more work, than summer weight loss tips. The
Truckee Farmers Market
winds down in the middle/end of Sept/October each year, (Septembr 25, 2012 is the last day for 2012), but is still loaded with the end of summer produce, and many new root veggies.
The days are getting shorter, and the dark is coming earlier, making it more difficult to get out. Enjoying the great outdoors, after work for that hike, walk, or bike ride, takes a little more planning! With a little work, you can keep up the healthy eating and exercising, and avoid those extra few pounds, that seem to creep on as the holidays draw near. Fall Holidays like Halloween with all the candy in the house don't help, to say nothing of the big Thanksgiving meal and leftovers! The Holiday Christmas events offer lots of tempting high calorie options!


This page was mostly written by my sister Kerry Bacon, of Healthy Diet Habits, a Category Sponsor for my Eat and Drink section. (Funny last name for someone with a Science Degree in Dietetics!)
*****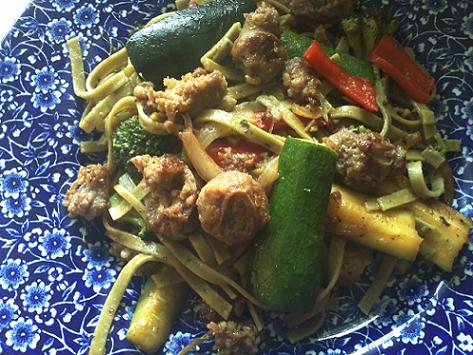 Sausage Veggie Pasta
Recipe By Kerry Bacon (click on the link above to view the recipe)


Some simple fall weight loss tips are:


Fill up on herb teas, brewed coffees, Americanos, lower fat lattes, or water! Calorie drinks will always be deadly to your waistline. The average person drinks hundreds of calories per day, in drinks. Don't let the colder weather lure you into grabbing that loaded coffee drink daily, like so many people tend to do! There are so many different flavored herbal teas! Become a connoisseur of these, and adopt the habit of not drinking calories!


Fill up on seasonal fruits! Fall brings different fruits that you can enjoy! Apples, Figs, Grapes, Pears, Pomegranates, Bananas, Clementine's, Tangerines, Oranges, Cranberries, Persimmons, Kiwi, and Grapefruits are plentiful. It's still possible to make a wonderful fall fruit salad, or slice a pear on everyone's plate for dinner. Fruit will satisfy your sweet tooth! Remember healthy eating should be simple! The last Truckee Farmers Market ends around the middle/end of September/October each year. (September 25, 2012 is the last day for 2012)


Fill up on seasonal veggies! Continue to make vegetables the centerpiece of your meals to encourage fall weight loss. Fill your plate half full, at least for lunch and dinner. Become acquainted with veggies that you do not know! Seasonal Acorn squash, butternut squash, cauliflower, mushrooms, parsnips, pumpkin, Swiss chard, Beets, Chestnuts, and Sweet Potatoes are plentiful. Be adventuresome and try each one of these, several different ways. I ate a butternut squash, stuffed with black beans and quinoa, last year that was one of the best meals I have ever eaten!


Become a crock pot expert! Crock pot meals have many benefits. They end the dinner dilemma of what to cook! When you are tired and not in the mood to cook; it's easy to quickly give in to fast food, which is more caloric than a home cooked meal. Put your meal on before you leave for work, and you will be greeted by the most wonderful smelling house! Crock pots allow you to cook without added fat, and produce flavorful foods. The newer crock pots have a timer that cuts off when your meal is done, and keeps it warm too. It's a great investment!


Soups, soups and more soups! Become an experimental soup maker! There are endless ways to combine a protein source, grains, vegetables, and herbs into the most glorious soup concoctions. You may need to start with a basic recipe, but learn to make substitutions, and add your favorite veggies, herbs and spices, to your soups. Plan on making one night a week, a soup night! Make a huge pot of soup that can be taken for lunches the rest of the week too and help with fall weight loss. It is a frugal choice. Nothing takes the chill off, like a home-made bowl of soup! Hit up the Truckee Farmers Market before they close for the season each year in the middle/end of September/October, and buy a lot of fresh organic vegetables and make some soups to freeze for winter! (Septembr 25, 2012 is the last day for 2012)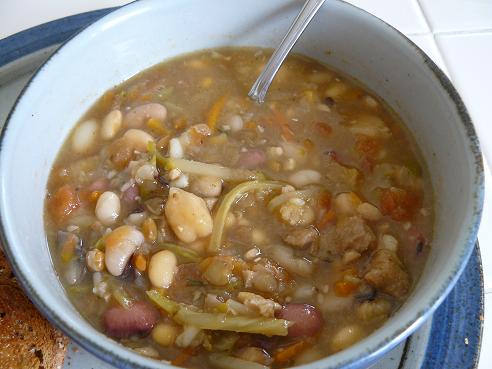 Vegan Chicken Tomato Vegetable Bean Soup - Recipe By Leigh Storz


Add healthy hot grain cereals to your breakfast: They are full of fiber! Add nuts and fruit. Fiber and protein during breakfast will give you a great start to the day, and help you to eat fewer calories. Make enough for several breakfasts, because hot grain cereals perk up in the microwave and taste great leftover.


Repeat your breakfast and lunch choices often: Many people love tons of variety in their meals, but when you restrict your food choices, you often eat less. Plan a healthy breakfast or lunch and repeat it often. You know what you are going to eat, and you do not need to overeat it, because you will see it tomorrow.


Make your meal plan automatic: Fill out the Meal Planning chart and your breakfast, lunch, dinner, and snack ideas. Automate them further, by developing a weekly menu plan for the days of the week. This also allows you to plan 4 to 5 healthy dinners per day of the week, for dinner variety. Planning helps you to choose lower calorie meals!


Take advantage of the nice fall days: Take a walk, hike, bike ride, join a soccer team, run, or engage in any outdoor sport that you love. Enjoy the fresh cooler weather that is invigorating, and admire the beauty of the trees changing colors, and the smell of the leaves in the air! You might need to squeeze in your walk or run at your lunch hour, if it is dark by the time you arrive home. Plan a longer hike or bike ride on the weekend too! Make the time for this and you might be surprised at your fall weight loss!


Stock your desk and car with an emergency snack stash: Fall brings on the start of the holidays and the dreaded holiday weight gain! Baked goods seem to magically appear in the break room on a daily basis. Avoid this area of your company. Stock up on crisp apples, almonds, walnuts, chopped veggies, non-fat yogurt, cottage cheese, dried fruit, or any other healthy snack that you love. Plan in your snacks to avoid the break room danger zone cravings!


Add activity to your fall television schedule: Fall brings with it many new television programs that call your name. Nothing worse than couch potato syndrome, to put on a few pounds. Avoid this, by strategically placing a piece of exercise equipment in front of the television. Allow a show, but engage in activity at the same time. Leave weights within reach too and use them. Plan it! Fall television viewing can lead to fall weight loss!


Eating Out: If you are going to eat out at one of the Fabulous Truckee Restaurants, there are always great lower calorie options to choose from.


Grocery Shopping: If you have not been in New Moon Natural Foods yet, one of Truckee's Grocery Stores, give it a try! You'll find many vegetarian and vegan options, and lots of healthy organic foods! They also have a great juice bar!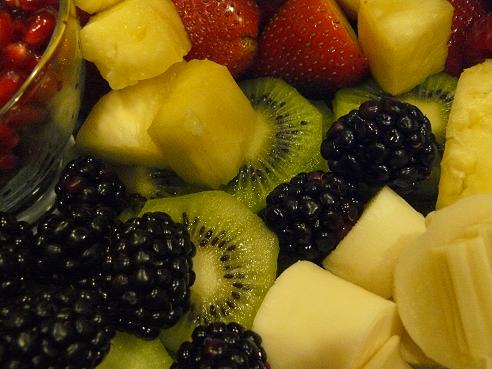 *****
These are just a few healthy diet habits that you can add this
fall
to help with weight loss or maintenance. As always, the more lifestyle solutions that you incorporate into your life, the easier weight control becomes, and the greater your chances of fall weight loss success!
Keep up with as many of the Truckee Summer Activities that you can, until the snow flies, and it is time to enjoy all the Truckee Winter Activities! Stay active through the Fall and into Winter!


---
Go to Holidays in Truckee

Go to Truckee Event Calendar

Go to Truckee Farmers Market

Go to Truckee Restaurants

Return to Fall

Return to Truckee Grocery Stores

Return from Fall Weight Loss to Truckee Travel Guide Home Page


---
---
---
Compare all the Major Travel Sites for the best deal:

---
Site Sponsors:
(1 for each NavBar Category)

Truckee Real Estate Site Sponsor:
Ann Nguyen
Dickson Realty in Truckee
Specializing in Truckee/Tahoe

Truckee Eat & Drink Site Sponsor: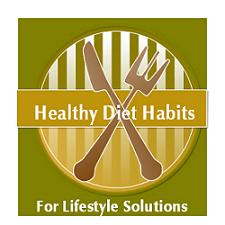 See: Advertising Options


---
Eat & Drink
Category Sponsors:
(5 spots available)

See: Advertising Options


---
Recommended Websites:
---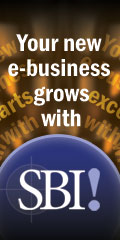 Site Build It (SBI) is the Awesome software I am using for this site!

---
---
---