Ice Skating in Truckee

Ice Skating in the Truckee area is a fun family Truckee winter activity and is great exercise! My family and I loved to go skating up at High Camp in Squaw Valley when we lived in Truckee. Since that time, there are some more options available for skating in the area.


Truckee River Regional Park


Located in the Truckee River Regional Park on Old Brockway Rd, the Truckee Ice Rink features public skating, skate rentals, a snack bar, group and private lessons for all age groups taught by experienced instructors, broomball leagues, ice dancing, ice hockey, and more!
The outdoor setting is located under tall pines, and has a bonfire, overhead lights, and music to skate by.
The skating rink is open 7 days per week from December 2, 2016 through March 5, 2017, weather depending.
TIME: Daily hours are Noon-9pm. Call the Rink directly at (530) 587-6172 if weather is bad.
DROP IN COST 2016/17: District Residents: $5, Non-Residents: $7
SKATE RENTALS 2016/17: $3
SEASON PASSES 2016/17: Adult Residents- $40, Child Residents - $37, Non-Residents: $50
Check out the 2016/17 Class Schedule on the TDRPD website: http://www.tdrpd.org/facilities/262-ice-rink.html

Picture will be coming soon!!
---

Northstar Village Ice Skating Rink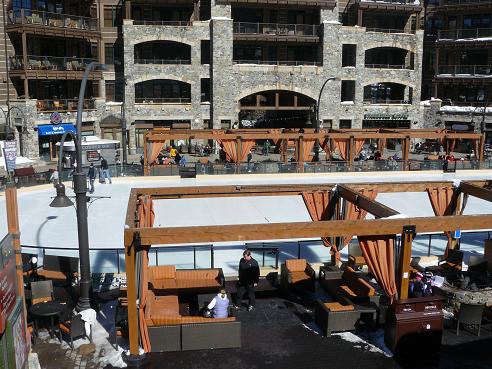 The 9,000 square foot skating rink is located within the Village at Northstar, in Truckee. The skating rink is surrounded by seating areas and outdoor fire pits, so it is convenient for parents to watch their children skate while enjoying a nice glass of wine, a hot toddy, or mulled cider.
The skating rink is free for all, and for those who have no skates, $15 rentals are available on location, as well as $5 for helmet rentals. 


In summer months, it transforms into a roller-skating rink, and can be matted up for events such as wine tastings, farmer's markets, and art shows in the Village. There is also a stage at one end of the rink, where musical guests perform.
---

Resort at Squaw Creek


Resort at Squaw Creek Ice Skating
Used with permission from the Resort at Squaw Creek Website
Glide around the resort's outdoor exhibition rink surrounded with international flags and Sierra Nevada range as your backdrop in Olympic Valley, then warm up with a hot toddy or mug of hot chocolate. Hours are 10am -10pm. Bring your own skates or rent skates from the Resort at Squaw Creek.
---

Squaw Valley - High Camp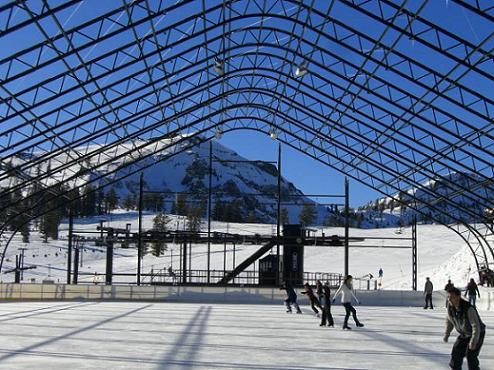 Squaw Valley's High Camp Ice Skating Rink
Photo Credit: Amelia Richmond, used with permission from Squaw Valley's Website


The Olympic Ice Pavilion, accessed via Squaw Valley's aerial Cable Car, is awesome! The skating rink is perched at the top of Squaw Valley's upper mountain at High Camp. The rink offers unmatched panoramic views of the Squaw Valley Meadow, beautiful Lake Tahoe and the surrounding Sierra Nevada mountains.

Prices do not include the price of the cable car.
During Squaw Valley's Summer Operation Months, the Ice Rink is turned into a Roller Skating Rink.
Photo Credit: Leigh Storz, Owner of truckee-travel-guide.com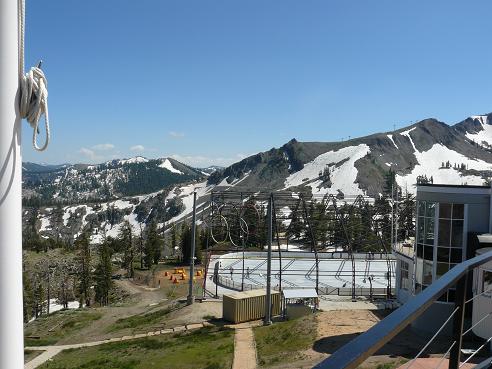 The Squaw Valley High Camp Skating Rink was always my favorite due to the Awesome Views that you can enjoy while skating! The rink is above the Tennis Courts and the Paintball Speedball Course, both open during Summer Operations.
Photo Credit: Leigh Storz, Owner of truckee-travel-guide.com
---

South Lake Tahoe Ice Skating


If you are around on the south side of Lake Tahoe, there are a couple of options for skating:


Heavenly Village - located at South Lake Tahoe in the new Heavenly Village, this open-air ice skating rink is perfect for the entire family. Kids can skate to music every day and every night, while parents enjoy the fine boutique shopping. The Heavenly Village offers fine shops, restaurants, arcade, laser tag and movie theater. Also available for private parties.

Kirkwood Village Plaza - Located at the Kirkwood Ski Resort Village, just off Hwy. 88 about 35 minutes from South Lake Tahoe. The rink is open daily throughout the winter, weather permitting.

South Lake Tahoe Ice Arena - The South Tahoe Ice Arena is a full service state of the art ice skating facility, owned & maintained by the South Lake Tahoe Parks & Recreation Dept. This facility consists of a regulation NHL size sheet of ice, locker rooms, snack bar, retail store, arcade and party rooms. This public facility offers ice skating and hockey lessons as well as public skate sessions, and can be rented for children's birthday parties. For more info: http://www.tahoese.com


Ice Skating is one of the super fun Truckee Winter Activities - if you haven't tried it yet, get out there and try it! It is a little scary the first time or so, but gets easier the more you do it!