Reno, Nevada
Reno is the largest City that is closest to Truckee, California. It is located approx. 30 miles northeast of Truckee and is easy to get to on Highway 80. When we lived in Truckee, we went to Reno about every two weeks in good weather, and about once a month during the wintertime.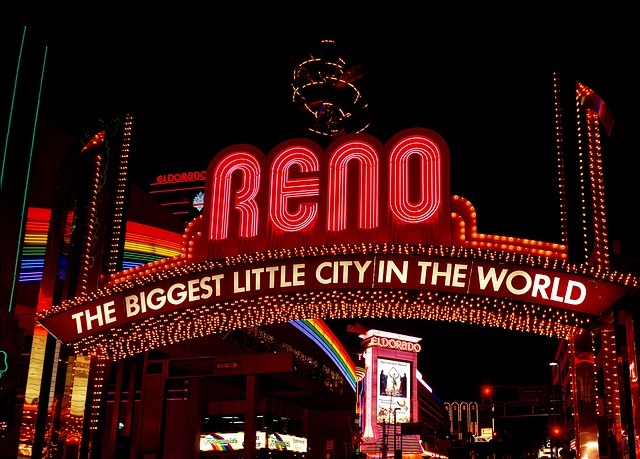 We did major Costco runs to stock up, especially before wintertime, shopped the malls, and worked our way through the fabulous all you can eat Buffets in the Casino's. And with all the Casino's, there was always great concerts going on! A lot of the casino's had special kid and family areas that my kids enjoyed, particularly the Circus Circus Casino with live Circus acts throughout each day.
Photo Below: The Great Reno Balloon Race - 2010
Photo Credit: My son, Ryan 

The Great Reno Balloon race is a fantastic event. I went in 2011 and took a ton of pictures that can be found on my Great Reno Balloon Race page.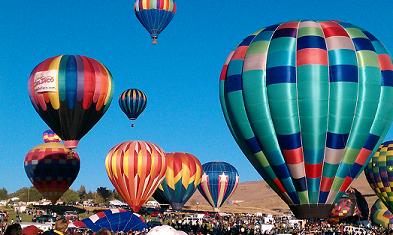 ---

Reno / Sparks Map
View Larger Map
---
Majestic Northern Nevada, a documentary by Carl Anthony Adams, takes viewers into Nevada's backcountry to reveal its magnificent basins and ranges. Filmed in remote areas, it captures the state's rugged beauty in stunning, rarely seen panoramas.
---

Must Do's in Reno!
Attend a Special Event - see below
Dine Out - See the "
Best of Reno
" for recommendations!
Visit 

Animal Ark

 This is a 38-acre desert space, 45 minutes north of Reno that is filled with interesting, natural enclosures for native and non-native animals. They have everything from mountain lions, tigers, wolves and cheetahs to tortoises and birds of prey. Animal Ark is not a zoo, but a wildlife sanctuary for non-releasable animals
Visit a Casino - Even if you don't gamble, the casino's offer great accommodations, great spa's, great buffets and restaurants, and great concerts & entertainment!











Visit a Museum:
National Automobile Museum - The museum, located in downtown Reno, is a favorite for visitors who love cars. Named among the top 10 museums by Car Collector's magazine, the museum is known for its dramatic displays, in-depth interpretation, extensive collection and opportunities for visitor participation. The museum displays more than 2,000 cars.


Nevada Museum of Art - This is Nevada's only accredited art museum where you can see art from around the world in rotating exhibitions and view more than 2,000 works of art in the museum's permanent collections.


Wilbur D. May Museum - The Wilbur D. May Center is located in Rancho San Rafael Regional Park and is an adventure for people of all ages. It is a collection of rare and exotic artifacts, and a place to experience fun traveling exhibits. The Arboretum is where gardeners can enjoy an incomparable display and living museum of colorful flowers, creekside meadows, outdoor courtyards and secluded benches.


Visit the Fleischmann Skydome - The SkyDome shows large-format films about science, nature, space, along with laser and star shows. It's housed at the 
Flesichmann Planetarium and Science Center
 at the University of Nevada, Reno and seats 60 people.
Visit the Truckee River Whitewater Park: located in the heart of Reno's bustling downtown hotel-casino and booming arts district. It features 11 pools for kayak play, as well as a kayak racing course, and it plays host to the annual Reno River Festival, one of the country's premier competitive kayaking events.
Visit CommRow - Grand Opening October 1, 2011 in Downtown Reno! CommRow is a 60,000 square foot complex featuring the world's tallest 
climbing wall
, a world-class indoor bouldering park, two live entertainment venues and eleven eclectic eateries & bars. A hotel opened in Spring 2012.
---

2017 - Annual Special Events and Festivals


May 13-14, 2017 - Reno River Festival: This is a whitewater event located in downtown Reno at the Truckee River Whitewater park. The event features professional competitions, amateur paddling events, whitewater clinics, and an expo with the latest whitewater gear. Other events are included each year. For additional information:

http://www.renoriverfestival.com
The video below, shows some of the highlights from the 2011 event:
June 15 - June 24, 2017 - Reno Rodeo The Reno Rodeo has been an annual event for over 90 years, and is now a 10 day event billed as the "Wildest, Richest Rodeo in the West!" It is a PRCA (Professional Rodeo Cowboys Association) sanctioned sporting event. For additional info: 

http://www.renorodeo.com



July 1, 2017 - July 31, 2017 - Artown - Artown run every July and consists of more than 400 events that bring to life theater, dance, film, history, multi-cultural events, visual and performing arts activities and events at different venues around the City. For additional information:

http://www.renoisartown.com/


The following video gives some of the highlights:
September 8 - September 10, 2017 - 

Great Reno Balloon Race

 - The largest free hot air ballooning event in the U.S. with over 100 balloons each year. 


September 13 - September 17, 2017 - National Championship Air Races - six classes of racing aircraft and a first-class airshow including some of the world's top aerobatic performers and military aircraft, plus aircraft displays, merchandise, food and drink, and a closing awards banquet. For additional information: 

http://www.airrace.org




The video below, shows some of the highlights from the 2015 event:
September 27 - October 1, 2017 - Street Vibrations Fall Rally- The Street Vibrations Motorcycle Festival is a celebration of music, metal and motorcycles. Street Vibrations offers tours, live entertainment, parades, ride-in shows, stunt shows and more. For additional information: 

http://www.roadshowsreno.com/sv_fall.php



October 7 - October 8, 2017 - Eldorado Great Italian Festival - Celebrate the food, culture, music and traditions of Italy with Reno's final street festival of the season! Free activities and entertainment highlight the festival's main focus - delicious and authentic homemade Italian food! There's grape stomping, sauce cookoffs, bocce ball and a kid's gelato-eating contest. Located at the

Eldorado Hotel Casino

. Details: 

http://www.eldoradoreno.com/event/events/eldorado-great-italian-festival





These events and more will be featured on the Truckee Travel Guide Event Calendar
---

Sports Teams
Reno Aces - a minor league baseball team and local family favorite that play at the Aces Ballpark.
---

Resources for Additional Information
Reno Magazine - 
http://www.renomagazine.com/
Reno-Tahoe Website - 
http://www.visitrenotahoe.com/