Snow in Truckee

I love the Snow in Truckee! Few things are prettier than the scenery after a storm when the sun comes out. The snow in Truckee and the Lake Tahoe snow is what makes the area a world wide winter vacation destination, and kicks off the Truckee Winter Activities that the area is famous for.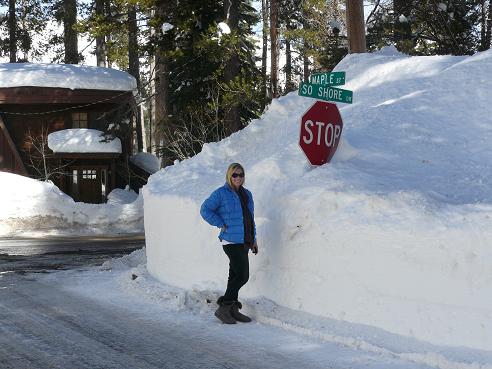 My friend Becky, outside her cabin at Donner Lake in February, 2010. This will give you an idea of what it looks like during a Winter in Truckee.



What is Snow?


Snow is defined as frozen precipitation in the form of white or translucent hexagonal ice crystals that fall in soft, white flakes.

A snow crystal, is a single crystal of ice that are formed when water vapour freezes, which all happens up in the clouds.

A snowflake is a more general term; it can mean an individual snow crystal, or a few snow crystals stuck together, or large agglomerations of snow crystals that form "puff-balls" that float down from the clouds.

The worlds largest snowflake according to the Guinness Book of World Records was found at Fort Keogh, Montana on January 28, 1887. It was 15 inches wide and 8 inches thick.

Most snowflakes are less than one-half inch across.

While the snow definitely looks white, it is actually colorless. According to the National Snow and Ice Data Center, "the complex structure of snow crystals results in countless tiny surfaces from which visible light is efficiently reflected. What little sunlight is absorbed by snow is absorbed uniformly over the wavelengths of visible light thus giving snow its white appearance."
---

Fun Facts about Truckee Snow


Here are some fun facts about Truckee Snow:


The Town of Truckee receives an average of 204.4 inches of snow annually. (see below for the month to month averages)

Truckee is the 5th Snowiest City in the United States.

The record amount of snow in one month in Truckee was 113.0 inches in December 1992.

The record amount of snow in a 24 hour period was 34.0 inches on February 17, 1990.

While snow is the name of the game for the

season

of

Winter in Truckee

, it does play a part in

Fall

and Spring and occasionally in Summer!


The Video below is of the first major storm of the 09/10 season. Locations in downtown Truckee during the storm, and on the Legacy Trail the next day.


---

Truckee Snowfall Inches by Month


Per The Weather Channel, here is the average month to month snowfall in Truckee:


| Month | Inches of Snowfall |
| --- | --- |
| January | 46.4 |
| February | 39.7 |
| March | 36.2 |
| April | 17.6 |
| May | 4.5 |
| June | 0.5 |
| July | 0.0 |
| August | 0.0 |
| September | 0.4 |
| October | 3.0 |
| November | 17.7 |
| December | 38.3 |
| Total | 204.4 |
---

Skiers and Snowboarders Terminology


Skiers and Snowboarders know that not all snow is the same! In the early 1900's skiers created their own vocabulary to describe the various types of snow.
The most coveted type is "Pow Pow" or just "Pow" which is the fresh powder snow, which is actually a soft, fluffy type of snow. Skiers and Snowboarders in the Truckee and Lake Tahoe area love to be the first one down the Ski Resort runs after a fresh snow.


---

Music About Snow


There have been many songs written about snow, but the one that stands out in my head is "Let It Snow!". The official name of the song is actually, "Let It Snow, Let It Snow, Let It Snow and it was written by lyricist Sammy Cahn and composer Jule Styne in 1945. I always thought that Frank Sinata was the original singer, but it was actually first recorded by Vaughn Monroe. Frank Sinatra was actually the second person to record the song in 1950.
Others who have covered the song Bing Crosby (1956), Smokey Robinson and the Miracles (1963), Doris Day (1964), Andy Williams (1965), Dean Martin (1966), Harry Connick Jr, (1993 - Great Version!)Carly Simon, Chicago (1998), Michael Buble (2003), Jessica Simpson (2004), Neil Sedaka (2008), The Puppini Sisters and Lady Antebellum (2010), Kyle Minogue (2010 and many more! Frank Sinatra's version is below:


Let It Snow Lyrics:


Oh the weather outside is frightful,
But the fire is so delightful,
And since we've no place to go,
Let It Snow (x3).

It doesn't show signs of stopping,
And I've bought some corn for popping,
The lights are turned way down low,
Let It Snow (x3).

When we finally kiss goodnight,
How I'll hate going out in the storm.
But if you'll really hold me tight,
All the way home I'll be warm.

The fire is slowly dying,
And, my dear, we're still good-bying,
But as long as you love me so,
Let It Snow (x3).

---

Snow Reports at the Ski Resorts


Check out the Snow Reports at the Truckee and Lake Tahoe Ski Resorts.


---

Snow Removal in Truckee


Snow Removal at Northstar, California


Snow Removal in Truckee consists of a combination of:


The Town of Truckee Snow Removal

Private Snow Removal Companies

Snowblowers owned by businesses and individuals


A separate page on the Truckee Travel Guide website will be provided with this information.