Snowboarding in Truckee
Ski Resorts are adding fantastic Terrain Parks to their resorts, that get better year by year. Terrain Parks are specially designed areas constructed for freestyle riders to perform their tricks, jumps, and spins.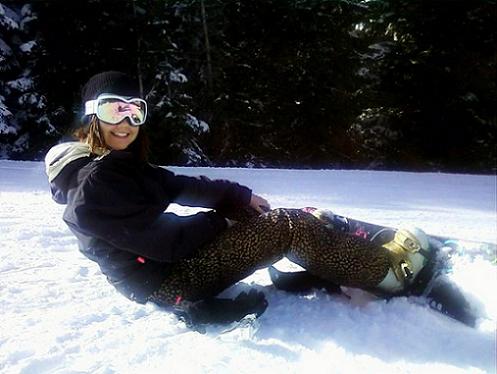 My daughter Brie's friend, Tiffany Watts taking a break on the slopes.


Tiffany was featured on my Hot Air Ballooning page, and was the June 2011 Photo Contest Winner for one of her photo's of Lake Tahoe and Cascade Lake from a Hot Air Balloon.


Be sure to check out my Discounted Lift Tickets page for some great deals!!
For information on all the Truckee & Lake Tahoe Ski Resorts, please see my Ski Resort page. 
This page will be a work in progress, as I find additional information to add.


*****
History of Snowboarding


According to Wikipedia...Snowboarding is a sport that involves descending a slope that is covered with snow on a snowboard attached to a rider's feet using a special boot set onto mounted binding. The development of the sport was inspired by skateboarding, sledding, surfing and skiing. It was developed in the U.S.A. in the 1960s and the 1970s and became a Winter Olympic Sport in 1998.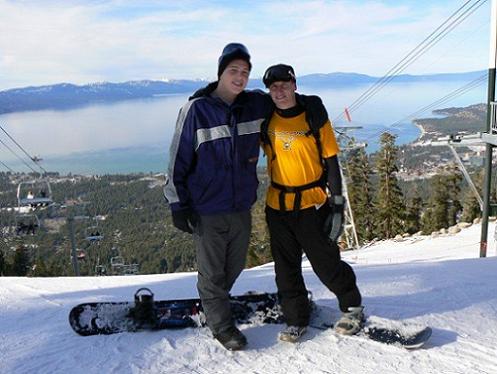 My son Ryan's friend Dan McCready (yellow shirt) snowboarding with a friend at Heavenly Valley during the 2006-07 Season. Photo used with his permission.
Dan was the Truckee Travel Guide August 2011 Photo Contest Winner for his picture of him standing next to a Warning Sign at Heavenly Valley. I've also used a couple of Dan's photo's on my Paintball page that are awesome!!


---

Snowboarding vs. Skiing


Snowboarding and Skiing are similar in that they are both downhill winter activities, but they use different equipment as well as some other differences.


Skiing is faster, based on records of both skiers and snowboarders

Snowboarders do not use poles like skiers, and therefore they have to sit or exert energy to remain standing when they are not moving. Skiers have poles to help them remain upright.

Snowboarding is easier on the knees than skiing is, and knee injuries are not as common

Wrist injuries are more common with snowboarders than skiers, and so wrist guards are recommended.

Snowboards work better in powder than skis

Skis are better on ice and bumps
---

Snowboarding Movie Trailers


The Art of FLIGHT follows Travis Rice, John Jackson, Mark Landvik, Scotty Lago, Jake Blauvelt, Nicolas Muller, Gigi Ruf, DCP and Pat Moore as they dream up new global adventures and progress the sport to unimaginable levels.


---

Additional Information


Additional information will be provided shortly on the following:


Learn to Snowboard




Snowboard Clothing




Snowboard Equipment (Snowboards, Bindings, Helmets, Stomp Pad & Leash)




Snowboarding Basics




Snowboarding Glossary



---

Resources:


Please check out these recommended resources for additional information. The first option, Tahoe Snowboard Magazine is specific to the Truckee/Tahoe area!: