Truckee Snowtubing and Sledding
Truckee Snowtubing and Sledding is a Blast! In winter, it seems that wherever there is a hill, you will see kids (and adults) sledding and having a fantastic time!
We lived in Glenshire, and one of our favorite places to sled, was on Glenshire Drive as you were heading to Glenshire from town, there was a great hill before you crossed over the Truckee River. It didn't look that steep, until you had to keep climbing back up it...what an unbelievably great workout!
My son Ryan, always talked to our snow removal company at the beginning of each winter season, and made sure they built a sledding hill to his specifications on the side of our driveway, every time that they needed to plow our driveway. We were the envy of the neighborhood, and the house that the neighborhood kids gravitated to!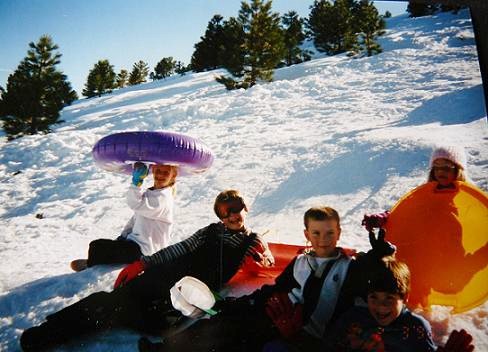 Sledding off of Glenshire Drive in Truckee, California
Pictured (left to right) My kids Brie and Ryan, Sean Jordan, and Brie's friend Rose.



I must say, that I am a little disappointed with the Ski areas that have installed these new "Magic Carpets" that whisk kids and adults up the hill without them lifting a muscle. With Childhood Obesity hitting epic numbers, it is sad to me to take the "exercise" out of such a fun thing like sledding!
---

The video below is phenomenal! I can't even begin to tell you how many times that I've watched it! This awesome snowman slide was built in South Lake Tahoe using 80 hours of shoveling!



---

Here is a list of the nearby places to go Snowtubing and Sledding in Truckee: (additional details will be coming soon!)


Boreal Sledding at Mountain Playground




Kingvale Tubing and Sledding Park




Northstar At Tahoe Tubing Hill




Soda Springs Winter Resort Sledding and Tubing - "Tube Town"




Squaw Valley Snowtubing




Tahoe Donner at Trout Creek Recreation Center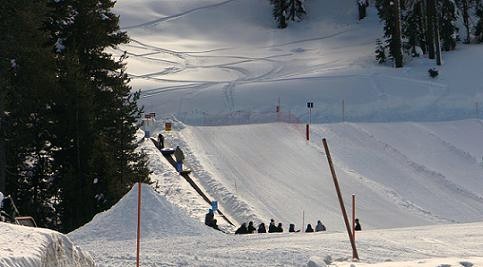 Boreal Snowtubing at Mountain Playground


---

If you are going Snowtubing, or Sledding in Truckee, here is a list of equipment that you will need:
Hat

Goggles or Sunglasses

Sleds and Snowtubes - You can purchase these at many of the

Truckee Sporting Goods Stores

like Mountain Hardware and Sports.

Snowboots

Sunscreen

Waterproof Gloves

Waterproof Jacket

Waterproof Pants
---

Like This Page?