Stand Up Paddleboard
Getting out on a Stand Up Paddleboard seems to be the latest sport! On all of my trips to Donner Lake or Lake Tahoe this year, I seem to see people out on boards stand up paddling!
It looks like it would be a terrific upper body workout. And I've even seen people take their dogs out on their boards with them, and even a cat! I would love to try it soon!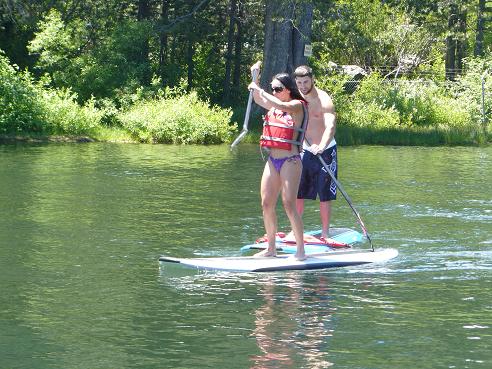 ---

Below is a cool Movie Trailer, called "A Stand Up Paddle Movie".

---

What is SUP


Stand Up Paddle Boarding or SUP as it is often called, is the new water-sport that is exploding into popularity at Donner Lake and the Lake Tahoe area. Basically, you stand on a giant surfboard and propel yourself along with a single ended paddle.
SUP can be done in gentle calm water in Lakes and Rivers, such as the Truckee River for a relaxing form of gentle exercise, or it can be done in surf, (like the video from Tahoe below!) where it is a much more demanding workout. The sport benefits athletes with a strong "core" workout.
Stand Up Paddle Boarding, originated in Hawaii about 40 years ago and is now an emerging global sport. Surfers are converting to the sport, because they can catch more waves in a set and have a better view of incoming sets.


---

How to Stand Up Paddle


I found this video on YouTube of SUP Basic Instruction from John Denney of Jupiter Kite Boarding that looked pretty helpful!



---

SUP at Lake Tahoe


The Video below was made by Peter Spain on a windy Lake Tahoe Day in Kings Beach!!



---

Where to Buy a Stand Up Paddleboard


Additional Info to come:


---

Where to Rent Gear


At Donner Lake, you can rent paddle boards at the following places - the prices listed are for 2011:


---
Go to Donner Lake

Go to Lake Tahoe

Return from Stand Up Paddleboard to Truckee Summer Activities

Return from Stand Up Paddleboard to Truckee Travel Guide Home Page


---