Trails and Vistas announces artists
by Nicole Cheslock
(Tahoe Vista)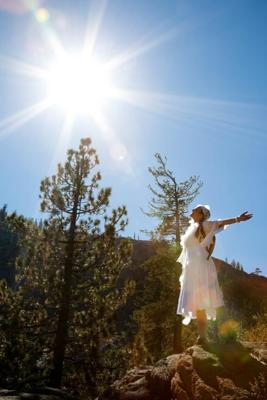 Trails & Vistas announces artists / tickets for signature art hikes, Sept. 8 and 9, 2012.


Each year since 2004 Trails & Vistas' Truckee-Tahoe art hikes have sold out! Attracting residents and visitors from all over Northern California and throughout the west, Trails & Vistas offers a one of a kind peaceful, inspirational and creative guided hike that blends
original art and performances with the great outdoors. Vivid professional high res images are available for print and community announcements (
http://www.trailsandvistas.org/pressphotos.html
). Media release follows and 2012 artist highlights are attached.
TRAILS & VISTAS ANNOUNCES SEPT. 8 AND 9 ART HIKES AT DONNER SKI RANCH
Trail & Vistas is the only guided hike of its kind to blend art and nature.
What:
Trails and Vistas 2012 art hikes
When:
Saturday, Sept. 8 and Sunday, Sept. 9, 2012
Where:
Donner Ski Ranch, 19320 Donner Pass Road, Norden, CA (10 minutes from Truckee, CA)
Theme:
The Dreaming Tree
Tickets:
Available online at
www.trailsandvistas.org
$30 adult, $10 ages 5 to 12 years old.
Truckee, CA July 2, 2012 - Nonprofit organization Trails and Vistas announces the ninth annual series of art hikes on Saturday, September 8 and Sunday, September 9, 2012 at Donner Ski Ranch. Attendees will experience original dances, rare musical performances, poetry readings, storytelling and installation art along a guided two-mile hike that creatively blends art and nature. The theme for the 2012 Trails and Vistas art hikes is "The Dreaming Tree."
More than thirty talented artists and sixty volunteers will collaborate to present the signature art hikes. In addition to tapping Truckee-Tahoe creative talent, artists come from Grass Valley, Chico, Davis, Santa Cruz, the San Francisco Bay Area, and as far away as Utah to perform in The Dreaming Tree. Artists range from world musicians and dancers to storytellers and visual artists.
Trails and Vistas art experiences in nature are the only guided art hikes of their kind throughout the state. Attendees chose from one of the many morning and afternoon scheduled art hikes and immerse themselves in the two to three hour long, quiet guided adventure through the natural world.
"My art is about connection to a place, to the earth, to people's lives. The Dreaming Tree art hikes are sure to inspire, surprise and delight our senses," shares Nancy Tieken Lopez, Trails and Vistas' artistic and executive director who began designing art hikes while
earning a Masters of Fine Arts from San Jose State University.
Host sponsor Donner Ski Ranch offers sweeping views of Donner Lake and the Sierra Nevada as well as a relaxing place to enjoy refreshments. The advance admission cost for the art hike is $30 general admission, and $10 for ages 5 to 12 years old. The art hikes sell out in advance.
Organizers encourage people to purchase tickets this month. If there are tickets available the day of the hike, the cost is $40. Visit
trailsandvistas.org
for tickets and more information.
The Dreaming Tree host sponsor is Donner Ski Ranch. Additional art hike sponsors include The Cedar House Sport Hotel, Hampton Inn & Suites, Kelly Brothers Painting, Moody's Bistro, Bar & Beats, The Richardson House, Tahoe Truckee Community Foundation, The Truckee Donner Chamber of Commerce, and The Truckee Hotel. Media partners include Cap Radio, 101.5, Moonshine Ink, Sierra Sun and The Weekly.
Visit
www.trailsandvistas.org
for the most up to date event news and list of 2012 participating artists.
About Trails and Vistas
Trails and Vistas is a non-profit organization based in Truckee, CA. Nancy Tieken Lopez started designing art hikes while earning a Masters of Fine Arts from San Jose State University, and she collaborated with non-profit organizations to design the first Trails and Vistas art hike in 2004. Trails and Vistas' mission is to create art experiences in nature that inspire environmental awareness. Today the distinctive art hikes are a collaborative effort led by Lopez and co-director Elizabeth Archer with vital support from volunteers and regional environment and arts organizations including the Truckee Donner Land
Trust, InnerRhythms Dance Theatre and the KidZone Museum. Visit
www.trailsandvistas.org
for tickets and more information.
Attachments
Images
1) Truckee poet Kira Catanzaro performs a playful and powerful tribute to the natural world. Credit: Scott Thompson.
2) Kansas Carradine performs with her lasso. Credit Bill Stevenson
Complete release with 2012 artist highlights.
# # #
--
NICOLE CHESLOCK
NC Communications
Outreach + Writing + Media Relations
(530) 548-5010 | P.O. Box 416 Tahoe Vista, CA 96148
Let's connect!
www.facebook.com/NCCommunications