Truckee Backpacking
There are some amazing Truckee Backpacking and Hiking Trails. I will be covering the Trails for Day Hikes on the
Truckee Hiking
page, and the longer Trails that typically involve camping along the way will be covered on the Truckee Backpacking page. Camping tips are available from the
Truckee Camping
page.
There is an opportunity below, to share YOUR Truckee Backpacking story with Truckee Travel Guide. Each Truckee Backpacking Story will be turned into it's own web page on the Truckee Travel Guide website, and YOUR Friends, Family, and others can comment on YOUR story!
My brother Scott Smith, earned his Boy Scouts Eagle Scout Award when he was 14 years old, when we lived in Novato, in Marin County. As a boy scout, it is typical to hike and backpack a lot, and generally there are many opportunities to go on long 50+ mile backpacking trips.
A new generation has arrived, and Scott's son, my nephew, Kyle Smith, age 12, is now a boy scout in Roseville, California's Boy Scout troop # 1, working towards his own Eagle Scout Award. Scott is an Assistant Scout Master for Kyle's troop.
In July 2010, Troop 1, spent a week in the Sierra Nevada's on a 50 mile hike starting from Chubb Lake at Marin Sierra, and hiking the Grouse Ridge and hiking to the summit of Old Man Mountain, the gorgeous Mountain that you can see from Hwy 80 as you pass Nyack on the way to Truckee. The best views of the Grouse Ridge and Old Man Mountain, can be enjoyed from the viewpoint stop at Nyack heading on Hwy 80 back to the Bay area.


---

Scott, and Dave Wickam, another Assistant Scout Master, took lots of pictures along the way during this week long backpacking trip, and I made a YouTube video below of their amazing trip. Also, along for leadership support on the trip, was Adam Karp, another Assistant Scout Master. (the video is long...its was 50 miles of terrain, but the scenery is amazing!)


---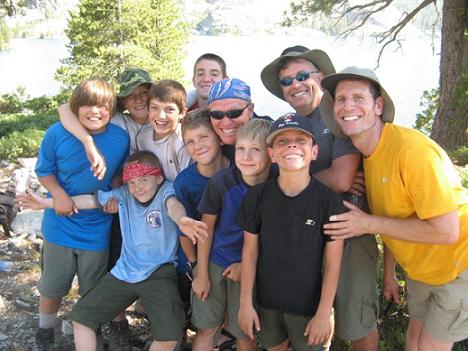 Roseville, California's Boy Scout Troop 1

---

Here are the places that Troop 1, backpacked to, and the many lakes that they passed along the way: (in the same order as the video above)
Started from Chubb Lake at Marin Sierra Boy Scout Camp off of Hwy 80.
Crossed over Fordyce Creek on the Fordyce Creek Bridge
Grouse Ridge Summit
Milk Lake
Island Lake
Penner Lake
Sawmill Lake
Sawmill Lake's Spillway Crossing
Faucherie Lake
French Lake
Meadow Lake
The Excelsior Mines
Baltimore Lake
Old Man Mountain
Phoenix Lake
Beyers Lake
Beyers Lake Trail from Baltimore Lake and back to Fordyce Creek
Their backpacking trip ended up being 56 miles. They climbed 12,165 Vertical Feet! 8 Scouts from Troop 1 went on the trip - 3 eleven year olds, 4 twelve year olds, and 1 thirteen year old! What a fantastic accomplishment!
The Boy Scouts' is such a terrific organization that teaches boys, life skills. I'm sorry that I did not get my son, Ryan into the Boy Scouts. This is a great organization for young boys who do not have their fathers active in their lives - it gives them some adult male role models to spend time with.


---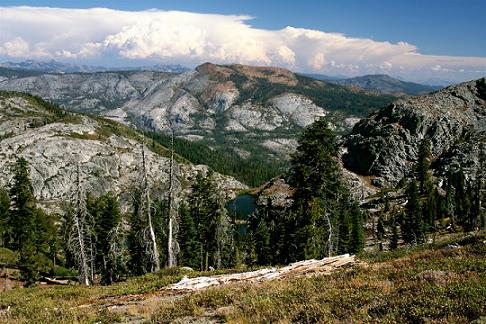 Grouse Ridge, California


---

Here is some additional information from Troop 1's 50 Mile backpacking trip - (Right click on the forms, or left click to print from your browser window)

---

A list of the Truckee Backpacking Trails and those in the surrounding Lake Tahoe area will be coming soon:


---

Here are the Essential Supplies for a Day Hike:
Please check out my Shopping Deals page for Daily Deals and Sales specials!


Backpack
Batteries
Bug Spray
Camera
Cell Phone
Compass or GPS (or both!)
First Aid Kit - a list will be provided shortly
Flashlight
Food
Hat or Visor
Hiking Boots
Hiking Trail Map
Identification
Matches
Pocket Knife
Proper Clothing
Sunscreen
Sunglasses
Toilet Paper
Water & Water Purification Device
Whistle
---

Additional Supplies for an Overnight, or Multi-day Truckee Backpacking Trip include the following:
Tent - the smaller and lighter, the better
Sleeping Bag - the typical bag is a three season bag, and can handle temperatures down to 20 or 30 degrees. If you are backpacking in the winter, a warmer bag will be required in the Truckee and Lake Tahoe area.
Sleeping Mat - For under your sleeping bag, to cushion the ground.
Ski Poles - if you are backpacking over steep, rocky terrain, a set of ski poles can help with your balance. If you noticed in the video, my nephew Kyle and some of the other boys carried a pair.
A towel, or lightweight hand towel or packs of moist towellettes.
Wood is typically plentiful, if you are in an area that you can build a fire safely, but you should bring some fire starter gel, or lighter fluid.
---

Cooking Equipment for longer Truckee Backpacking trips should include the following:
If you are backpacking, and trying to keep your backpacks as light as possible, you don't want to bring a lot of unnecessary equipment. These are some of the basics:
A pot with a lid, or for a larger group, a nesting set of pots with lids. One can be used for boiling water for the group, and the others used for cooking
Pot Holders to remove your pots from your fire or heat source
Sponge or Pot Scrubber - for washing dishes.
If you are unable to make camp fires along the way, a liquid fuel gas stove, or a propane cartridge stove will be necessary to prepare your meals. Alcohol stoves don't work as well in higher altitudes, like the Truckee and Lake Tahoe area.
Each person should bring utensils, bowls, plates, and cups for the trip.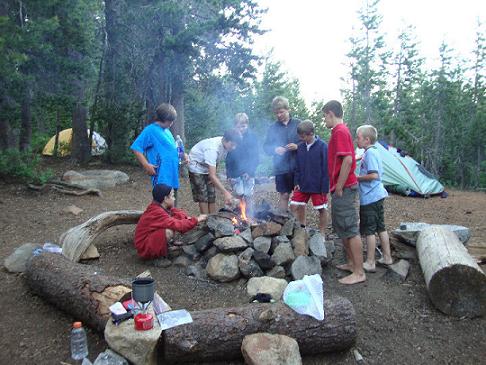 Roseville, California Boy Scout Troop 1 - At their Island Lake Campground
Practicing proper fire safety, they have their camp fire surrounded with rocks and in an open area, away from trees and shrubs etc.

---

Backpacking Food:
Here are some basics:
Trail Mix
Peanut Butter and Jelly Sandwiches
Banana's
Apples
Dried Fruit
Oatmeal
Power Bars and Energy Bars
Due to the lack of refrigeration along the way on long trips, dehydrated meals work well, and are light to carry.
Coffee or Tea!
---

Backpacking and Hiking Safety Precautions:
Don't go alone! The rule "There is safety in numbers" applies!
Always let someone know where you are going, and when you will be expected back
Fire Safety is important - be careful if you smoke or have to build a Fire! Make sure that you check to see if fires are allowed in the area that you are hiking or camping in. Use rocks to ring your fire and build a fire in an open area, away from trees and shrubs (like the Boy Scouts in the picture above)
Remember that this is the wilderness - know what to do in case you run into a Bear or Mountain Lion! (info will be coming soon on what to do and not do)
---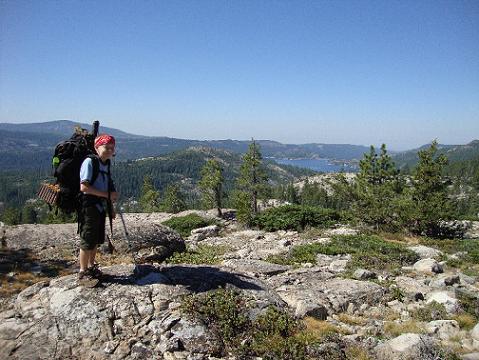 Pictured: My Nephew, Kyle Smith, from Roseville, California, Boy Scout Troup 1 - 50 Mile Backpacking Trip to Grouse Ridge and Old Man Mountain - July 2010
Photo Credit: His Dad, Scott Smith

---

General Backpacking and Hiking Rules:
Be Prepared!
Leave the environment the way you found it - Do not leave trash behind!
If you take a dog with you, pick up after it!
---
Have A Great Story About a Truckee Backpacking Trip?

Do you have a great story about Backpacking in Truckee, or the surrounding Sierra Mountains or Lake Tahoe area?

Where is your favorite place to backpack?

Give us some food tips on what things are great to cook while backpacking!

What were the biggest challenges that you had?

Any tips on supplies and equipment to bring?

Share up to four pictures of your trip!

Share YOUR trip with us!


---
Go to Truckee Campgrounds

Go to Truckee Hiking

Return from Truckee Backpacking to Truckee Summer Activities

Return from Truckee Backpacking to Truckee Travel Guide Home Page


---