Truckee Fly Fishing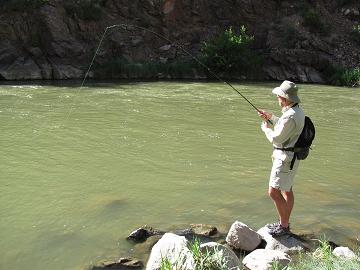 Truckee Fly Fishing is not my deal! I'm a girl, and I've fished only a few times in my life! I'm following a 90% vegan diet, (no meat), and would be 100% vegan, except for my love of eating fish and sushi, which I couldn't give up, so my only real experience with fish, is eating them!
And...my friends warned me early on to never marry a fisherman, or a golfer. This was from a co-worker who was married to an avid golfer, who went so far as to set up a mini putting golf course throughout their home, and practiced night and day. She was constantly tripping over his golf balls! My brother in law, Dan is a big fisherman, but he lives in the Seattle area, so couldn't help me out with fishing in Truckee.
I can however, give you the basic details on where to shop, where to go, and point you in the direction of some very talented local Truckee fly fishing guides that know the ins and outs of the sport, and can make your fishing day!!


For all the top Daily News Articles about Truckee Fishing from Google's Global News Sources, please check out my "Truckee Fishing News Page"


Please share your favorite fishing stories, catch of the day pictures, favorite places to fish in Truckee and Lake Tahoe, recommended gear or fishing books, fishing tips and advice, on my Truckee Fishing News Page!!
Photo Credit Above: Adam Omernick of NoCoFlyFishing.com
Used with his permission.
*****
---

Where to get Fly Fishing Gear in Truckee

It looks to me, like in all of the Truckee Sporting Good stores, that the following places are the best bets for Fly Fishing gear in Truckee:


Mountain Hardware and Sports - check out their online Fishing Report. I like the Irish Blessing posted on their site: "May the holes in your net be no larger than the fish in it!"


West River Fly Shop - New Shop in Truckee located inside the Sports Exchange in Downtown Truckee
---

Where to get Fly Fishing Gear Online

Online shopping is fantastic for searching for deals on Fly Fishing gear. Here are a few options with some special deals currently going on: (click on images or links)


Fishwest: (They offer FREE shipping in the U.S.)

FlyFishingOutfitters.com:
*****
Sierra Trading Post:
Get 25% off orders of $125 or more at Sierra Trading Post. Use code AVMAY1. Valid until June 1, 2011. Coupon Code: AVMAY1
*****
The Rivers Edge
---

Where to get your Truckee Fly Fishing Fix!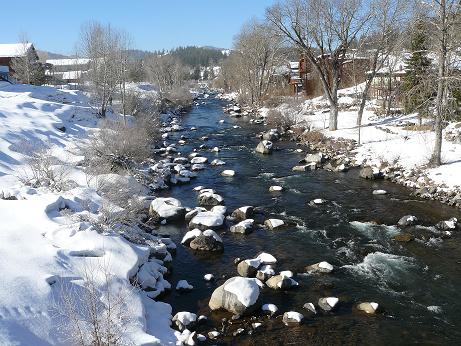 Truckee River near Downtown Truckee
Photo Credit: Leigh Storz, owner of Truckee-Travel-Guide.com


Here are a few of the local state mandated areas to fish in Truckee:


Truckee River - some of the best areas to fly fish is the river area from the downtown Truckee area, north to the Nevada state border. We lived in Glenshire, which was about 6 miles north from downtown Truckee, and Glenshire Drive paralleled the Truckee River, so we often saw fisherman along the way. It seemed like a popular place was in the Hirshdale area where Hwy 80 has an exit up the hill to Glenshire, or on the other side of the Hwy to Boca Dam and Stampede Dam. From what I've learned, apparently, the Truckee River is not an easy place to fish, but well worth it to learn how!

The Upper section of the Truckee River is the 16 mile stretch of the River from the lake outlet at Tahoe City to Trout Creek, with access along Hwy 89. We used to bike and roller blade the bike trail from Tahoe City up to Alpine Meadows and Squaw Valley, so the section from Tahoe City to River Ranch Lodge is busy during the summer months with Truckee River Rafters.



Little Truckee River - located below Stampede Dam and Boca Dam




The Photo's above, will randomly change with all of the Truckee River photo's that I have uploaded in the Truckee Travel Guide's Flickr photo's "Truckee River Photoset". To view all the photo's, just click above on the "Truckee River" blue link to view the entire set of photo's.







---


The Fly Fishing Seasons










---


The Local Truckee Fly Fishing Expert Guides


In researching this page, because again, I'm a girl who just eats fish, and taking up the sport is not high on my list of things to do...lets be honest, I don't see it in the future anytime soon! I'm too busy doing this website, two others, and training for the San Francisco Alcatraz Sharkfest swim and the Lake Tahoe Sharkfest swim coming up.

If I were planning on doing some Truckee Fly Fishing, I would definitely call these guys recommended below, based on what I found online, and use them as a local guide. They had tremendous detailed information on their websites, a great blog, and Frank Pisciotta had a great article on The Little Truckee River published in the 2009 summer issue of Sierra Fisherman magazine, among other articles. They clearly know their stuff, and know the local areas, and best times to go!!







Together, they have got together and formed the "Truckee Guide Network" - of local experienced independent guides.



*****





Also check out:











---


USGS Stream Flow Links


Here are some links for the USGS Real Time Stream Flows in California and Nevada:






As the Nation's largest water, earth, and biological science and civilian mapping agency, the U.S. Geological Survey (USGS) collects, monitors, analyzes, and provides scientific understanding about natural resource conditions, issues, and problems. They provide impartial information on the health of our ecosystems and environment, the natural hazards that threaten us, the natural resources we rely on, the impacts of climate and land-use changes.







---


Fly Fishing in Colorado


Photo Credit Above: Adam Omernick of NoCoFlyFishing.com
Used with his permission.





And for anyone who likes to Fly Fish in the Colorado area, a Facebook friend of mine, Adam Omernick lives for fly fishing, and has started an awesome website all about fly fishing in Northern Colorado at NoCoFlyFishing.com. He has sections on all the main Northern Colorado Rivers, info. on how to fly fish, what gear to use, and how to teach your kids about fly fishing. He has some great pictures of the Colorado Rivers, so it is definitely worth checking out his site!!


Adam also has another website called The Colorado Outdoor Network, that covers the best of Colorado outdoor recreation that anyone traveling to Colorado should check out!



---


Adam's Recommended Fly Fishing Books


I asked Adam Omernick of NoCoFlyFishing.com if he could give me any Fly Fishing Book recommendations to pass along, and these were his recommendations. They can be purchased below, directly through Amazon.com.



1. For someone who is just starting out, "Fly Fishing with A.K."







2. "The Orvis Fly Tying Guide"







3. For Great Fly fishing stories, Adam recommends anything by John Gierach. I've chosen a few below (just click on the arrows to move the books around, hover your mouse over the book cover to see the ratings and prices):







---


Books and Maps of Fly Fishing in Truckee and Lake Tahoe


Here are some books that can be purchased directly from Amazon.com about Fly Fishing in Truckee, Lake Tahoe, the Sierra Nevada, and California and Nevada.







---




Go to Truckee Fishing News

Go to Truckee River

Return to Truckee Summer Activities

Return from Truckee Fly Fishing to Truckee Travel Guide Home Page



---