YOUR Truckee Restaurants Reviews
There are no two Truckee Vacationers the same! My Truckee Restaurants Reviews and Favorites may be completely different from someone else's.
For one thing, I'm following a Vegan/Vegetarian diet, with the exception that I do eat Fish, Shrimp, Crab, Lobster, Sushi. And my daughter, Brie is a Vegetarian. Now my son, Ryan, loves meat, but you won't see my daughter and I recommending the nearest Steak Place on the basis of their meat! Although, Brie and I will definitely eat a Veggie Burger, at Burger Me!!
Everyone has different things that they like to do and want to do in Truckee. Some people are avid golfers and spend their days on one of Truckee's many golf courses, and fishermen want to hang out at the Truckee River all day. Others would prefer to go hiking on the many Truckee Hiking Trails, or to West End Beach at Donner Lake for the day.
The one common denominator to all vacationers, is that everyone has to eat! When I vacation, I want the whole deal, so I don't want to have to cook....I mean a vacation means that I'm supposed to get a break from cooking! Right?
I don't know about anyone else, but when I pay to go out to eat, I want great food and great service! I definitely don't want to have to pay for bad food or slow or terrible service!
Since Truckee is a Vacation Resort Destination Town, the options for eating in the Town of Truckee, Northstar and the nearby Squaw Valley, Lake Tahoe, and Reno seem endless.
I've given some of my families recommendations on where to eat in the Truckee area.......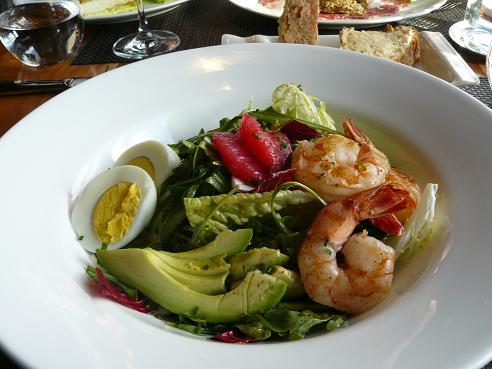 Photo: Salad from Manzanita Restaurant, Ritz-Carlton, Lake Tahoe at Northstar


*****
Now, its' YOUR turn to share YOUR Truckee Restaurant Reviews! We are just one family sharing our own opinions, based on the places that we have eaten at so far! It's time to hear from others about what their favorite Truckee Restaurants are!
This way, travelers to Truckee, whether just passing through or here to have a Truckee Vacation, can get some more Feedback to help them decide what places that they would like to eat at! This will even help the Locals know where to eat at!
Write YOUR own review of where you found the Best Truckee Dining, and the Best Truckee Food, and share YOUR favorites with future visitors to Truckee, and become part of the Truckee Travel Guide website!!
It's easy...Just let us know...


---
What is YOUR Favorite Truckee Restaurant?
Do YOU have a great Truckee Restaurant that you Love? What is YOUR favorite meal there? Do you have a favorite waitress/waiter/bartender there? Tell us about the exceptional service that you received!
What Other Visitors Have Said
Click below to see contributions from other visitors to this page...

Jax at The Tracks Not rated yet
For breakfast the crab eggs benedict and GOOD coffee Jax at The Tracks is great!!
---
Go to Truckee Coffee Shops

Go to Truckee Farmers Market

Go to Truckee Grocery Stores

Return to Truckee Deli's

Return to Inexpensive Truckee Restaurants - $

Return to Mid-Priced Truckee Restaurants - $$

Return to Expensive Truckee Restaurants - $$$

Return from Truckee Restaurants Reviews to Truckee Travel Guide


---