Truckee Specialty Stores
I'm really not much of a shopper, but I Love to Shop at the Truckee Specialty Stores!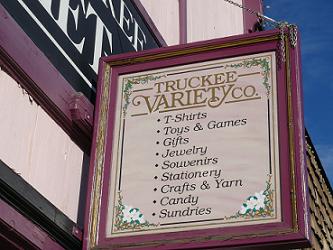 Some of my favorites are the Cooking Gallery store - amazing items for the kitchen and Tahoe Candle!
My kids could never spend enough time in the Truckee Variety Co. - if you have kids, you must take them into this store!
Every trip to Downtown Truckee for us, always involves making a stop into the Sweets Handmade Candies store. Undoubtedly, the best candy store on the planet! You can watch them make their products from the front window, they always give you "yummy" samples to try, they have great presentation of their gift bags, and lots of gift baskets to choose from. They also have a nice selection of "Sugar Free" items available. My daughter and I recently stopped there, and got a specialty coffee as well as a Sugar Free Carmel that was sensational!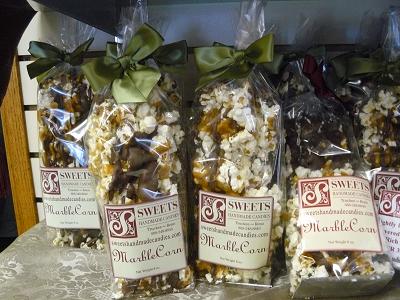 Marble Corn is Heavenly! They do offer a Sugar Free Carmel Corn if you are looking for reduced sugar/calories.


---
Here is a list of the Truckee Specialty Stores that the Truckee Travel Guide will cover in detail:
Ambiance


Blooms and Zooms


Bud's Ice Cream


Cooking Gallery


Cosmos Custom Footworks


CVS Pharmacy


Donna's Stitchery


Elizabeth's Creations


Event Masters Party Rentals & Supply


Feather's Edge Finery


Flower Power


For Goodness Sake


Gioielli


Jewels of the Reef


Lake Tahoe Yarn Company


Mickey's Pet Grooming Bath & Boutique


The Office Boss


Pet Station


The Pour House


Quilter's Haven


Rite Aid Pharmacy


Savy Dog


Scraps Dog Bakery


Sweets Handmade Candies - (Heavenly!)


Tahoe Candle


The Treat Box Bakery


Truckee Variety Co.


Truth Tattoo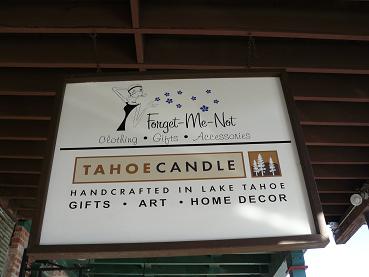 ---
Here are some of the Specialty Stores at the Village at Northstar:
001 Oakley Concept Store


Ambassador Toys


Freckles Childrens' Boutique


Lather and Fizz Bath Boutique


Mine


Northstar Logo Company


Olivier Napa Valley


The Villager Candle Shop
---
Here are some of the Specialty Shops at the Village at Squaw Valley:
Lather and Fizz Bath Boutique


Marmot


Mind Play


Squaw Dogs
---
Additional information about each store, including Address, Phone, Website and Facebook/Twitter links, Hours, Specialties etc. will be coming shortly.






---
Have A Great Story About What Truckee Specialty Shops to Shop At?
What is YOUR favorite Truckee Specialty Shop? Share it!
---

Go to Online Shopping Deals

Go to Truckee Art

Go to Truckee Beauty and Spa

Go to Truckee Fashion and Accessories

Go to Home and Garden

Go to Truckee Sporting Goods

Return to Truckee Shopping

Return from Truckee Specialty Stores to Truckee Travel Guide


---