Watson Cabin Museum

The Watson Cabin Museum is one of the Lake Tahoe Museums that is located in Tahoe City, right above Commons Beach. It is run by the North Lake Tahoe Historical Society, a local Non-Profit Organization.

The Museum is open every day from 12pm - 4pm, except they are closed on Tuesday's. A $2.00 donation is suggested to take a tour of the cabin.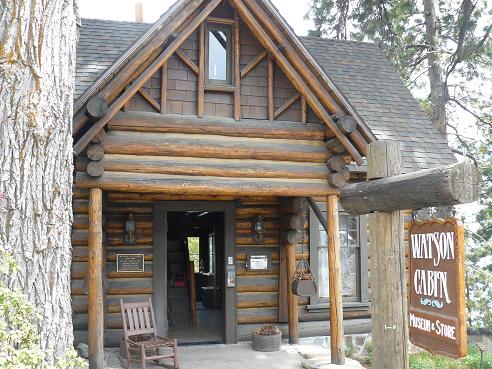 The Watson Cabin was built in 1909 by Robert Montgomery Watson for his son Robert, his wife Stella and their daughter, Mildred. It is the oldest building in Tahoe City and is listed on the National Register of Historic Places. Robert also built the original Gatekeeper's Cabin which now houses the Gatekeeper's Museum and the Steinbach Indian Basket Museum.

This is a sign outside the Watson Cabin in Tahoe City that states... "Positioned on a bluff overlooking Commons Beach is the historic Watson's log cabin. The cabin is listed on the National Register of Historic Places as the oldest log structure remaining in the North Lake Tahoe area. The two story cabin was built in 1908 by Robert Montgomery Watson, Tahoe City's first constable, and his youngest son, Robert Howard Watson. They constructed it using local resources including hand-hewn logs chinked with cement, native stone for the fireplace and foundation, and deer horns decorating the exterior. The cabin was presented as a wedding gift to Robert and his new wife Stella Tong in 1909. Their daughter Mildred was born and lived there. The Watson's leased the cabin to "Husky" and Fern Hunt from 1947 through 1976. The Hunt's shop was well known by collectors of Navajo rugs and other Native American curios. In the 1970's, Robert H. Watson's daughter Mildred Collins, offered the property to the North Lake Tahoe Historical Society. They dedicated the cabin as a Living History Museum."
The cabin has a little path where you can walk around to the back of the cabin.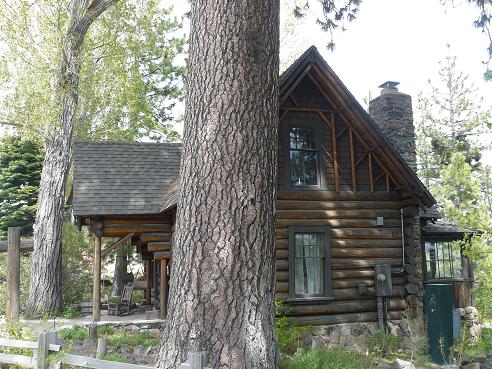 The cabin was one of the first homes in Tahoe City to have indoor plumbing. When it was built, the cabin contained a living room, kitchen and an outdoor porch on the first floor, and 2 bedrooms, a sewing room, and a bathroom upstairs. Eventually, the outdoor porch was expanded and enclosed and has amazing views of Lake Tahoe!