Women Art and the Creative Process
by Nicole Cheslock
(Tahoe Vista)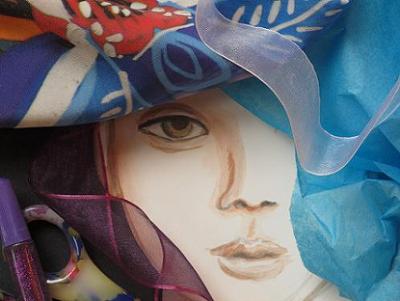 The Evelyn Hat by Susie Alexander
A two part series celebrating the creative spirit in Truckee, CA on April 22 and 24, 2012


What:
Women, Art and the Creative Process: Two evening series featuring Tahoe Truckee premier showing of "Evelyn," panel discussion and art project
When:
7 to 9 p.m. Sunday, April 22 and 6 to 8 p.m. Tuesday, April 24
Where:
Cedar House Sport Hotel, 10918 Brockway Road, Truckee, CA
Details and Tickets:
www.nicolecheslock.com
March 27, 2012, Truckee, CA – Every day of the week Evelyn Brenner creates colorful, inspirational art like no other. Combining fabrics, paint, clay, buttons, beads and pearls, her work grabs you at a glance and pulls you into the details. And, at ninety-four she's still going strong as an active artist.
Moved by the magnificent array of fabrics, ceramic dolls and wall art in Evelyn's home, Truckee resident Elissa Slanger, an artist in her own right, produced a heartwarming and inspiring thirty-minute film, "Evelyn," that will be featured at Women, Art and the Creative Process at Cedar House Sport Hotel event center from 7 to 9 p.m. on April 22. Slanger has also assembled artists to speak about their work, including pieces on display, following the Tahoe-Truckee premiere of "Evelyn." Hear from Brooke Bishop, Nancy Tieken Lopez and Eva Nichols who will speak about medium and palette choices, creativity and art.
There's more. Inspired by the color, the fabrics, the originality depicted in "Evelyn," acclaimed muralist Susie Alexander, one of the most productive mural artists living on the west coast, will facilitate an upbeat and playful evening. Each participant will dive into texture, colors and diverse shapes to embellish and personalize a pre-cut one-dimensional hat and explore female archetypes at Cedar House from 6 to 8 p.m. on April 24. Alexander believes that creativity exists within everyone and it is our birthright to find a unique way of expressing our creativity. Having experienced the healing power of art and expression on a personal level, Alexander's passion and contagious positive energy will guide the take home art project.
Admission to "Evelyn" and the panel discussion on April 22 is $22 and includes glass of wine, beer or nonalcoholic beverage of choice. Get creative with acclaimed muralist Susie Alexander from 6 to 8 p.m. on April 24. The art project is open to youth (ages 12 and above) and adults but limited to no more than thirty people. Advance purchase is recommended. Admission on the day of each event, if available, is $30 per person. Visit
www.nicolecheslock.com
for more information and tickets.
A portion of admission proceeds from Women, Art and the Creative Process will benefit Soroptimists. Event sponsors include The Office Boss, Tom Beebe's Artistry in Wood, Art-Health Alliance, Arts for the Schools and Tahoe Teas.
IMAGES
The Evelyn Hat by Susie Alexander. Courtesy of Susie Alexander (
www.susiealexander.com
). Caption: What colors, depth and emotion are depicted on your hat? Express yourself at Women, Art and the Creative Process on April 24. Admission: $20 advance at
www.nicolecheslock.com
.
Seated woman courtesy of Elissa Slanger. Caption: An example of the prolific art work by Evelyn Brenner, the focus of Elissa Slanger's inspiring 30-minute film "Evelyn" that will be featured on April 22. Admission: $22 advance at
www.nicolecheslock.com
Contact: Nicole Cheslock, NC Communications, (530) 548-5010, nicole@nicolecheslock.com
# # #