Donner Lake
Donner Lake is one of my favorite places in Truckee, California! The most breathtaking views of the lake can be seen from Old Hwy 40 like the picture below that I took of the lake on 02/28/11. There is a viewpoint stop just before you reach the Rainbow Bridge where you can stop and take photo's. The east end of the lake closest to Donner Memorial State Park was completely frozen at the time.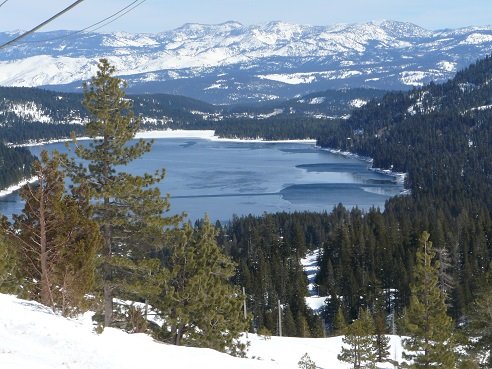 While the lake is gorgeous in the summertime, in the winter, it is truly outstanding with the snow on the mountain ridges surrounding the Lake!
Donner Lake is where I wouldn't mind living eventually. My friend has a cabin within walking distance to the Donner Lake Property Owners Beach, and it is just such a relaxing life to hang out at the lake.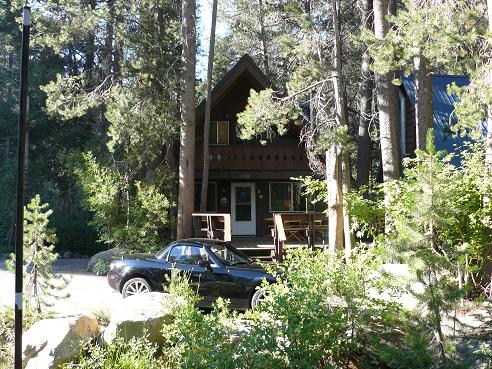 For those wanting to Live in Truckee, purchasing a home on or near the lake is a great option, as the elevation, and thus the snow load will be lower than in some of the higher elevation subdivisions such as Tahoe Donner.
You can check out my Donner Lake Neighborhood Page for more information on the neighborhoods.
---

Donner Lake Activities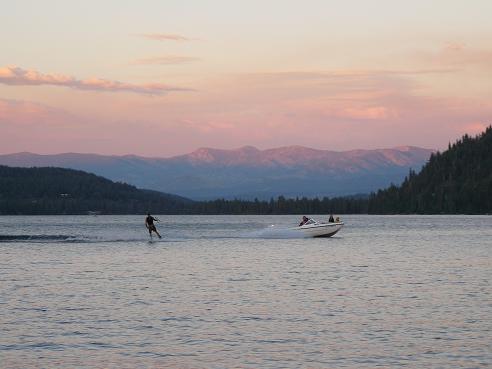 There are so many activities to do at the lake and Donner Lake Vacation Rentals abound!
Some of the favorite activities to do at Donner Lake include: - (Activities will be linked up as completed!)


Boats can be rented at West End Beach, or Donner Memorial State Park. If you are a Tahoe Donner homeowner, you can also rent boats at the Tahoe Donner Beach Club at the east end of the Lake.
Check out all the Truckee Summer Activities!

Also...check out the Truckee Sporting Good shops and shop local for all your Truckee Summer Activities!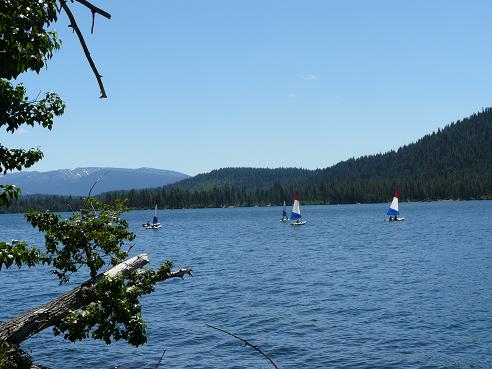 Donner Lake in Truckee California as viewed from Shoreline Park. This is a great place to have a picnic because it has lots of shade. It is also a great place to watch the sailboats and fish at the all-access fishing pier.
---

Donner Lake Beaches


There are four main Donner Lake Beaches, that are covered in detail: 
Check out my Truckee Beaches page for more beaches in the surrounding area and my Lake Tahoe Beaches page for beaches around Lake Tahoe. 
Above is a picture that I took on June 6, 2013 of Donner Lake from West End Beach.  There had been afternoon thunderstorms, and a little rain come through, and the beach was pretty deserted after that!
Donner Lake Events


Each year, there are some great Truckee Events that happen at Donner Lake. Holidays in Truckee are awesome and some events like the Fourth of July event, are annual events that residents and vacationers alike look forward to each year!


What: Truckee Fourth of July Fireworks
When: July 4, 2023
Time: Dusk
Where: West End Beach
Cost: Price $TBD in advance only from Truckee Donner Recreation and Park District starting May 1, 2023. No tickets sold at the door.
For more info: http://www.tdrpd.com or (530) 582-7720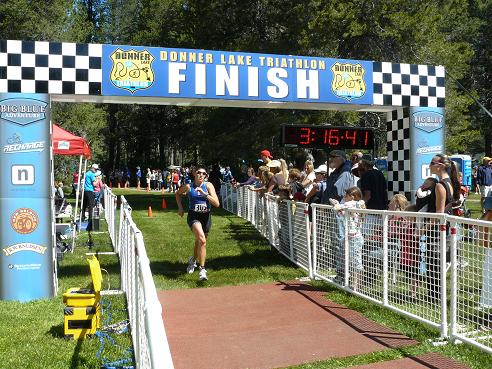 Pictured Above: My college roommates daughter, Danielle Widenmann Mualchin coming in 2nd in her age group at the Donner Lake Triathlon on July 17, 2011. She placed 1st in her age group in 2009.
Donner Lake Photos
The Photo's above, will randomly change with all of the photo's that I have uploaded in the Truckee Travel Guide's Flickr photo's "Donner Lake, Truckee California Photoset". To view all the photo's, just click above on the "Donner Lake" blue link to view the entire set of photo's.


Be sure to SHARE YOUR PHOTO's with Truckee Travel Guide, and have your photo's and stories become part of the website!
Donner Lake Businesses
Here are some of the businesses at the Lake: (additional info. provided soon!)


Fun Facts About Donner Lake
The lake is just short of 3 miles long, 3/4 mile wide, and is about 7 miles to walk around. (takes close to 3 hrs to walk around)
The lake temperature can reach 76 degrees in the summertime
The lake sometimes freezes in the wintertime as you can see in some of my pictures!
There are approximately 1,500 full time residents, and over 6,000 people on 
holidays
 and summertime!
It is the site of the "Donner Party" saga, and the Emigrant Trails are located near the Lake. Check out the Emigrant Trail Museum located in the 
Donner Memorial State Park
!
The lake was formed through a mix of glacial action and faulting
The depth of the Lake is approx. 328 feet at it's deepest point, according to the California State Lands Commission.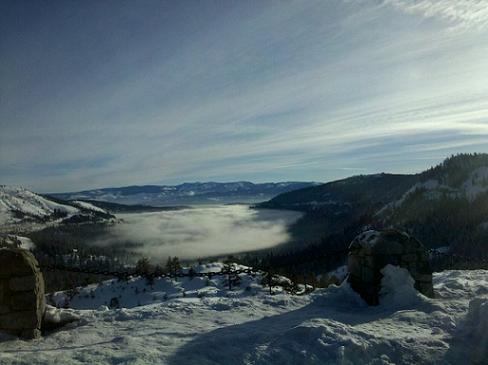 Pictured Above: Donner Lake fogged in

Photo Credit: Pictures taken from the Old Hwy 40, Rainbow Bridge viewpoint by Ben Weisner, of Tahoe City. Used with his permission.

Pictured Below: Donner Lake in Winter