Donner Memorial State Park
The Donner Memorial State Park, or Donner State Park as it is sometimes called, is one of the California State Parks. The Park is located next to Donner Lake, in Truckee, California and the Entrance is at 12593 Donner Pass Road, with a handy exit close by on Hwy 80.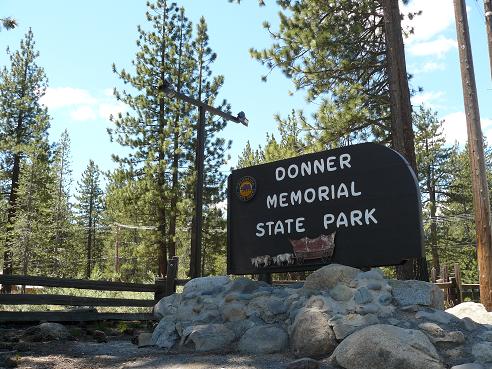 Things to Do at Donner State Park

Donner State Park is a great place to visit with lots of activities year round. I took all of the pictures on this page on July 14, 2011, which was a Thursday, so mid-week it was great, and not as crowded as on the weekends.  
Here is a list of things to do at the park, and some pictures. This page will just be an overview of the activities, with more detailed information being provided shortly on additional pages: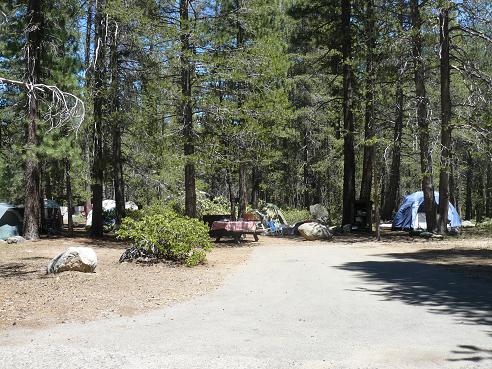 Lake Loop Trail - 2.5 miles (Easiest)




Coldstream Trail - 2.1 miles (Steeper)




Upper Coldstream Trail - 1.4 miles (Most Difficult)




Additional details on each trail will be provided. Please check out my Cross Country Skiing Page for additional trails in the area!
Fishing - there are over three miles of frontage on

Donner Lake

and Donner Creek that you can fish from. In addition, Fishing Boats can be rented from within the Park (see Watersports below). There is the public

Donner Lake Boat Ramp

on the northwest corner of

Donner Lake

, if you have your own fishing boat, and there is a great All Access Fishing Pier at

Shoreline Park

midway on the North side of the Lake.
Hiking

- The park has about two and a half miles of hiking trails:



There is the 1 mile Lakeshore Interpretive Trail (pictured below) which parallels

Donner Lake

and has educational signs along the way. The trail starts in the lagoon portion of the day-use area of the park, and continues along the lake. This is an easy flat trail to hike, and the scenery can't be beat! There is also lots of places to sit down to rest along the way if need be.



There is also the China Cove Trail which is a trail from the Campgrounds over to China Cove at

Donner Lake

where the

China Cove Beach

area is located. This trail would be used primarily if you were camping in the park.




There is also a short, self-guided nature trail that starts near the Emigrant Trail Museum and makes a loop through the forest.




Staff-led hikes start in late June each year. The hikes range from 1 - 2 hours and start at the museum at 10:00 a.m.




The Park borders the Tahoe National Forest where there are excellent hiking trails. You can pick up hiking maps at the Museum. See my

Truckee Hiking

Page for additional hiking information!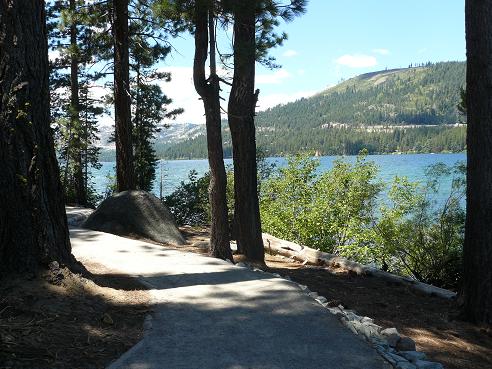 Picnicking - Each campground has it's own picnic area, but the day-use area of the park has picnic areas all along

Donner Lake

. There are lots of BBQ areas to grill, restrooms, and piped drinking water. I went through the park on a Thursday to take pictures, and there were lots of picnic areas open. There were lots of shaded areas, as well as tables out in the full sun! They all looked nice and relaxing to me!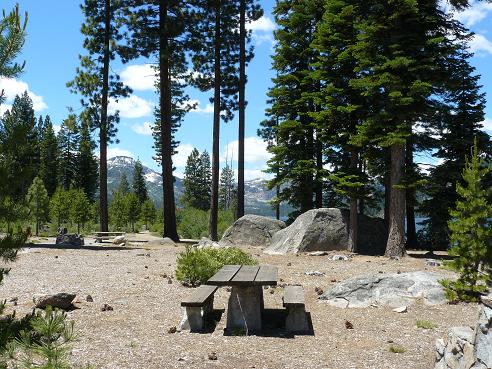 Snowshoeing

There are two snowshoe trails in the Park during the

winter

time. They are:




Nature Trail - 1.8 miles




Snowshoe Adventure Trail - 2.9 miles



Swimming at the

China Cove Beach

- while you can pretty much jump in

Donner Lake

from any of the shore areas in Donner Memorial State Park, there is one official beach area in the Park, located in China Cove. I couldn't find an official name for the Beach, so for the purposes of this website, I'm going to refer to it as China Cove Beach. The area has a defined swimming area, with signs posted warning that there is No Lifeguard on Duty, and that the water is Extremely Cold!

China Cove is also a place to go Diving on the Lake.

You can also check out my

Truckee Beaches

page, for other beaches at

Donner Lake

and my

Lake Tahoe Beaches

page for information on the

Lake Tahoe

beaches.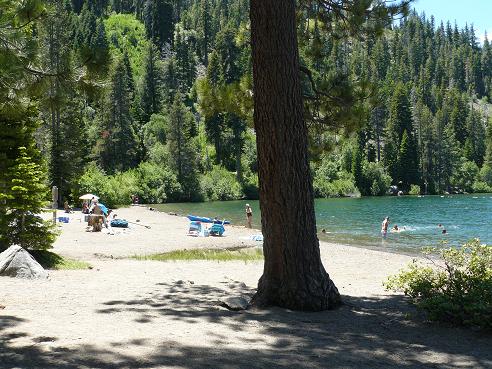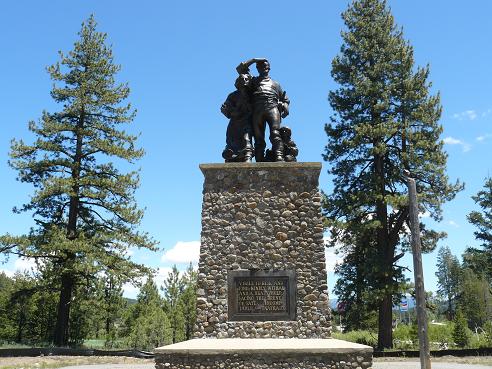 Watersports - Boats can be rented in the Park from Donner Lake Watersports - Prices listed below were effective 7/14/2011 so they may be higher than this now!



Canoeing




Fishing Boats




Jet Skiing




Kayaking




Paddleboarding




Sea Cycling on a Paddle Boat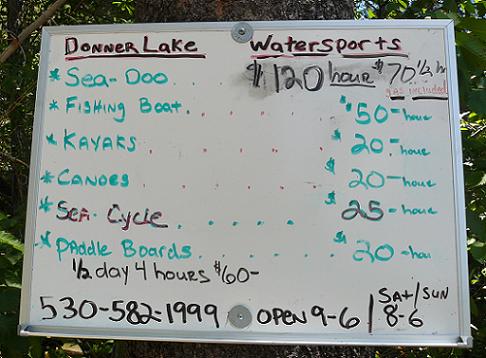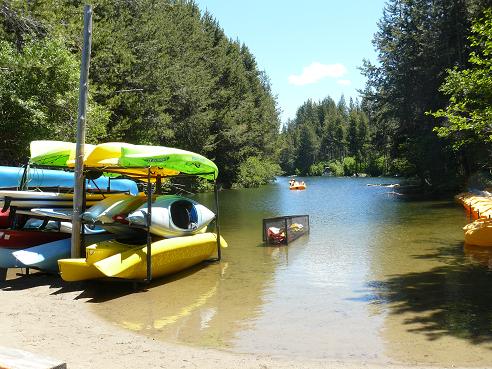 ---

Donner Memorial State Park - Rules

Animals - Do not feed the chipmunks, squirrels,

marmots

or any other animal that you might see

Campground Quiet Hours - 10:00pm - 7:00am

Dogs

- Permitted in the campground and picnic areas (max 6ft leash), and in your tent or motor vehicle at night. Not Permitted on the trails or the beach.

FIRES are only permitted in the established fireplaces

No DIVING within the State Park System
---

Cost of Admission - 2021


Boat Rentals: See my photo above with the 2011 prices - I expect they may be higher now


Camping: - See the State Park Fee List
Day Use: Per Car = $10.00 per vehicle during the peak season of May 1 - September 30, and $5.00 per vehicle during the non-peak season of October 1 - April 30


Donner Memorial State Park Visitor Center: Open 10am - 5:00pm daily
---

Hours and Operating Schedule - 2021


---

Photo's


The Photo's above, will randomly change with all of the Donner Memorial State Park photo's that I have uploaded in the Truckee Travel Guide's Flickr photo's "Donner Memorial State Park Photoset". To view all the photo's, just click above on the Donner Memorial State Park blue link to view the entire set of photo's, or just click on your browser "refresh" button.
---

Contact Information


For additional information, and to call for campground reservations or book online, please contact the Donner Memorial State Park at:


Address: 12593 Donner Pass Road, Truckee, CA 96161


Phone: (530) 582-7892


Campground Reservations: (800) 444-7275 (book up to 7 months in advance)


Website:

http://www.parks.ca.gov
---

See Also.....


Other California State Parks that will be covered by the Truckee Travel Guide Website include: (info to come)


D.L. Bliss State Park
Emerald Bay State Park
Sugar Pine Point State Park
Tahoe State Recreation Area
See Also:

Bears and Camping

Donner Party