Fourth of July in Truckee
Fourth of July and food go hand in hand! As Americans we celebrate our holidays with great food! On this holiday, we celebrate actually being Americans and what that means! We dress our homes and selves with flags of our country and the patriotic colors of red, white, and blue!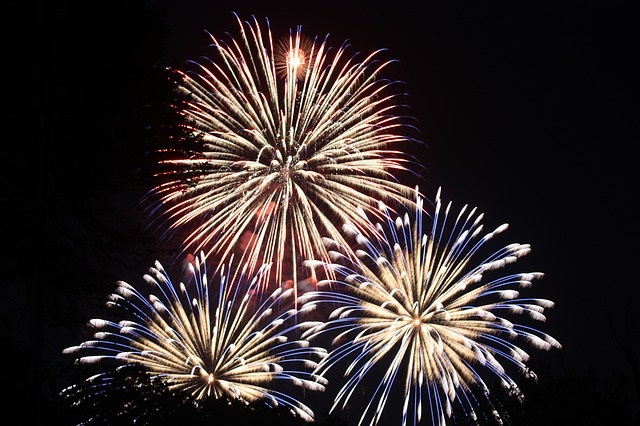 We gather, prepare a barbeque or picnic, and depending where we live, either watch or shoot off fireworks! Why do we do this? Is this holiday about gaining our independence from England, or is there more to the story?
Truckee Fourth of July Events - 2017
What: Truckee Fire Pancake Breakfast
When: July 4, 2017
Time: 7:00am - 10:00am
Where: Station 92 - 11473 Donner Pass Road
Cost: TBA - 2015 cost was $7 adults, $5 kids
Fundraiser for: TBA
 
*****
What: Firecracker Mile Fun Run
When: July 4, 2017
Time: Race starts 9:45am for the Elite wave, and 9:55am for the fun wave - just before the parade. Pick up bib & register at the Parking Lot across from U.S. Bank (10995 Donner Pass Road) on race morning from 8:00am - 9:15am.
Where: Starts on Donner Pass Road at U.S. Bank, and finishes at Truckee's train station in Downtown Truckee.
Cost: Pre-register for adults (19+) fun wave - $15; adults (19+) elite wave - $20 - or $10 more on race day. Pre-register for kids (18 & under) fun wave - $10; kids elite wave - $15, or $10 more on race day.
Dog Friendly Event: Leashed Dogs may run/walk along with you!
Fundraiser for: Auburn Ski Club's Youth and Junior Nordic Programs - proceeds go to help support low cost, quality nordic ski programs in the Tahoe and foothill region.


For additional information: http://auburnskiclub.com/summer-fun-runs/firecraker-mile/
*****


What: Fourth of July Parade
When: July 4, 2017
Time: Begins at 10:00am just east of the High School on Donner Pass Road into Downtown Truckee and ending around 1:00pm.
For more info: All registrations this year are being done online at:
Fourth of July parade registration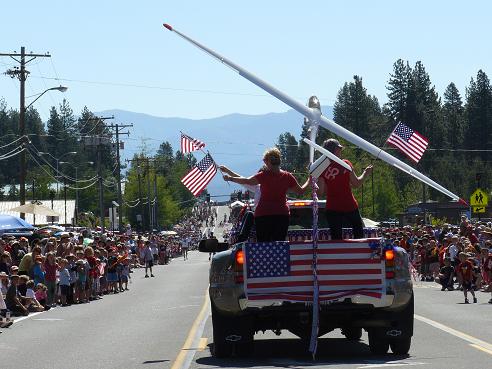 What: Fourth of July at West End Beach and the Truckee Fourth of July Fireworks
When: July 4, 2017
Time: All day for the Fourth of July party at West End Beach, with the fireworks at dusk.  Come spend the day at the Beach, listen and dance to music, play games, eat BBQ, and watch the fireworks!
Where: West End Beach at Donner Lake,
Cost: $6.00 in advance only from Truckee Donner Recreation and Park District, starting May 1, 2017. (no tickets at the gate on July 4th) The West End Beach event is just for Truckee Residents and Homeowners, but the public can view the fireworks from anywhere around the lake.
For more info: http://www.tdrpd.org or (530) 582-7720
*****
---

North Lake Tahoe Fourth of July Events - 2017


Where: Kings Beach at the North Tahoe Event Center
When: July 3, 2017
Time: 4-10pm
Details: Annual free fireworks show at approx. 9:30pm, as well as a Beach Party celebration at the North Tahoe Event Center right on the beach at the Kings Beach State Recreation area, beginning at 4pm. The event will include food vendors, a beer/wine and mixed drink garden, free watermelon eating, sand castle building, games, music and live entertainment, firewords glow toys, souvenirs, and more!
For More Information and to purchase preferred seating for $20, or donate to the cost of the fireworks show, please check out the North Tahoe Business Association Website. 
The video below shows some highlights from the 2011 show. We always loved the Kings Beach fireworks!
*****
What: Run to the Beach 5k and 10k
Where: Kings Beach starts at the North Tahoe Regional Park. From the park you have an option of participating in the 5K or 10K distance both of which finish on the "Big" beach in Kings Beach, CA. (See Kings Beach State Recreation Area)
When: July 4, 2017
Details: Starts at 8:30am (Register and check in from 7:00am - 8:00am) Award Ceremony at 10:30am. Register Here: http://www.tahoetrailrunning.com/trail-runs/run-to-the-beach/
*****
Where: Fireworks at Tahoe City - Commons Beach
When: July 4, 2017
Time: Funky Beach Bash During the Day, and Fireworks at Dusk
Additional Details:  For more details:
http://www.visittahoecity.org/events/4th_of_july/
Please like this Facebook Page: Support Tahoe City Fireworks Tahoe City is struggling with funding for their Annual Fireworks Display.

*****
What: Red, White, and Tahoe Blue
Where: Incline Village and Crystal Bay
When: July 1, 2017 - July 4, 2017, Fireworks on July 4th from 9:30pm - 10:00pm
Additional Details: 45+ events in Incline Village & Crystal Bay to include the Parade, Concerts, Veterans Tribute, Rubber Ducky Races, Wine & Cheese, Beer & Brats, Community Fair, Ice Cream Social & Chalk Drawing for kids & more! See all the details and the event times at: http://www.redwhitetahoeblue.org/ 
Watch the Preview Video for 2014 below!
---

South Shore Fireworks


Where: "Lights on the Lake" Fireworks at South Lake Tahoe. 
When: July 4, 2017
Time: 9:45pm
Additional Details: The fireworks are visible all over town. If you have your radio tuned to KRLT-FM 93.9 or KOWL-AM 1490, you can listen to a synchronized patriotic music broadcast. Some of the best places to view the fireworks are:
Below is the video from the 2015 show:
---

Fourth of July Music


The Video below, "America the Beautiful" by Ray Charles : Written by Katharine Lee Bates, a professor of English at Wellesley College , "America the Beautiful" was originally a poem penned on an 1893 trip from the East Coast to Colorado . The music of Samuel A. Ward, composed in 1882, was eventually fit to the words of Bates and "America the Beautiful" – as we know it – was born. Though this song has been covered by a plethora of artists, Ray Charles's rendition is generally thought to be the most moving, the most memorable, and the one that does the song the most justice.
The next song is Lee Greenwood's "God Bless the U.S.A.".
---

Fourth of July Meal
My sister, Kerry Bacon, who has a Science Degree in Dietetics and has created a website called "Healthy Diet Habits", will be helping me with the Holiday section, and giving advice on how to prepare Healthy Holiday Meals! The info. below is from her!


Most of us celebrate this day with:


Burgers, Hot Dogs, or Fried or Barbequed chicken!


Potato Salad or Macaroni Salad


Potato Chips


Apple Pie or a cake decorated in theme!
Can't get much more American than that! With the new "My Plate Guidelines" out this year, we could make a few adjustments to make our meal more health friendly. Our goal would be to limit our grain and protein choices to one fourth of our plate each, and fill our plate half full of fruits and veggies!
How about:

Barbecued Chicken


Potato salad with veggies mixed in and lower fat mayo


Veggie chopped salad


Varied Fruit plate with lots of red and blue fruits


Dessert of choice
Dessert might seem over the top, but "The Fourth of July" is a holiday, and celebrations call for Dessert!
Be sure to hit up one The Truckee Farmer's Market for fresh organic fruits and veggies that will make your Fourth of July meal healthier!!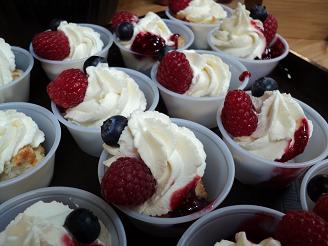 Happy Fourth of July! Be Safe!