Martis Camp Neighborhood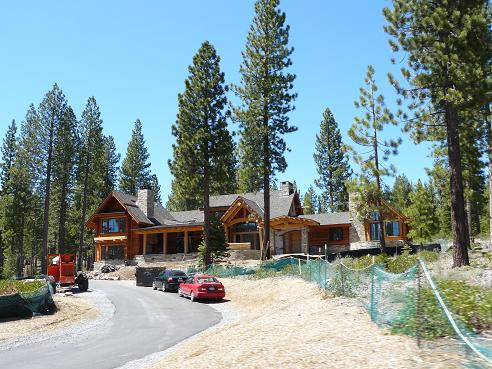 Oh..My!! On 5-9-12, I got a 2+ hour tour of the Martis Camp Neighborhood, along with Ann Nguyen, a Truckee/Tahoe realtor.  (Thank You, Nina!!)
I'm trying to relocate back to the Truckee area, as soon as I can, and I had been considering the Donner Lake neighborhood area, as Donner Lake is one of my favorite places in Truckee. I've even been considering a Village at Palisades Tahoe condo in gorgeous Olympic Valley as a part time option, until my family obligations are such that I can move back to the area full time.
But....after seeing the Martis Camp Neighborhood....I could totally see myself living here! While the larger estate sized homes/lots are out of my price range, there is a new area opening up called "The Cabins", with smaller lots in the 1/3 to 1/2 acre range, with lot prices estimated in the $500 - $800K range. These have a great location, in close proximity to the Fishing Lake and Family Barn amenities. A girl can dream!!!



Martis Camp Neighborhood Map:


With a maximum of 653 homesites in 2,177 acres, Martis Camp homeowners can build their dream mountain estates, in a private setting, and yet still be close to all the amenities of Truckee and Lake Tahoe living. Speaking of Lake Tahoe, Martis Camp has a 28' Formula Cruiser, harbored at the North Tahoe Marina, in Tahoe Vista, that is available for Martis Camp Families! (Head down Hwy 267 to Kings Beach at Tahoe, and take a right to Tahoe Vista)





There is a fantastic aerial tour available on the official Martis Camp website, as well as a Community Site Plan.


---

Martis Camp Lodge: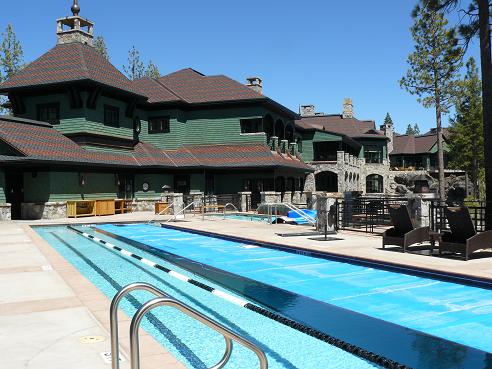 With over 50,000 square feet of space, the Camp Lodge is absolutely amazing! In fact, Golf, Inc. named it the "Clubhouse of the Year", in 2012. The video below produced by Tahoe T.V. takes you on a tour of the impressive building!



Pictured below, is part of the Fitness Center.



Geared more for the adults, the Lodge I thought was just incredible with top of the line amenities including:


Bar area.

Dining areas - formal and casual (inside and outside).

Fitness Center.

Golf Shop.

Men's and Women's Locker Rooms and Private Lounge areas

Outside seating areas with stunning views overlooking the golf course and surrounding mountains.

Patio area with multiple levels of seating areas, with outside fireplace, firepits, and barbeque area that can be used for Member weddings or parties.

Pool area outside with three pools, one seasonal, and two available year round. This pool area is for adults and kids 16 years and older. Younger kids can use the pool facilities at the Family Barn.

Spa Facilities including relaxation rooms, nail room for manicures & pedicures, treatment rooms for massages and facials, and couples massage areas.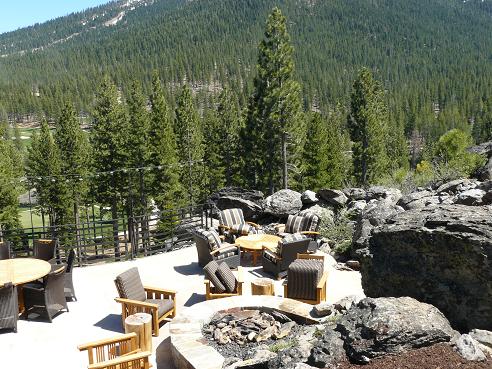 Martis Camp Community Trails and Tennis Facilities:


Do you like Hiking, Biking, Mountain Biking, in the summer, and Snowshoeing, or Cross Country Skiing in the winter time? No problem!! No matter, what the season of year is, Martis Camp has it all, with over 20 miles of groomed, and marked trails, that can be used year round.
Constructed in the 2013 summer season, the Tennis Park and Pavilion has two clay courts, and two hard surface courts.



Martis Camp Family Barn:


The Family Barn is geared more for families, and the kids! It looked like a super fun place to hang out. While we were getting a tour of the place, a Mom drove up in her Golf Cart from the trail around the Fishing Lake, and picked up her kids who had been inside. My kids would have loved to have had access to the Family Barn growing up! I absolutely loved the red color of the Family Barn - it was a great splash of color against the scenery of the area!



The amenities included in the Family Barn are:


Amphitheater outside with a performance stage for concerts

Arcade area

Art Loft

Basketball court inside

Bowling - a two lane bowling alley, with bumpers if needed, and an old fashioned jukebox for tunes.

Computer room.

Dining area and an old fashioned soda bar.

Martis Camp Folk School

Movie Theater with 44 seats.

Pool area for families and kids outside.

Pool tables


The hardest part would be getting your kids to ever leave this paradise!



The Family Barn overlooks the stunning 3 acre Fishing Lake!



Martis Camp Neighborhood - Fishing Lake: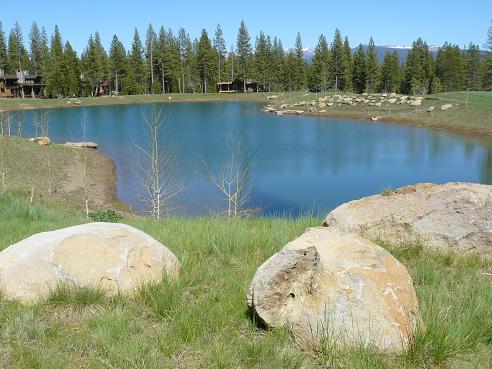 The Fishing Lake is 3 acres, and has homes on two sides. In my opinion, these were some of the best lots in Martis Camp! I could see myself sitting on the back deck of one of these homes, with a cup of coffee, (or even better a glass of wine!) looking out at the beautiful lake, with the mountains in the back ground!



Folk School:


The Folk School is a fabulous idea, and classes are located in the Family Barn. Some of the available classes are:




In addition to being fun, classes would be a great way to get to know your neighbors!



Martis Camp Neighborhood
Golf Course:


Private to Martis Camp Club Members, and designed by Tom Fazio, this 18 hole course would make me want to take up golf! If nothing else, just to walk the gorgeous course! Views, Views, and Views! Creeks, Ponds, and Mountain views, this course has it all! 



Above: The course as viewed from the dining area patio. (Hole 18)

Below: The course looking down from the outside terraced patio and barbeque area at the Camp Lodge!



While Golf is certainly one of the top amenities in this fantastic community, if you are like me, and don't golf, you can definitely take classes to learn, or there is also available a "Putting Park". The all turf Putting Park is also 18 holes, and designed by Dick Baily, the putting course winds through a forest setting. Now, this I could do!!



Martis Camp Neighborhood
Lost Library: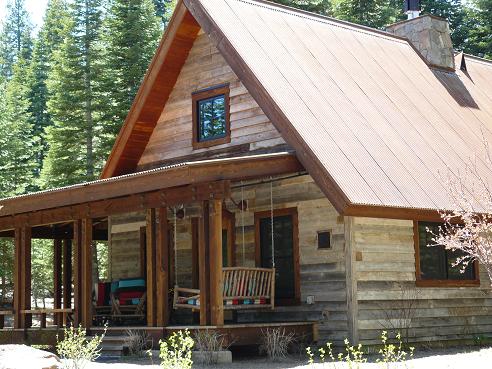 The Lost Library is an awesome cottage down a pathway that has a children's playground area, a wooden bear peaking out from the woods, and a Community Garden where you can come and cut your own herbs, or flowers. There is an inviting swing and chairs on the front porch, a gorgeous fireplace inside with comfy furniture and lots of books that you can check out or read in the library. There is also, a restroom and kitchenette.



Martis Camp Park Pavilion & Sports Fields: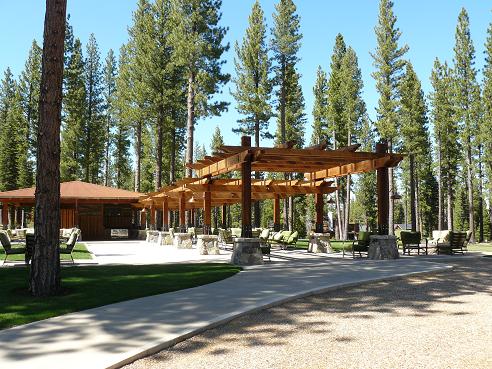 I loved the Park Pavillion area! It included:


Barbeque area

Basketball court

Bocee ball courts

Children's playground area

Croquet and Lawn Bowling area

Horseshoe

Labyrinth

Sand Volleyball

Seating areas and firepits

Sports fields that could be used for soccer or baseball or softball


Martis Camp Ski Connection / Ski Lodge:


Martis Camp has a private quad lift access at the bottom of Lookout Mountain, to Northstar, California a great Ski Resort in Truckee, California!
The Lodge serves breakfast, lunch, and Apres ski experiences!
And....I absolutely love this! Call for valet pick-up at your home, unless you live in one of the nearby ski-in/ski-out lots, and you will be picked up and dropped off to find your boots warmed up and your ski's/boards ready to go!
---

The Martis Camp Beach Shack


Just 12 miles from Martis Camp, the Beach Shack is over an acre of sand, grass and lakeshore seating on the shores of Lake Tahoe. This beach gives you convenient access to one of the nation's most treasured natural settings – Lake Tahoe. 
YEP....I could definitely see myself living in the Martis Camp Neighborhood - I've never seen anything like it - it has to be one of the best Truckee neighborhoods there is...actually, I'm pretty sure it is the best!!
Time for ME to start playing the Lottery!!
If you are interested in looking at homes in Martis Camp, be sure to contact one of Truckee Travel Guide's recommended realtors: