Ski Clothing - Here's the Scoop on What to Wear on The Slopes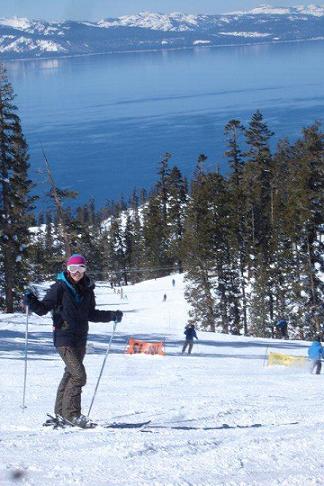 Having the proper Ski Clothing is important if you want to stay dry and warm out on the Ski Resorts this year! Skiing is definitely not a Cheap Sport! It is cold outside in Snow Country in Truckee, so it is important to have the proper winter clothes, in addition to your ski equipment and your ski tickets. (See my Discounted Lift Tickets page)
Here is a list of the ski apparel clothing that you will need to have:


Base Layers (long underwear)

Ski Hat, ear muffs, or headband to cover ears

Ski Jacket

Ski Pants

Ski Shirts (layering is definitely best)

Ski Socks

Scarfs are nice, but make sure you keep in tucked in your outer clothes to avoid it getting caught on the chair lift.
Photo Above: My Daughter Brie's friend Tiffany, skiing at Heavenly Valley in South Lake Tahoe with the gorgeous Lake Tahoe in the background.


---
Fabric Choices:
This section will help you figure out what the good and bad fabrics to choose for your ski clothing. This is important to know as some fabrics retain moisture which will keep you cold, while others pull moisture away from your body and keep you warmer. Your ski day will be a lot more enjoyable if you are warm!
Fabric NOT to use for YOUR Ski Clothes:
Cotton - Leave the Cotton clothes at home, including the undies! Cotton retains moisture which will keep you colder.
Fabrics to choose for YOUR Ski Clothes - Base Layer (Next to your skin):
Synthetics, or primarily polyester and polyester blends. Polyester, is the dominant synthetic fiber used in wicking first layers. It's a soft, lightweight, easy-care fabric with reliable moisture-management attributes. This is a great first layer to have on.
Polypropylene
Wool - Merino wool is the most popular due to its soft "ultrafine" fibers. Merino wool creates a terrific all-season base layer. Wool socks are awesome!
Treated Silk - Silk underwear is largely a specialty fabric, intended primarily for cool and cold weather usage. Treated silk, means that the silk has been chemically modified to enhance wicking (a fabric's capacity for moving perspiration off skin to speed its evaporation). Fans of silk are attracted to its smooth texture. This is a thin fabric, that layers well.
Middle Layers for Insulation - Fabrics to choose
Typically, when skiing, you will have your base layer, your waterproof outer layer, and some layers in between for Insulation. The Insulating layer helps you retain heat by trapping air close to your body.
Fleece - Fleece is a great layer to have between your base layer and your outer layer. It is soft and warm, and does not trap moisture. Polyester fleece vests are great because a vest will keep you warm, while not bulking up your arms which makes it more difficult to move around.
Wool and Goose Down - Natural fibers such as wool and goose down are excellent insulators. Goose down works best in cold, and dry conditions.
Polartec or Thermal Pro Polyester - Classic fleece such as Polartec or Thermal Pro polyester and other synthetic insulators such as thinsulate, provide warmth for a variety of conditions. They are lightweight, breathable, and insulate, even when wet.
---

Beginner Snow Ski Lessons: Ski Clothing Tips (Wearing the right clothes can help you stay warm and dry when skiing.) Learn how to dress for skiing in this beginner video ski lesson on clothing.

---

Picking a Ski Jacket - Stay warm on your next snow skiing trip by learning to pick a good ski jacket. Your outer layer should be:
Waterproof
Breathable
Insulated - there are many to choose from, the thinner jackets will give you more flexibility and may require more layering underneath, but the thicker jackets like down jackets will keep you warmer.
Here is a video that will give you more details on choosing a ski jacket:
---
Picking Ski Pants Stay warm on your next snow skiing trip by picking good ski pants!
Here is a video that will give you more details on choosing ski pants:
---
Picking Ski Gloves - There was nothing worse to me when I lived in Truckee than having cold hands. You definitely want to have ski gloves, when hitting the slopes.
The video below, will give you some tips on how to choose the best type of glove for skiing.

---
There are some great Truckee Fashion & Accessory Stores as well as Truckee Sporting Goods Stores that have knowledgeable staff available to help you with your ski apparel needs.
Some stores will have second hand items available for sale, if you are looking to save money on your Ski clothing equipment. To me, it just makes sense to go check out the Truckee Shopping options, and talk with knowledgeable staff who also live in Truckee and experience the cold themselves. Odds are good that they ski or snowboard themselves!