Summer in Truckee
Summer in Truckee is absolutely perfect!! It is hard for me to say what my favorite season is in Truckee, but I really loved the summers. Having lived quite a few years in the Sacramento Valley, where temperatures soared into the 100's, the cooler weather for me during this season in Truckee is a delight!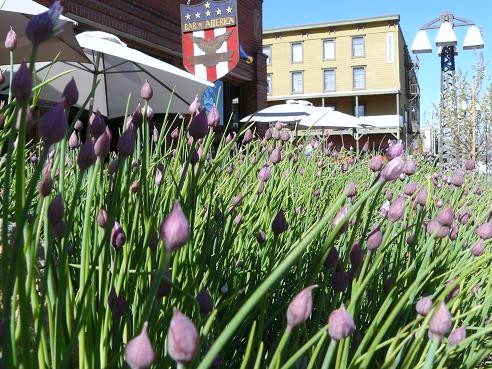 Flowers outside the Bar of America in Downtown Truckee

You can actually get outside throughout the day and be active during the summer months which I love - no hiding inside in front of an air conditioner all day, or occasionally having to run to stick your head in the freezer to get some relief from the heat!
In fact, we didn't even have air conditioning in our Glenshire home in Truckee, we just opened up all the windows in the house and we usually had a nice breeze flowing through. The weather typically cools down at night, so you are able to sleep. Check out all the Truckee Summer Activities!
Fun Facts about Summer in Truckee
The first day of Summer is June 21st, 2014. Many people just assume that if it is June, it is summer, but most of June is actually in 

Spring

!

The last day of Summer is September 21st, 2014

Believe it or not, it does occasionally 

snow

 in Truckee in the summer! In the 2010/2011 Ski Season, people were still 

skiing

 and 

snowboarding

 on 

July 4th

! Ski in the morning, and go boating in the afternoon! What a life!!

In June 1995, when we moved to Truckee, it snowed the night before, so we ended up driving a U-Haul truck over the summit while there was snow on the ground. My Dad really thought I was seriously NUTS for moving to Truckee, but we loved it!!
---

Summer Weather in Truckee


Below, you can find the Truckee Weather Records and Averages for the Summer months from The Weather Channel:
Month
Avg. High
Avg. Low
Avg. Precip
Rec. High
Rec. Low

June

74.0 F

38.0 F

0.71 in

95.0 F
06/18/1985

21.0 F
06/03/1966

July

83.0 F

42.0 F

0.27 in

99.0 F
07/11/2002

23.0 F
07/11/1974

Aug.

82.0 F

41.0 F

0.36 in

99.0 F
08/09/1981

20.0 F
08/14/1974

Sept.

75.0 F

36.0 F

0.92 in

96.0 F
09/03/1955

16.0 F
09/28/1974
To me, the summer weather is just perfect! It is warm, but not hot enough where you can't get out and enjoy all the Truckee Summer Activities.
One thing I really loved is all the summer thunderstorms. I know that is probably not a great thing, as they do occasionally cause damage or start forest fires, but it was just so much fun to sit in our living room with all the lights out at night and watch the lightning and thunder. The clouds are so interesting in Truckee! (See my Emergency Preparedness Section, so you will be prepared in the event of an emergency!)
View the Truckee Weather Statistics for the rest of the year!
---

Summer Holidays and Observances


I'm planning an extensive "Holidays In Truckee" section with a page for each Holiday or Observance. Summer Holidays include:


Independence Day

 - July 4




Labor Day

 - September 1, 2014 - Labor Day typically is the last summer vacation for many families, especially those that have kids that have to go back to school. 
| | |
| --- | --- |
| | I've had so much fun working on the Holidays in Truckee pages with my sister, Kerry that we started another website devoted solely to Holidays! Check us out: |
---

Truckee Summer Activities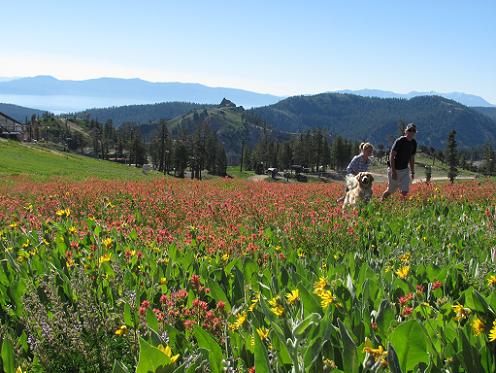 Hiking at High Camp at Squaw Valley, located in gorgeous Olympic Valley!
Photo Credit: Nathan Kendall, used with permission of Squaw Valley


If you have never ridden the Squaw Valley cable car up to High Camp in the summertime, it is a MUST DO!! You can bring your dogs up to go hiking with you, and some of the other activities include, paintball (now at the base), geocaching, swimming, tennis, roller skating, disc golf, as well as some free activities, so you can totally make a day of it! There are some great restaurants at High Camp, so lunch at the top is no problem!
Be sure to check out my Truckee Summer Activities page for lots more to do! 
---

Fun Truckee Summer Events in 2014


You can get all the details in my Truckee Event Calendar, but some highlights of the Truckee Summer Events are: (click on the links below for more details)


The summer months bring the boaters out at Donner Lake, one of the Truckee Lakes, and locals and visitors flock to the Truckee Beaches. This picture was taken looking out towards West End Beach where you can rent kayaks, paddle boats, and stand up paddleboards (SUP).
Enjoy your Summer in Truckee!