Tahoe City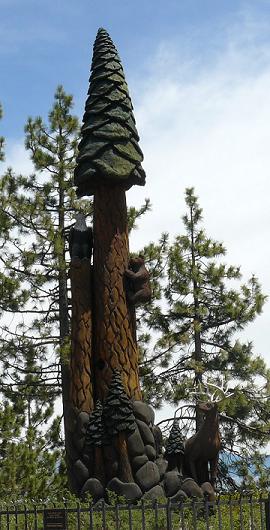 Tahoe City is the closest Lake Tahoe City to Truckee, and is one of my favorite North Lake Tahoe places to go. There are some awesome restaurants, great parks, Commons Beach Park and other beaches, and the Summer Music Series, and tons of fun events, shopping, and activities including the Truckee River Rafting which starts at Tahoe City and travels down to River Ranch Lodge.
You can view Tahoe City on my Lake Tahoe Map!
I attended the Tahoe City Wine Walk event on June 18, 2011 with my daughter Brie and had a fantastic time, followed up on the back deck at Jake's on the Lake for a salad! A perfect place to sit and take in the views of Lake Tahoe! I put about 140 pictures of the event on my Truckee Travel Guide Facebook page.
Since my website is all about Truckee, I will just be doing a brief overview of Tahoe City on this page.
Here is how the Tahoe City Downtown Association describes their town: "Located just 15 miles from the I-80 corridor, Tahoe City's miles of shoreline rest both North and West along Lake Tahoe. An array of year-round activities – including snowsports in winter, and hiking, camping, fishing, and water sports in summer – make our small town a wonderful place to spend time with the family, enjoy world-class recreation, or just relax and enjoy the view. Enjoy four-star dining, homegrown coffee shops, elegant boutique shopping, art galleries, a walk along the lakeside trail system or Tahoe City's century-old heritage, historic sites and museums."
Tahoe City Photo's
The Photo's above, will randomly change with all of the Tahoe City photo's that I have uploaded in the Truckee Travel Guide's Flickr photo's "Tahoe City, Lake Tahoe Photoset". To view all the photo's, just click above on the "Tahoe City, Lake Tahoe" blue link to view the entire set of photo's.
---

Tahoe City 2017 Events


See my Truckee Event Calendar for additional Events in the surrounding area!
---

2017 Tahoe City Farmers Market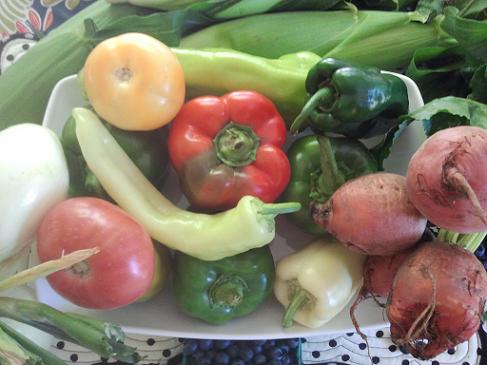 Below is the info. for 2017:


City: Tahoe City
Day: Thursday's
Time: 8:00am - 1:00pm
Dates: May 18, 2017 to October 12, 2017
Location: Commons Beach 
Market: Tahoe City Farmer's Market
Get certified farm-fresh fruits, vegetables, flowers, and more!
Also: Check out my Truckee Farmer's Market page for the Truckee and Kings Beach locations, and find out the benefits of shopping at Farmer's Markets.
---

Tahoe City - Fun Things to Do!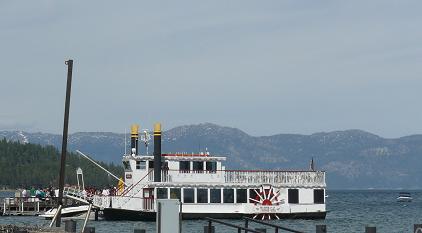 Take a cruise on the "Tahoe Gal". They have Daily Cruises: Shoreline Brunch Cruise, Lunch cruise to Emerald Bay, Happy Hour Cruise, Sunset Dinner Cruise. They also have Specialty Cruises such as the Sunday Night Live Music Dinner Cruise, and the Fireworks Cruises (July 3rd - Kings Beach) and (July 4 - Tahoe City). This is a fantastic way to see Lake Tahoe!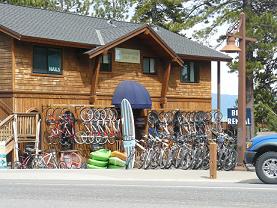 Biking at Tahoe City is great! There is a great bike trail that parallels the Truckee River all the way to Squaw Valley, (4 miles - mostly flat) and there is a bike trail all the way down the Lake to right before Emerald Bay to Sugar Pine Point Park (9 miles). Also, there is a bike trail along the Lake north up to Dollar Point. (2.5 miles) These trails are all great too for walking, jogging, and rollerblading!


Some Places to Rent Bikes:
For more Biking info see my Truckee Biking and Truckee Mountain Biking pages!


*****
Get out on the Water!! Kayak, Canoe, take a Sailing Charter, Boat Rentals, Parasailing, Sailboats, Scuba Diving, Jet Ski Stand Up Paddle, Rafting down the Truckee River - they can all be found at Tahoe City!


Some Places to Rent Boats:
For additional Summer Activity ideas see: Truckee Summer Activities


*****
Shopping!! I'm not much of a shopper, but the Tahoe City Shops, and the Truckee Shops are some of the places that we love to go!
My daughter Brie loved "Ruffles and Ruffneck" for children's clothing when she was young. We still have one of the dresses that we bought there that she wore in a Fashion Show, that was just gorgeous!
The best advice I have, is to just park and start at one end of the City and walk up one side and down the other and visit the shops that catch your eye as you pass. Stop for lunch along the way, and have a great day!


*****
In the Winter: Skiing, Snowboarding, Snowmobiling, Cross Country Skiing, Snowtubing & Sledding, Snowshoeing, Ice Skating and more, can all be found in the vicinity. See my Truckee Winter Activities page for details of where to go in the area!
---

Tahoe City Music - 2017


What: Commons Beach Sunday Concerts
Where: Commons Beach
When: Sunday from June 18, 2017 - September 3, 2017
Time: See Below
Additional Information: No Pets, No Smoking, Low Back Chairs only, see: Concerts at Common Beach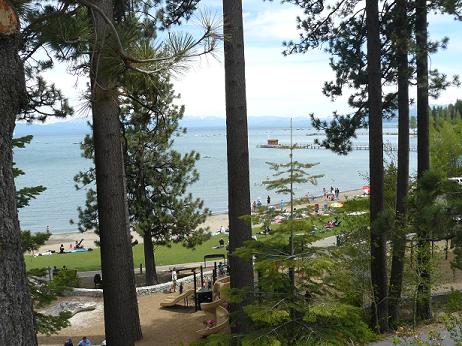 Here is the 2017 lineup:
| Date | Band | Sponsor | Time |
| --- | --- | --- | --- |
| June 18, 2017 | Groove Foundry / Matty Reardon & Friends | Olympic Bike Shop & The Store | 3pm - 7pm (Early Start) |
| June 25, 2017 | Sambada | Tahoe Boat Management | 4:00pm - 7pm |
| July 2, 2017 | Dead Winter Carpenters | Tahoe City Rotary Club | 4:00pm - 7pm |
| July 9, 2017 | Alma Afrobeat Ensemble | West Shore Sports | 4:00pm - 7pm |
| July 16, 2017 | Desert Rhythm Project | Tahoe Truckee Community Foundation | 4:00pm - 7pm |
| July 23, 2017 | Poor Mans Whiskey | Taco Bell | 4:00pm - 7pm |
| July 30, 2017 | Kuinka | Tahoe Forest Hospital | 4:00pm - 7pm |
| August 6, 2017 | Lebo & Friends | Tahoe Yacht Club | 4:00pm - 7pm |
| August 13, 2017 | Wheeland Brothers | Drink Tahoe Tap | 4:00pm - 7pm |
| August 20, 2017 | Mumbo Gumbo | JK Architecture & Engineering | 4:00pm - 7pm |
| August 27, 2017 | Brothers Comatose | Pass It On Thrift | 4:00pm - 7pm |
| September 3, 2017 | Trey Stone / Joy & Madness | Tahoe Truckee Lumber Co. / Napa, North Lake Auto | 3pm - 7pm |
---

Tahoe City Restaurants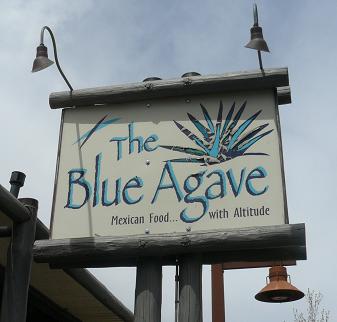 Some of my favorites that have outside seating with views of Lake Tahoe or the Truckee River:




Below, you can find a map of the restaurants in the area that you can zoom in on. If you click on the red dots, you get the address, phone, website and review info. for each restaurant. 
View Larger Map
Tahoe City Resources
Here are some great websites that have information on Tahoe City: