Truckee Biking
Truckee Biking is great family fun and terrific exercise!
Biking can be done on:


Truckee Roads and Bike Paths


Mountain Biking on Dirt Trails and Mountain Biking Parks
This page will cover the Truckee Roads and Bike Paths! Additional information will be added as I run into it.


---

Where to get your Bike Gear in Truckee

Looking at the list of the Truckee Sporting Good Stores, the following places are the best bets for Bike Gear or Bike Rentals in Truckee:


The Back Country


Cyclepaths


Paco's Truckee Bike & Ski


---

Where to get your Bike Gear Online

CycloCamping.com


CycloCamping.com is the #1 stop for bicycle travelers and outdoor enthusiasts. They carefully choose the most reliable and most efficient bicycle-touring gear and camping equipment the industry has to offer. They field-test all of our products and offer them at very competitive prices.
CycloCamping.com also offers a forum, free articles, reviews, and tips & tricks, written by some of the most experienced bicycle travelers. The extensive informational content of our website coupled with our knowledgeable and experienced staff make them an authority in the industry.
---

Bike Trails in Truckee

Here is a list of the Truckee Roads & Truckee Bike Trails where you can have a great ride! (additional details/maps will be provided on each trail)


Brockway - Martis Peak Climber's Delight


Donner Lake Loop


Fibreboard Freeway


Martis Lake Dam Recreation Area


Old Hwy 40 to Cisco Grove and Back


Public Bike Paths (Northeast of Downtown - Pioneer Center - Gray's Crossing Area)


Squaw Valley to Tahoe City Bikeway


Tahoe City - Kings Beach Loop (SR 89-267)


Tahoe Donner Climber's Loop


Truckee On-Street Bike Routes


Truckee to Blackwood Canyon & Back
---

Be Safe - Carry an Emergency Kit with You!

In the Truckee and Lake Tahoe area, anytime you venture outdoors, it is best to be safe, and be prepared for the unexpected!
For a great, ready made Survival Kit, perfect for camping, backpacking, and biking, check out the survival kits from Wise Foods. (link below) They make Freeze Dried/Dehydrated Outdoor Food perfect for Backpacking with a 7 year shelf life, and their survival kits include many of the essential items listed above.
2 week deluxe survival product and food kit for 1 person/ 1 week for 2 people. An amazing kit at an amazing price!
For additional information: See my Emergency Preparedness in Truckee section!
---

Truckee Bike Events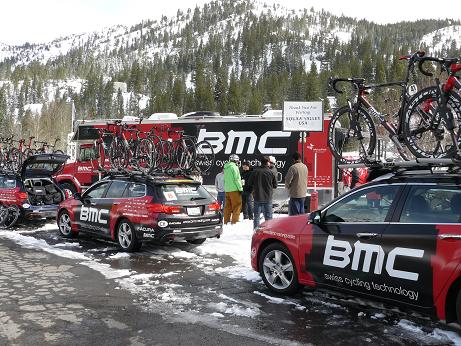 AMGEN riders leaving Squaw Valley on 5/16/11 for the rescheduled start of the race from Nevada City due to the weather
Photo Credit: Leigh Storz, Owner of Truckee-Travel-Guide.com


*****
Details will be provided on the Truckee Travel Guide Event Calendar or at the Link below for the Truckee Bike Events:
---

Truckee Bike Trail Organizations



Truckee Trails Foundation - (additional info coming soon)
---

Truckee Biking Maps

---

Truckee to Glenshire Bike Path

A Bike Trail, called the Truckee River Legacy Trail has been in the works for sometime that would connect the Downtown Truckee area to Glenshire, which is a subdivision of Truckee 6 miles North from the Downtown area.
Currently, the Bike Trail is still in the works. The Truckee Trails Foundation has been working with the Town of Truckee, the Legacy Trail Foundation and the Rotary Club of Truckee, to secure appropriate alignments and necessary easements for a paved trail to Glenshire, and for critical links between the Regional Park and downtown Truckee as part of the planning and approval process for the proposed Hilltop development.


---

Truckee Cyling Clubs


Truckee Junior Cycling Club & Team for Juniors 13-18 - sponsored by Warehouse Bicycles/Velo Reno and Northstar Resort's Plaza Bikes + Rentals Shop. For additional information - see the Northstar website.
---
Go to Emergency Preparedness

Go to Truckee Biking Maps

Go to Truckee Mountain Biking

Return to Truckee Summer Activities

Return from Truckee Biking to Truckee Travel Guide Home Page


---