Truckee Veterinary Clinics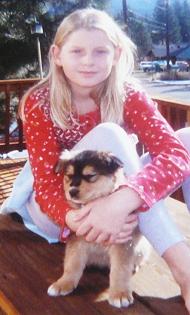 The Truckee Veterinary Clinics are great! We took our pets to the Sierra Pet Clinic, and loved them - great service, and a great facility!
As mentioned on my Truckee Dog Information Page, Pets and Dogs are expensive! With shots, fixing, annual checkups, annual licensing, heartworm and tick and flea medicines, pet food and toys, puppy training, accidents and problems, it all adds up! ...and don't forget those Truckee Holiday Dog costumes! Know this going into Pet ownership - it is sad to see pets given up because the owners cannot afford them!
A few days after we got our Golden Retriever/Husky mix, Dakota (pictured at right with my daughter, Brie) from the Pet Station in Truckee, he was sleeping under my bed next to one our cats, Dixie. He must have startled Dixie, who was a rescue kitty that had been abused, and was still a little jumpy, because she clawed through the cornea of his eye.


We used Sierra Pet Clinic of Truckee as our vets. They were great! We took Dakota in, and our vet actually took the time to consult with an Optomologist to determine the best course of treatment to make sure that Dakota did not lose his eye. They saved his vision, and he just had a slight spot on his cornea after that. They kept him overnight and we had to put eye drops in his eye several times a day for awhile. Thank goodness that one of my neighbors worked at home, and was able to help out with that while I was at work. So....the first week of pet ownership of Dakota, I had some nice vet bills to deal with!


I felt like I was running Noah's Ark...two kids (one of each), two dogs (one of each), two cats (one of each)....all expensive!

Pictured at Left: Our cat, Pixie after getting in a cat fight, and getting clawed in the head!
I must say that I am amazed at the efforts that people will go to now to keep their pets alive. My Golden Retriever Jewel has a growth on her mouth. My vet in Roseville did a biopsy on it about a year ago, but then at her last check-up, they wanted me to spend a ridiculous amount of money (like $1,500) to knock her out and remove it. Jewel is over 15 years old, so I had to pass as it obviously was just cosmetic! But I do understand that pets do become like family...it would have been different if she were a lot younger.


*****

The Truckee Veterinary Clinics are: (Additional info. coming soon!)


Critter Care Mobile Veterinary Clinic - This is a fantastic idea! My Golden Retriever/Husky, Dakota just died at Christmas 2010. I was home alone, none of my family nearby were home to help me, and Dakota weighed 80lbs, so I could not lift him by myself to get him into the car to get to the vet in time.



Donner-Truckee Veterinary Hospital - Emergency Services available weekends and after hours



Sierra Pet Clinic of Truckee



The Doctor's Office for Pets
---
Go to Truckee Business Directory

Go to Truckee Dog Information

Return to Truckee Fauna

Return from Truckee Veterinary Clinics to Truckee Travel Guide Home Page


---