Wedding Rings
Your Wedding Rings will probably be the most expensive and most important jewelry that you purchase in your lifetime! Engagement rings are a symbol of your commitment to marry, and this will usually be the most expensive ring.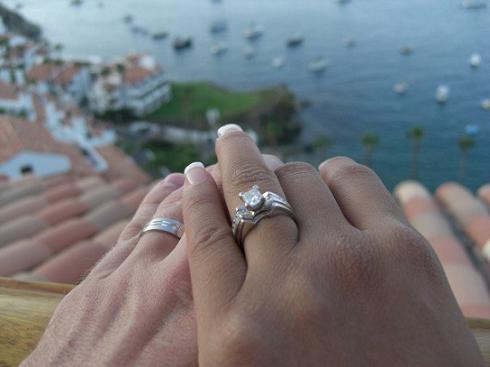 My Son Ryan Storz and his wife Marlene Storz, showing off their wedding rings on 07/27/07 at Catalina Island, California!


The wedding ring, is a recognizable symbol of the joining of a man and a woman as husband and wife in the institution of marriage, and has been worn on the third finger of the left hand since Roman times. The Romans believed that the vein in that finger runs directly to the heart. The wedding ring is a never-ending circle, which symbolizes everlasting love.


*****
There are many ways to go about purchasing your engagement rings and wedding rings:
Shop at local Truckee Jewelry Stores and try to find matching sets


Shop at an online Jewelry Store


Have your rings custom made


Or, you may have inherited an engagement ring or wedding ring that you love and want to use, as this will definitely save you some money! It is common due to the cost of the rings, to pass them down through the generations. I ended up with my grandmother's engagement ring, which I really love and it is a constant reminder of her!
---

Truckee Jewelry Stores

There are a couple of stores in the local area where you can look for an engagement and wedding rings. They are:
Double Diamond Jewelry - Resort at Squaw Creek, Olympic Valley


Double Diamond Jewelry - Village at Northstar


White Buffalo - if you want something non-traditional, they specialize in gorgeous native American jewelry and have earings, pendants, and rings set in 14K Gold. They are carry Gold Quartz which is the Sierra Nevada's most unique gem stone. This natural white quartz, veined with 24kt gold is from California's original 16 to 1 Mine. Fashioned in 14kt gold by a Northern California artist, this Gold Quartz Jewelry is truly the gem of the Sierras.
---

Reno Jewelry Stores


It is always best to try to shop local first, but if you are unable to find the rings that you want in Truckee, you may need to expand your search to nearby Reno, Nevada, or try looking online.

The jewelry store options in Reno are:


Helzberg Diamonds


Jared, the Galleria of Jewelry - Jared's is where my son bought his engagement ring for his wife. (although at the Roseville store) We were very pleased with their selection and service!


Kenny G. & Company


R and J Jewelers


Rogers Jewelry


---

Jewelry Terminology


Per Wikipedia, there are 4 C's of Diamond Grading:


Carat: This refers to the diamonds size.


Clarity: Diamond clarity is a quality of diamonds relating to the existence and visual appearance of internal characteristics of a diamond called inclusions, and surface defects called blemishes.


Color: Diamond color is graded on a scale of D-Z and indicates how colorless or "white" the diamond is. The closer to D the diamond, the more colorless it is and more valuable.


Cut: A diamond cut is a style or design guide used when shaping a diamond for polishing such as the Brilliant Cut. Cut does not refer to shape (pear, oval), but the symmetry, proportioning and polish of a diamond.
There are also different shapes, such as princess style, round diamonds, emerald diamonds and pear shaped diamonds.
And then finally, you need to decide on what type of metal that you want your ring to have. There is platinum, gold, titanium, palladium and the latest is recycled metals.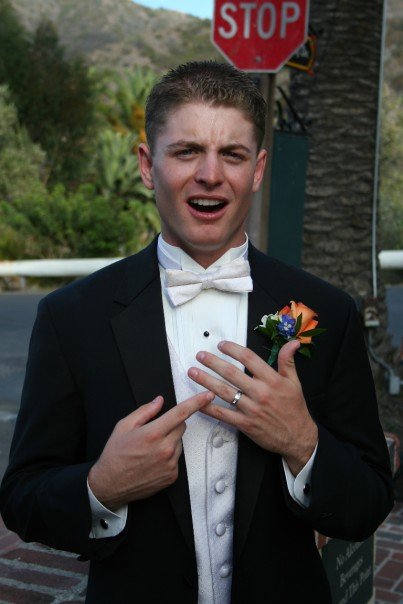 Ryan Storz, right after he got married!!


---

Custom made Wedding Rings


Another option to make sure you get what you want for your special wedding rings, is to work with a jeweler who can custom design your rings to your specifications.
Jessica Hall of Bluebird Designs in Truckee, does custom wedding rings. She requires two-month advance notice for Wedding rings.


---
Go to Truckee Event Calendar

Return to Truckee Weddings

Return from Wedding Rings to Truckee Travel Guide Home Page


---