Share YOUR Wedding Story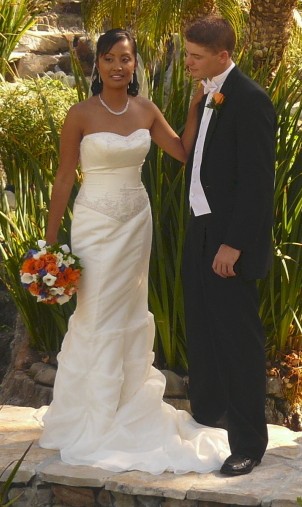 YOUR Wedding Story and Wedding Day will be one of the most important events in your life.
If you have gotten married in Truckee or the Lake Tahoe area, the readers of Truckee Travel Guide, and future couples contemplating getting married and honeymooning in the Truckee area, would love to hear YOUR story!
Your recommendations would be so helpful! Where did you have your wedding and your wedding reception, your bachelorette and bachelor parties, your rehearsal dinner, and where did you spend your honeymoon?
Did you find any great Truckee Wedding vendors or Wedding Planners that did such a great job that you would love to recommend them? Who did your Wedding Flowers, your Wedding Cake, your Wedding Hair & Makeup? What Wedding Caterer did you choose - how was the Wedding Food?
Did you have a D.J., or a Band playing at your wedding? Who did you have and how were they? What song did you choose for your 1st dance as husband and wife?
If you don't live in Truckee, but you were having a Destination Wedding in Truckee, where did you and the wedding families and wedding party stay? How was the service, and would you recommend them?
Any great wedding advice that you want to share?


Photo Above: My Son, Ryan Storz, and his wife Marlene
Photo Credit: Leigh Storz, Owner of Truckee-Travel-Guide.com
*****
YOUR Wedding Story will become a web page on the Truckee Travel Guide website! You will be able to review your story before it is published (please PG language as this is a family site). You can also share up to Four Photo's of YOUR Wedding. Your friends and family will be able to comment on your story.
Any shared photo's are automatically entered in the Truckee Travel Guide monthly photo contest. I'll be choosing my favorite photo submitted at the end of each month. Monthly winners will have their photo, with photo credit, on the Truckee Travel Guide, Truckee Photo page and the Home Page for the following month.
At the end of each year, I will post all the monthly Photo Contest winners and take a poll on my website and Facebook page. The annual winner, will have their photo featured on the Truckee Travel Guide home page for the following year, until a new annual winner is chosen. They will also receive a $100 Gift Certificate from a local Truckee Business. (Winner's will be given a bunch of different options to choose from)
So....Please, Share YOUR story below!


*****
Have A Great Story About YOUR Truckee Wedding or Honeymoon?


Do YOU have a great story about YOUR Truckee Wedding?

Do YOU have a great Wedding Venue that you would like to recommend?

Do YOU have a great Vendor Recommendation to Share?

Did you use a local Truckee Wedding Planner? If so, who, and what did you like best about working with them?

What was the most memorable thing about YOUR Special Day?

Did YOU stay in the Truckee or Lake Tahoe area for YOUR Honeymoon - Where did YOU stay and would YOU recommend it? Tell us about the great service that they had!

If YOU stayed in the Truckee or Lake Tahoe area for YOUR Honeymoon, tell us about the fun places that YOU went to, and the great restaurants that YOU ate at! What were YOUR favorites?


Share YOUR Wedding Story!



---
Return to Truckee Weddings

Return from Your Wedding Story to Truckee Travel Guide Home Page


---