South Lake Tahoe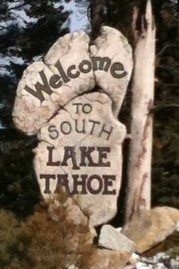 The City of South Lake Tahoe is on the south end of Lake Tahoe, and is on the California side of the lake. It is located right adjoining to Stateline which is on the Nevada side of the lake where there are a bunch of Casino's.
If you live in Truckee, or are coming to Truckee for a vacation, it is not super close, which is why I always tend to stay on the North Lake Tahoe area. If you have the time, one of my favorite things to do is to take a day and drive around Lake Tahoe. It takes about 2 hours if you just drive around the lake, but you can make a day of it if you spend some time stopping at some of the Lake Tahoe Beaches or Towns along the way. You can check out my Lake Tahoe Map page, where I'll ultimately have links to all of the Cities and Towns around the Lake as well as all of the State Parks.

I usually drive around the lake at least once a month in nice weather, usually starting in Tahoe City and either going through the north side of town through Kings Beach and Incline Village and down the east side, or I'll start in Tahoe City and just head down the West side first. (I like this direction best!) Either way, I always plan on stopping somewhere for lunch in South Lake Tahoe.

---

Map of South Lake Tahoe


View Larger Map
---

Special Events in South Lake Tahoe


There are too many events for me to list them all, but I will list a few of the Annual Special Events that happen in South Lake Tahoe:
Earth Day - South Lake Tahoe - was on April 29, 2017. See info on the Earth Day event at the Village at Squaw Valley.
Valhalla Renaissance Faire - every June. www.valhallafaire.com
Star Spangled Fourth - every Fourth of July! Largest synchronized fireworks display west of the Mississippi.
South Tahoe Wooden Boat Classic - every July at the Tahoe Keys Marina & Yacht Club.

Lake in the Sky Air Show - every August.
Labor Day Weekend Fireworks Extravaganza - (details tba). See my Labor Day holiday page!

You can also check out the Truckee Travel Guide Event Calendar for lots of Events in the Truckee, Olympic Valley, Reno, and Lake Tahoe area!
---

Beaches in South Lake Tahoe


El Dorado Beach & Boat Ramp - this is the largest beach area.
Lakeside Beach

Reagan Beach (officially known as the Thomas F. Reagan Memorial City Beach).
Timber Cove Beach - located on Hwy 50, behind the Timber Cove Lodge.

Just to the West of South Lake Tahoe heading towards Emerald Bay, there are several other Beaches (in order from South Lake Tahoe):
Pope Beach - from South Lake Tahoe head North at the 'Y' onto Highway 89 about 2 miles to the entrance, just South of Camp Richardson.
Jameson Beach
Kiva Beach -

2.5 miles north of the intersection of U.S. Hwy 50 and Hwy 89.



Baldwin Beach - 4 miles north of the intersection of U.S. Hwy 50 and Hwy 89.

(links will be coming soon to a devoted beach page - check out all the other Lake Tahoe Beaches and the Truckee Beaches!
---

Farmers Markets in South Lake Tahoe

City: South Lake Tahoe
Day: Tuesday
Time: 8:00am - 1:00pm
Dates: June 6, 2017 to October 10, 2017
Location: American Legion South Lake Tahoe Farmer's Market - 2732 South Lake Tahoe Blvd (Hwy 50), South Lake Tahoe
Market: El Dorado Farmers Market
City: Stateline
Day: Wednesday
Time: 4:00pm - 7:00pm
Dates: May 24, 2017 to September 13, 2017 
Location: Kahle Community Park, 236 Kingsbury Grade
Contact: Lake Tahoe Markets - They also have a Winter Market Box Program
City: South Lake Tahoe
Day: Friday afternoons/evenings 
Time: 3:00pm - 8:00pm
Dates: June 2, 2017 to August 25, 2017
Location: Birch Street & Ski Run Blvd, South Lake Tahoe
Market: Ski Run Farmer's Market
| | |
| --- | --- |
| | Check out my Truckee Farmers Market page for locations of Truckee and other Lake Tahoe Farmer's Market, plus information on the benefits of shopping at a Farmers Market! |
---

Best of Tahoe 2017
Vote now for the Best of Tahoe 2017 contest! 
Voting will end May 26, 2017
Winners will be announced July 1st, 2017
---

Fun Things to Do in South Lake Tahoe


---

Hotels in South Lake Tahoe


There are lots of Hotels and Motels in South Lake Tahoe. If you enter the dates that you want to stay in the hotel widget on the right hand column, you can quickly and easily find the BEST hotel prices by comparing all the major travel searches with one search!

There is also a search widget for Truckee Hotels and nearby Stateline Hotels/Casinos!
If you end up staying in South Lake Tahoe, your hotel can usually hook you up with shuttle service over to the Casinos.

---

Music in South Lake Tahoe


---

Newspapers & Television

---

Restaurants in South Lake Tahoe


Zoom in on all the red dots on the map below, and you will be able to find Restaurant names, addresses and contact information, as well as reviews!
View Larger Map
---

Ski Resorts at South Lake Tahoe

Heavenly Mountain Resort is located with ski runs in both the City of South Lake Tahoe (the California side), and Stateline (the Nevada side). 

Additional Information:
Lift Ticket Deals

- (I'm updating this page as I find information - links to all the Ski Resorts)


Ski Resorts

- info on all the Truckee & Tahoe Resorts and their scheduled opening days for the 2016-2017 Winter Season.

Snow Reports

- weather, snow conditions and status for all Truckee & Tahoe Ski Resorts
---

South Lake Tahoe City Resources