Stateline 
Stateline is on the south end of Lake Tahoe, and is on the Nevada side of the lake, in Douglas County. It is located right adjoining to South Lake Tahoe which is on the California side of the lake. They are effectively one town.

Gambling is legal in Nevada, so Stateline is the place to go on the Lake if you like to gamble, or just like to enjoy the dining and entertainment and music options that the Casino's offer. I'm not a gambler, but my kids and I sure enjoyed going to the Casino's all you can eat buffets and going to some of the great music events.


Map of Stateline


View Larger Map
---

Stateline Special Events 


There are too many events for me to list them all, but I will list a few of the Annual Special Events that happen in Stateline.
In the music section below, check out the links to the Casino's for all their Entertainment Events, as well as the Resources section below where you can find lots of ongoing events.
Also...check out the Truckee Event Calendar - I mainly focus on the Town of Truckee, but I do include some Reno events, and some Lake Tahoe Events (mostly North Shore - Tahoe City, Kings Beach, and Incline Village).

---

Beaches in Stateline


There are some great beaches in South Lake Tahoe, but also from Stateline, if you head east just a short ways, you will run into:
Nevada Beach

Zephyr Cove Beach
For other great Tahoe Beaches, check out my Lake Tahoe Beaches page.
---

Wednesday Evening Farmers Market

Day: Wednesday
Time: 4:00pm - 7:00pm
Dates: May 24, 2017 to September 13, 2017 
Location: Kahle Community Park, 236 Kingsbury Grade
Contact: Lake Tahoe Markets - They also have a Winter Market Box Program
Plenty of fresh produce, organics, crafts, nursery, a cupcakery and more. Great views of Lake Tahoe, along with plenty of free and easy parking.
Check out my Truckee Farmers Market page for locations of Truckee and other Lake Tahoe Farmer's Markets, plus information on the benefits of shopping at a Farmers Market!
---

Best of Tahoe 2017
Vote now for the Best of Tahoe 2017 contest! 
Voting will end May 26, 2017
Winners will be announced July 1st, 2017
---

Fun Things To Do in Stateline

The video below was produced by the Lake Tahoe Visitors Association and includes info. all around the South Lake Tahoe area.
Golf

at the Edgewood Tahoe Golf Course - Stateline, Nevada

Take a leisurely drive in good weather up Kingsbury Grade Road for great views of

Lake Tahoe

.
---

Stateline Hotels and Casino's 


There are lots of Hotels, Motels and Casino's in Stateline. If you enter the dates that you want to stay in the hotel widget on the right hand column, you can quickly and easily find the BEST hotel prices by comparing all the major travel searches with one search!

There is also a search widget for Truckee Hotels and nearby South Lake Tahoe Hotels and Motels.
There are five Casino's in Stateline:
Harrah's Lake Tahoe
Harvey's Lake Tahoe

Horizon
Lakeside Inn and Casino

MontBlue Resort Casino & Spa
If you are coming to town via the Reno-Taho International Airport, there is an express bus that runs back and forth from the Stateline Casinos.

---

Stateline Music and Entertainment


There is lots and lots of music happening at Stateline. Below you will find the direct link to the Casino's Main Music Pages to keep up on what is happening:
I would also follow Jack Durst of Fabulous Tahoe on Twitter - he does a bunch of different video's about Lake Tahoe, and he also does a monthly video that is great about all of the music events that are happening in town! Here is the link to Jack's Fabulous Lake Tahoe YouTube Channel where you can find all of his video's.
---

South Shore Newspapers & Television


---

Stateline Restaurants


Zoom in on all the red dots on the map below, and you will be able to find Restaurant names, addresses and contact information, as well as reviews!
View Larger Map
---

Ski Resorts at Stateline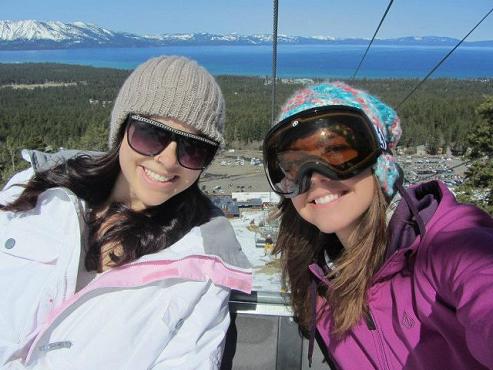 My daughter Brie's friends Camey and Tiffany Watts, of South Lake Tahoe riding the chair lift. (Gorgeous view of Lake Tahoe in the background). Tiffany is a Fitness Model, and you can find her on Facebook under Tiffany Lorene - Fitness Model
Heavenly Mountain Resort is located with ski runs in both Stateline (the Nevada side) and the City of South Lake Tahoe (the California side). 
Additional Information:
---

Resources for Stateline, Nevada